The Winter Angler's Ultimate Packing List
In what seems like the blink of an eye, snow and ice have transformed Michigan into a winter angler's dream. Despite the cold, the fishing stays hot in Pure Michigan as ice fisherman ready their tackle boxes for this timeless Michigan fishing tradition.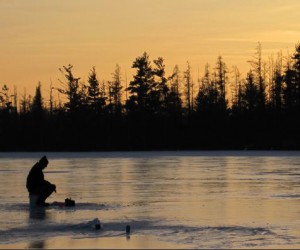 In celebration of the Michigan Department of Natural Resources Free Fishing Weekend February 14-15, 2015, we've put together this handy packing list to ensure a successful day of fishing.

Don't forget to check out the Pure Michigan store for items that will help you keep warm on and off the ice!

What to pack

Many Michiganders know how to handle the cold, but knowing how to dress for long hours on ice may not be so easy. Since you'll be spending some quality time outdoors, consider layering up with these tips.

A hat, pair of gloves and jacket might seem obvious to pack, but there's a lot more that can keep you comfortable when ice fishing. Consider layering with long underwear as a base under fleece and a windbreaker. Add some thermal socks and a scarf to stay toasty. Don't forget to pick up a pair of boots specifically made for the cold, too!

One thing to avoid when layering up is cotton. No matter how cold the weather is, wearing layers causes sweating. There's nothing worse than being damp on the ice as cotton clothes absorb and hold onto moisture.

What to bring on the ice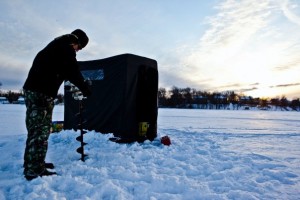 When it comes to fishing, everyone has their own strategy – and that definitely applies when you're about to head onto the frozen lake! Whether you choose to sit in a shanty or simply an overturned paint bucket, don't forget these essentials to avoid being frosty.

Imagine you're bundled up, bait in hand, walking out to that perfect spot on the ice. And then it hits you – your pole is sitting at home! With all the planning it takes to get ready for a day of ice fishing, sometimes even the most obvious things can be forgotten.

Remember to grab your fishing pole, bait, auger and something to sit on so you don't freeze to the ice. If you're heading out any other time but free fishing weekend, make sure you have your fishing license in hand, too.

The little things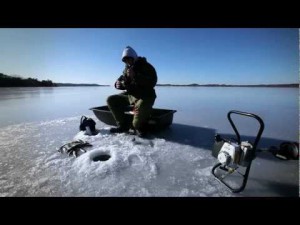 Whether you're a perennial ice-fisher or this winter will be your first time, we're willing to guess you'll be spending more than just a few minutes trying to catch that prized fish. If you are committing a day, or even a few hours, to drop a line, don't forget these small necessities to keep you safe and happy.

Remember to bring a few bottles of water to keep you hydrated (in a place they won't freeze!), snacks to give you energy and your cell phone – in case anything goes wrong. You'll also want a camera ready when you reel in that monster under the ice.

When ice fishing, a few small items can make or break a trip. Remember to dress right, be safe and have fun when drilling into another Pure Michigan winter adventure. For more ice fishing tips, check out this post from the Michigan DNR.

What's your favorite way to spend a snow day? Share your photos enjoying the snow and ice using #PureMichiganSnowDay on Twitter and Instagram or visit michigan.org/snowday.