See Where You Can Meet Your Favorite Detroit Tigers Players (Plus A Giveaway!)
Spring is still a couple of months away, but it's never too early to start thinking about baseball season in Detroit! The 2013
Tigers Winter Caravan
is set for this Thursday, January 24th and Friday, January 25th, where star players, coaches and managers will travel throughout Detroit and the state of Michigan spreading baseball fever. Members of the Pure Michigan team will be tagging along as well to provide fans live updates and behind-the-scenes info. See a full schedule of the tour here or follow @PureMichigan , @tigers or the #DETCaravan hashtag on Twitter.
To learn more and get the inside scoop on the Tigers, we spoke with announcer
Mario Impemba. See his answers below.
Plus – we have a very special giveaway for one lucky Tigers fan in advance of the upcoming season. See details at the bottom of this post.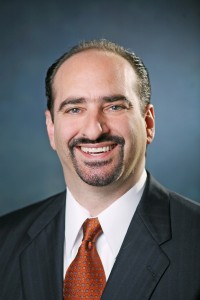 Q: Having been on the Tigers Caravan in years past, what are some of your favorite memories?
A:
I would say traveling to Northern Michigan. The fans up north are very passionate about the Tigers and you can see it in the turnouts we have. I also think the visits we have made to local hospitals are very rewarding. Seeing the looks on the faces of patients when their favorite Tigers walk into the room is priceless. It's great to put a smile on someone's face when they are stuck in a hospital bed.
Q: What is it like calling games for a team that is very focused on bringing home a championship?
A:
It's great. It wasn't too long ago when the Tigers lost 119 games in a season and to see how far the franchise has come in a short period of time is incredible. The 2013 version of the Tigers should be very good and I would expect that there will be a lot of buzz surrounding the team when we get to Lakeland for Spring Training.
Q: How do you see that passion to win resonating into the fan base?

A:
Tigers fans are some of the most passionate in baseball. You can see how badly they want to win a World Series. When the team isn't doing well, they get very upset. They expect a lot out of their team and I would think this season will be no different. Everywhere we go on the road, Tigers fans are visible. They travel well and support the team as well as any major league club.
Q: Last year the Tigers drew 3+ million fans to Comerica Park. What is it like calling a game when the ballpark is packed, and how does it change the game?
A:
Well, it's a different feel, that's for sure. We call a lot of games on the road where crowds are small and not very loud, so when we return home to 40,000 people, it makes a world of difference. There is just more energy at
Comerica Park
and it makes calling the games much more enjoyable.
Q: What makes up a perfect day at the ball park?
A:
No rain! Ha-ha. Actually any day at the ball park is perfect for me, but the Sunday day games are the best because you see so many families with kids out at the park. Kids also get to run the bases after the game on Sundays.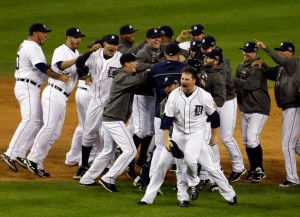 Q: What is your favorite Detroit memory?
A:
There are too many to pick just one. My favorite memories professionally include calling Justin Verlander's two no-hitters, Magglio's home run to send the Tigers to the World Series in 2006 and the champaign celebrations that I have covered in the Tigers locker room after clinching.
Personally, it was watching the Tigers play at old Tiger Stadium when I was a kid.
Q: What does Pure Michigan mean to you?
A:
A 75 degree summer night in
Detroit
at Comerica Park watching Tigers baseball.
Detroit native Mario Impemba enters his 11th season as the popular play-by-play announcer on FOX Sports Detroit's coverage of the Tigers.
Learn more about Mario at at
MarioImpemba.com
or on Twitter @
Mario_Impemba
.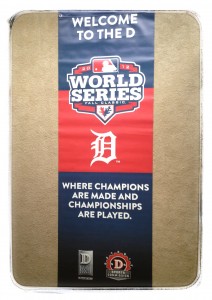 To help spread baseball fever even further, we're offering one lucky fan the chance to win a Tigers World Series flag (pictured left), which measures 2 1/2 feet wide by over 7 1/2 feet long. To be eligible to win, simply tell us in the comments section below what you think makes up a perfect day at the ballpark. Please also include your email address. Comments must be submitted by this Thursday, January 24th at 12:00 p.m. (noon) ET. We'll then select one lucky winner at random as the winner and will alert the winner by Friday, January 25th using the email address provided (we won't share it or sell it to anybody).