1,000+ Miles in Pure Michigan
After a summer road trip in 2012, guest bloggers Benjamin Bator and Matt Ferrel were inspired to organize a 1,000+ mile road trip across Michigan to explore the lesser-known beauty of their home state. Here, they describe their unforgettable Pure Michigan road trip and how it came to be.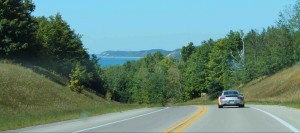 Things always seem to fall into place on northbound M-22. It was day one of the second annual Mille Mitten road rally, the convoy was full off a lunch in
Ludington
and hell-bent on getting to the first of countless scenic lookouts. The weather played along for what seemed like the first time that summer and the traffic was surprisingly light for a Friday afternoon - This is what the summer road trip should feel like.
To backtrack, the Mille Mitten is a 1,000+ mile road rally around Michigan. My friend and co-pilot Matt Ferrel took a road trip in May of 2012 that inspired us to spend the summer getting to know our home state. Despite the prevalence of
Pure Michigan ads
, we neglected to investigate the serious amount of scenery until our mid-twenties, and we knew that we weren't alone. Hearing whispers about this "up north" place, curious out-of-town friends began asking if they could head in this vague direction. Enough was enough, so we decided to tackle the problem with a road trip of equal parts ambition and necessity, aimed at connecting people with the state of Michigan by way of the automobile. The Mille Mitten was born.
For the 2013 Mille, we hosted 30 friends, old and new, on a route with enough variables to ensure both sights and surprises throughout the state. Chevrolet supplied eleven beautiful vehicles for us to drive,
Opportunity Detroit
and Roadtrippers kept us fed and happy for the duration of our trip, and some extremely generous individuals opened their homes, yards, and businesses to us along the way.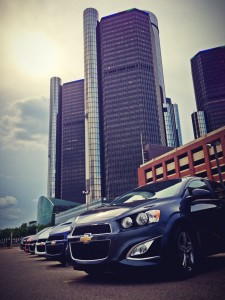 On August 23, we set off from
Detroit
toward the weekend's first checkpoint, Saugatuck's Ship N Shore Boatel. A summer vacation town and artist colony,
Saugatuck
is also home to nearly 1,000 year-round residents. The Ship 'N' Shore Boatel is uniquely accessible via water and car, not to mention extremely close to Uncommon Roasters, who make some serious cold-brew coffee.
Friday's 250-mile trip called for a trek up the west coast through
Glen Arbor
, Pyramid Point,
Leland
, and Northport before settling down in
Traverse City
for the evening. Pushing up that glorious stretch of road called M-22, we noticed people unpacking their cars after their Friday drive upstate, faces full of relief to finally be out of the car. We had another hundred miles and change to drive that day and couldn't be happier. To stretch our legs, we planned a few stops on the way, but opted to maximize the view from the road ahead.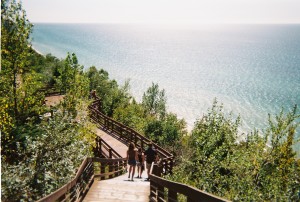 First up:
Arcadia
Bluffs Scenic Turnoff. The view from the top of the stairs is worth it every time and it's near impossible to take a bad picture. You not only get a great view of the shoreline to the south, but a unique vantage point of M-22 as well. Oh, and it's right off the road, not a separate day trip to get there.
We skipped the
Sleeping Bear Dunes
since we didn't have it in us to hike up said dunes just to face another mile or two of hiking before we saw the water, so we opted for Pyramid Point. With a 0.6 mile hike from car to view, this is the way to live. If you want to go swimming, that's another story as the beach is hundreds of feet below and a 45-degree grade of soft sand is your only way back up. We held out for kinder beaches.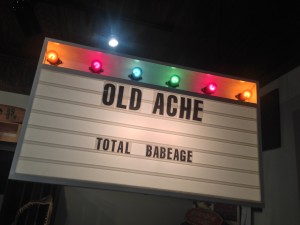 Back on the beaten path, Old Ache (re-opening in May 2014), a summer pop-up shop in Leland, welcomed us with gifts and is seriously one of the hidden gems of the area. Leland is an old fishing settlement that holds some serious charm and culinary street cred. Sandwiched between Lake Leelanau and Lake Michigan, it's in a surreal microclimate that tricks you into thinking the French countryside had a lovechild with Lake Como and settled down on the peninsula.
A short drive later, we arrived at dinner in Northport, greeted by a one-of-one Buick "Special" wagon that was the predecessor to the Roadmaster and a spread of food acquired on the road and prepared by Chef Andy Hollyday. With a bluff overlooking Lake Michigan as our backdrop, it's safe to say that while the pictures turned out great, the memories are even better.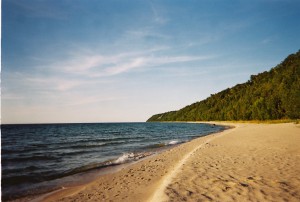 Day one culminated at The Little Fleet in Traverse City and in a makeshift bar set up beachside in a parking lot, lovingly named "Stranger Magnet" because of its obvious powers.
For day two, we embarked on a 258-mile trip that would briefly take us into the
Upper Peninsula
. After a scattered morning trip to
Harbor Springs
(never miss a Gurney's Harbor Bottle Shop sandwich opportunity), a 1994 Viper led us through the Tunnel of Trees as it passed its 10,000th mile. Hazard lights on, we snaked our way to Sturgeon Bay Beach and then spent a few hours on the beach that had our out-of-state participants wondering why anyone bothers going to Malibu. A pass of the
Mackinac Bridge
from both sides of the divide allowed us to take in the first interstate highway of the day as we were already late to the crawfish boil that waited for us at the evening's final stop in
Lewiston
.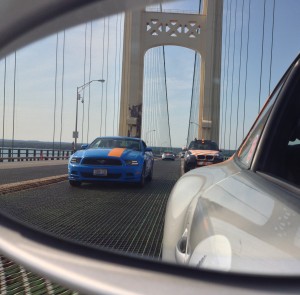 Time has the ability to distill memories to their very best version. With that said, the rest of the weekend goes something like this: night swimming in Lake Michigan, the serendipitous
Tawas City
taco stand at an unplanned beach detour, the seemingly untouched and jaw-dropping stretch of F-32 through Huron National Forest, experiencing "Golden Hour" and light I-75 traffic twice, the dance party back in Detroit (and out of every sunroof), waking up to the pristine fairway forest of Garland on Sunday, the pre-Mackinac pasty pit stop, the endless search for one lost key (check jacket pockets), and one jerry can of gas to make it to the finish line. It's all made for run-on sentences.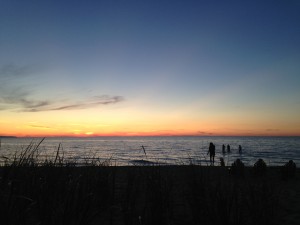 It's been a few months since that last checkpoint but the entire Mille Mitten is never far from our minds. We took in every sunset, gawked at every side-of-the-road barn, and never stopped moving. As we get into the heart of Fall, you might not spend as much time at the beaches, but the roads are as good as ever. With trees begging for a photo op around every corner, there's a brand new crop of checkpoints (
Cider Mills
! Pumpkins! Corn mazes!) just waiting there for you. We're here to tell you that it's never too late to take some back roads and get lost in Michigan. Just remember- windows down, heat up.
See you on the road.
Disclaimer: Chevrolet, Opportunity Detroit, and Roadtrippers liked the Mille so much that they gave us real money to do it. If you're interested in joining amazing this list for 2014, get in touch at: millemitten.com/contact.
Have you taken an unforgettable Pure Michigan road trip? Tell us about it below!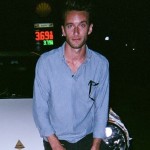 Benjamin Bator and Matt Ferrel are the co-drivers of the Mille Mitten. Ben turned down law school to read text messages for a living and create experiences like the Mille Mitten. Matt works for Google and co-created the channel ThatNewRave.com.