6 Must-Visit Upper Peninsula Coffee Shops
Today, featured blogger Jesse Land of Things to Do in the U.P. describes six Upper Peninsula coffee shops that are perfect for a quick pick-me-up after a busy day.
Have you ever needed to grab a coffee while traveling and just haven't been able to find a place? I know I have. And because I care about my fellow coffee lovers, I'm here to give you the skinny on where to get your caffeine fix while exploring
the Upper Peninsula.
Dead River Coffee is primarily a coffee roaster, and if you're timing is right, you might catch Theo (the owner) roasting a batch of beans as you order your favorite coffee drink. (The smell is amazing!) Grab a pound of his popular "Harbor Girl" roast for the road.
119 W Baraga Ave. Marquette, MI
This cool coffee shop is housed in a nicely restored historic building in downtown Calumet. Formerly a gas station, the building now houses one of the two 5th & Elm locations (the other is in Houghton) and serves up ice cream and sandwiches as well as coffee.
501 Elm St. Calumet, MI
Moose doubles as one of the town's social hubs. It's often busy, especially around lunch time when sandwiches, wraps, salads and paninis fly out of the kitchen as busy lunchtime chatter fills the space. They do a great job getting orders out, though, and the food is good enough for this to also be a very legitimate breakfast or lunch spot.
221 E A St. Iron Mountain, MI
Stone Cup Coffee House & Stones Deli - Escanaba, MI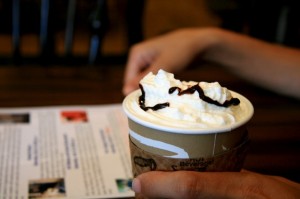 Are you seeing a trend here? Yes, most of the coffee shops in the U.P. also double as restaurants. And the Stone Cup Coffee House & Stones Deli in Escanaba is no different. This is a great place to grab a mouthwatering breakfast or lunch as well as a quality coffee.
1222 Ludington St. Escanaba, MI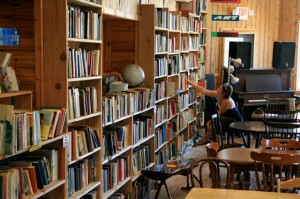 The Falling Rock is a true gem, nestled in downtown Munising, just south of
Pictured Rocks National Lakeshore.
Part coffee shop, part bookstore, this is a place where you could easily spend a couple hours. They also serve a wide selection of ice cream for those hot summer days, and a full menu of soups and sandwiches if you're in the mood for lunch. If you happen to be visiting Pictured Rocks and mother nature rains on your parade, grab a coffee, crack open one of their more than 1,000 new and used books and relax for a while.
104 E Munising Ave., Munising, MI
Tucked inside a house along Menominee's historic waterfront district, The Serving Spoon is a breakfast hotspot as well as coffee shop. From here, it's just a short drive (or nice walk) to Menominee's
North Pier Lighthouse
.
821 1st St. Menominee, MI
Now that you've got a good idea where to get your caffeine fix in the U.P., I'd love to hear about any other great coffee shops out there. What's your favorite Michigan coffee shop?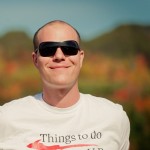 This post was written by Jesse Land, publisher of the Upper Peninsula travel website Things to do in the U.P. on behalf of Travel Marquette Michigan.