A Behind the Scenes Peek at Mackinac Island Wedding Photography
We recently had the chance to sit down with Mackinac Island Wedding Photographer, Andrejka Photography, and ask a few questions about what it's like to be a wedding photographer on Mackinac Island, why she chose the island, what makes it so special, and share a few stories. Here's what we found out: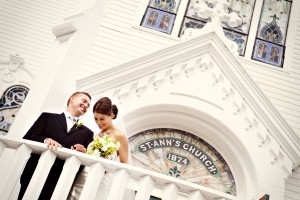 Photo by Andrejka Photography
Q: Why did you choose Mackinac Island to open your photography business?
A: Clients and fellow photographers often ask why I would leave beautiful California to go to an island in Michigan…well nothing compares. Being a photographer on Mackinac Island isn't like anywhere else in the world. I've photographed weddings and portraits all over the world. Being a photographer on the island is about more than just shooting pretty pictures. It's about introducing my clients to a whole new world, giving them an insider's experience to an island that is unlike any other.
Q: What do you want newlyweds to remember about their Mackinac Island wedding?
A: I want couples to feel connected to the location, the venue and the people. This is a location where a couple has the opportunity to be part of a community that isn't necessarily their own. By day two on the island they can walk into a restaurant and the bartender will know their name. Their wedding coordinator is having dinner next to them. Their florist is outside walking the dog. This is something you can only experience on
Mackinac Island
. I want couples to feel a part of something larger than just their 4-hour wedding day. They should leave the island feeling like they've gained a lifelong friendship with a unique location that only a few truly get to experience at its fullest.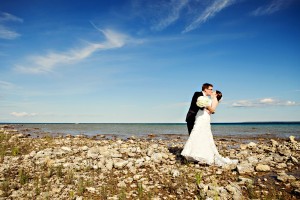 Photo by Andrejka Photography
Q: What makes Mackinac Island a unique destination for weddings and wedding photography?
A: Vendors work together as a team more than anywhere else I've ever worked. We not only see each other at events but we see each other at the grocery store. I have most every wedding coordinator on speed dial.
Q. How does your job as a wedding photographer on Mackinac Island differ from other destinations?
A: As an island photographer there are certain skills that make our jobs unique. Besides knowing the secret places for photos, and having the relationships to make extra special things happen, having an island bike that can hold your equipment is a must. Also, having the endurance to make it up those hills is critical in chasing after your couple's carriage rides. Shooting while biking is a skill that doesn't hurt as well.
Q: Have you ever had any funny or unexpected happenings while shooting wedding photography on the island?
A: Only on
Mackinac Island
. I had left my bike for my assistant to use and was quickly back to the resort when I realized the wedding party was going to pass me in their carriage. Well as I'm speed walking with all my equipment in hand a dock porter friend with a big bike basket (no name to protect the innocent as what I'm about to tell you is technically illegal) pulls up to say hi. I'm clearly in a hurry and he says 'Hop in. I'll give you a ride." Next thing I know I'm being carted like a piece of luggage down the street with my equipment in my lap and feet hanging out of the basket. It worked! I beat the carriage to the resort with time to spare.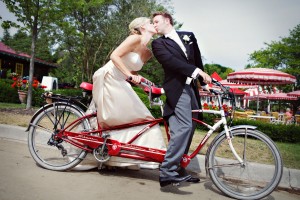 Photo by Andrejka Photography
Q: Have you had any close calls or mishaps while doing wedding photography on the island?
A: I always meet with my couples the day or two before their wedding. One day I met with a couple who happened to be from New Orleans and we started going over the plan for the next day. It included a second line from St. Anne's Church to the Island House, an awesome idea. Not a far distance, no big deal right? Only as long as you have a permit and police escort. This was the first they were hearing of the permit and escort. Luckily, I was on my way to the Tourism Bureau where the director at the time quickly called the police station, got a permit, and had an officer there just in time as the ceremony ended. With all of the horses there are certain rules that keep everything under control, not everyone knows these rules. It is helpful to have island vendors who either know the rules or know people who know the rules. Can you imagine if the 50 New Orleans locals were taken to the little Mackinac Island jail? Not the memory they were necessarily looking for!
About Andrejka Photography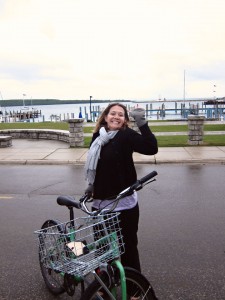 My first camera was a hot pink point and shoot in junior high. It should have been clear at that young age that photography would become more than just a hobby. I've always loved documenting life, however I began to realize that photography meant more to me than an image here and there. It isn't just the art that brings joy to my profession but the many friends I've gained along the way. I couldn't imagine doing any else. The excitement of love and life inspire me every day.My love for people mixed with a background in fine art is the perfect combination for a professional photographer. It is life's important moments that inspire my creative eye. My work has been featured in a variety of national and interview television shows, magazines, marketing ads and websites. Currently I split my time between two beautiful locations – Southern California and Northern Michigan. I have also had the pleasure of photographing portraits and weddings around the world including Hawaii, Mexico, Spain, Italy, France and even Macedonia. Follow Andrejka Photography on Facebook.
Have you or someone you know gotten married on Mackinac Island? Tell us about it!
[wp_geo_map]