A Love Poem to Lake Michigan
Emma Anderson is a 13-year-old from Harrisburg, Pennsylvania who visits her great-grandparents' Upper Peninsula home during summers. During a visit last year, she was inspired to write a poem about the area and the beauty of Lake Michigan specifically.
We love what she put together and are excited to share it with you today!
Read from Emma below and see the poem at the bottom of the post.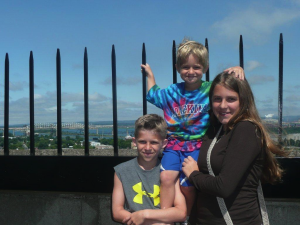 Max (11), Jonah (5), and me at the top of the Tower of History in Sault St. Marie.
I'm Emma Anderson, a 13 year old homeschooler from Harrisburg, PA. I enjoy reading and writing (especially poetry). I also love learning about places and people all over the world.
My great-grandparents own a cabin in Michigan's
Upper Peninsula
, in a small town called
Naubinway
. They have vacationed in the "UP" for over 50 years. My dad grew up visiting the cottage every summer, and my parents were engaged there. As for me, I've been to Michigan three times, and every time has been better than the last. Even though the trip is about 14 hours long, we all think it's well worth it!
We have had many interesting experiences in Michigan! That includes stops in
Frankenmuth
to peruse the many unique shops, shopping in
Mackinaw City
, bike riding around
Mackinac Island
in order to eat the best fudge in the world, visiting
Sault Ste. Marie
to watch the freighters pass through Soo Locks, traveling to
Whitefish Point
to learn about the
Edmund Fitzgerald
, seeing the huge bears at Oswald's Bear Ranch, and many more!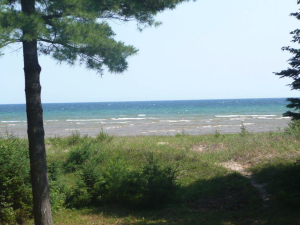 This is the view from my great-grandparents' cottage-the inspiration for my poem.
But we all agree that the simple things are the best – like driving to Millecoquins Lake to see the deer, eating pasties and Mackinac Island fudge, walking along the beach,
fishing
(mostly my dad) and just enjoying time together as a family. Michigan is a beautiful place to go to for inspiration, rest, and a change of pace. Every year my great-grandmother leaves a note saying, "Janet will return." She places it under a penny on her nightstand. And guess what? She DID return again this year at age 93!
My great-grandparents' cabin looks right out over Lake Michigan, and that was the gorgeous view that inspired me to write "Lake Michigan's Shore." I hope through this poem I have captured the rugged beauty of all of Michigan, but especially of its Upper Peninsula.
Lake Michigan's Shore
By Emma Anderson
July 7, 2012
Age 12
Sun and sand, sea and sky
Breezes blow, seagulls fly.
On Lake Michigan's shore stand I.
Waves roll up, and roll back down
Flowy winds swirl around.
The bright blue sky is where clouds abound.
Looking across an expanse of blue
A lovely, panoramic view.
And quiet-the bliss of solitude.
The sun is setting in the West
The waves recede, gone to rest.
The sky's pink-orange-at its best.
Then there comes a silvery light,
The moon is rising, as if in flight,
Sending a glow upon the night.
The sand turns cold, stars glisten on high.
All is quiet, God is nigh.
On Lake Michigan's shore stand I.

Thanks to Emma Anderson for sharing with us! Have you ever written about your love of Michigan? Post a link to your story in the comments section below or send us a note about being a guest blogger here.