All Square: A History of Detroit-Style Pizza
We've found that if there's one food Michiganders know and love, it's pizza! And while the best pizzas in Michigan can be found all across the state, some may argue that "Detroit-style" pies top the charts. Today, guest blogger and pizza enthusiast Tony Sinicropi takes us on a historical tour through the pizza of Detroit.

Call it square. Call it deep dish. Call it whatever you want – just know that it is uniquely Detroit and definitely Pure Michigan.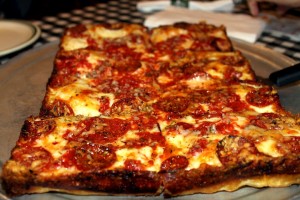 Buddy's "Detroiter" Pizza

Detroit-style pizza, a descendent of Sicilian-style pizza, traces its roots to one man – Gus Guerra. In 1946, Gus owned what was then a neighborhood bar, Buddy's Rendezvous, when he decided he needed something new for the menu. He enlisted the help of his wife, Anna, who borrowed a dough recipe from her Sicilian mother. The Sicilian dough, topped with cheese and tomato sauce, would become the model for pizza in Detroit.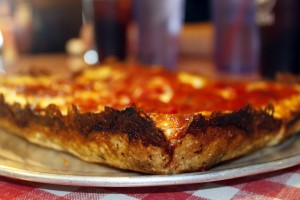 The key ingredient in a proper Detroit-style pizza isn't something you eat – it's the pan. The key characteristics of the pizza – the soft and airy square crust, the crunchy exterior, the caramelized cheese that edges the pizza – are all due to the deep pans in which the pizzas are baked. The pans are a thick steel pan that are more similar to a cast iron skillet than a cake pan. Legend has it that Gus got his initial batch of pans from a friend who worked in a factory that used the pans for spare parts. Detroiters have been fighting for corner slices ever since.

Armed with empty stomachs and a passion for good pizza, we embarked on a tour to trace the genealogy of Detroit-style pizza.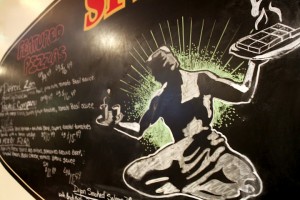 The Spirit of Detroit prefers his pizza square

Our first stop was Gus' original restaurant – Buddy's Rendezvous at 6-Mile and Conant. We went with the classic Detroiter – cheese, sauce, and pepperoni on top so that it crisps up and chars slightly. The sauce is what sets Buddy's pizzas apart – the bright tomato sauce and hit of herbs act as the perfect complement to the salty pepperoni. With the bocce ball courts outside and a bar area lined with pictures of Tigers legends, Buddy's is a landmark worthy of its reputation.


Next on our itinerary was Cloverleaf Bar & Restaurant in Eastpointe, founded by Gus & Anna after they sold Buddy's Rendezvous in 1953. Cloverleaf claims to carry on the original recipe that Gus developed at Buddy's. The extra crispy edges on this pie received high praise from the group.

Our next stop on the lineage tour was Loui's in Hazel Park – founded by a long-time chef at Buddy's, Louis Tourtois, which explains the similarity between the pizzas at each location. Similar to Buddy's, Loui's is frozen in time with its checkered tablecloths and hundreds of empty Chianti bottles that hang from the ceiling.

Finally, we made it to the new kid on the block, Detroit Style Pizza Company in St. Clair Shores, run by Gus Guerra mentee Shawn Randazzo. After owning and operating a Cloverleaf location with his mother for 16 years, Shawn decided to branch out and put his own spin on the square pie and opened Detroit Style Pizza Company earlier this year. Shawn was recently crowned as the World Champion Pizza Maker of the Year at the 2012 International Pizza Challenge. After trying his "Margherita in the D" pizza, I can see why. The sauce made of crushed tomatoes and topped with fresh basil, roasted garlic, and red onion provided a nice change of pace from the more traditional places.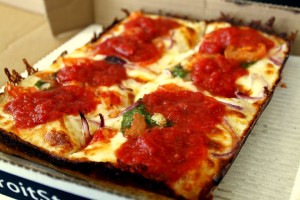 The great thing about visiting these places is that you can't go wrong with any of them. Next time you are in the Detroit area, be sure to stop in and grab a slice of pizza history.

About the Author: A born and raised Michigander, Tony runs the blog Great Lakes, Better Food, which chronicles his food adventures from all over the state. He lives in Ann Arbor with his wife and their dog, Lucy, who are both eager to accompany him on his adventures.