An Annual Summer Getaway to Harbor Springs, More than a Family Tradition
Melanie Dawson currently
lives in Minneapolis, but she's been visiting Harbor Springs, Michigan for 15 summers now. Today, she shares with us what draws her family back to the area year after year.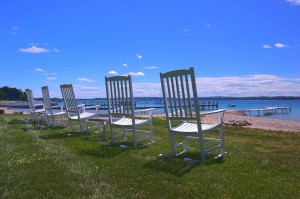 Photo credit: Lou Peeples-Photography; www.pointephotography.net
I grew up in Phoenix, AZ, the desert landscape being infinitely different from northern Michigan. But I lucked into marrying a Midwestern man from Indiana, whose family comes to Harbor Springs every summer. I've been visiting Harbor Springs for 15 summers now, my husband for 39. His mother spent her summers there, as did his grandmother and her parents, making our daughter the fifth generation. It's more than a family tradition, for them (and now for me) it's a way of life. A summer not spent in Harbor Springs is a summer with something missing. Every year we look forward to revisiting old favorites and finding new gems.
Restaurants we love:
Depot Club & Restaurant
, serving gourmet food. Coat required indoors, more casual on the patio. New this year is
Petoskey Brewing
, housed in an old brewery from 1898. This family-friendly place serves delicious microbrews (try a flight of three or four 4 oz pours) and a solid pub menu and is located on the drive between Harbors Springs and
Petoskey
. We also thoroughly enjoy sitting outside at Dudley's Deck, which provides covered dining on the patio or the open grass area across from the dock. On a gorgeous night it's a pleasure to sip one of their famous Hummers and watch the sun go down. Don't miss Turkeys Café & Pizzeria (serving pizza and sandwiches) and Gurneys Harbor Bottle Shop (a liquor store that makes amazing cold sandwiches to order at lunchtime). There's nowhere to sit at Gurney's so take your sandwiches down to the pier and watch the yachts come in and out.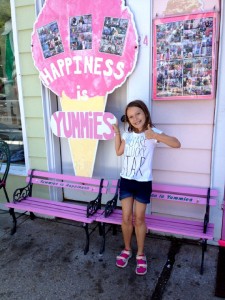 For ice cream and treats, my daughter would tell you that Yummies is a must, serving her favorite flavor of ice cream: Superman. As a grown-up, I am loving the new Velvet, an ice cream shop with a more sophisticated interior and delicious flavors. Not a summer goes by where we don't get a cookie from
Tom's Mom's
. Housed in the tiniest shop you may have ever seen, the cookies are fresh baked. If you love fudge, check out
Kilwin's
and
Howse's
.
Leaving the downtown area,
Pond Hill Farm
is a wonderful way to spend a few hours. The farm is home to cows, pigs, sheep, chickens, and geese. It features a café and winery with farm fresh ingredients. There's a trout pond to fish in, a squash rocket to experiment with, and a market that features pesticide and herbicide free produce hormone and antibiotic free organically raised beef, pork, and lamb, plus other organic products. My daughter's grandparents enjoy taking the grandchildren to Thorne Swift Nature Preserve, featuring a boardwalk through dense woods and beach frontage and several stopping points with educational information on trees, flowers, animals, insects, and environmental topics. You can't go wrong visiting the beach at
Petoskey State Park
where you can spend hours searching for the hard-to-find
Petoskey
Stone.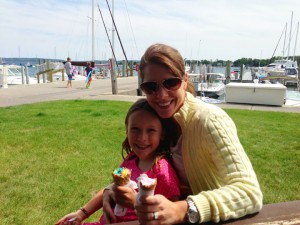 Pirate's Cove Mini Golf
in
Petoskey
is my daughter's number one favorite activity to do when we visit Northern Michigan. With several locations around the country, it isn't exclusive to Michigan, but it provides an hour or so of wicked fun. What kid (or kid at heart) doesn't enjoy miniature golf with the family?
If you love being active on the water, visit
The Outfitter
. This comprehensive shop features all the gear you need (you can rent paddleboards and kayaks) plus a generous amount of activewear, shoes, and accessories for all of your active pursuits.
Melanie Dawson
is an avid traveler who loves exploring the United States and abroad with her husband John and 8 year old daughter Reese. She lives in Minneapolis, MN where she pursues her passions of cooking, nutrition, and living an active lifestyle.
For more things to do and see in Harbor Springs, visit michigan.org.