An Awesome Mitten Christmas List: 8 Great Michigan-Made Gifts
Today, guest blogger Erin Berhnard from The Awesome Mitten tells us about some great Michigan-made gifts to keep in mind as you start to cross items off your shopping list this holiday season.

At The Awesome Mitten, we encourage our readers to support local shops and start-ups to help revitalize the Michigan economy; as a state, we have the capacity to rebuild ourselves just by buying nearby. Team Awesome learned about some amazing new products this year, so we've compiled a list of some of our favorites in hopes that Santa is reading.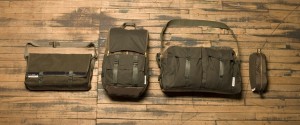 Photo courtesy of Teamwork Bags

1) Teamwork Bags: Founded in 2006 and with a recently updated website and online ordering system, Teamwork has expanded its operations to give every purchaser statewide his or her own eco-friendly bag. The Nicks (Stockton and Stygstra, the company's founders) started making bags out of old sails, military canvas remnants, and other recycled materials and found a market for everything they sewed through pop-up shops throughout West Michigan.

Must-have item: Waxed Canvas Classic Tote, $45.99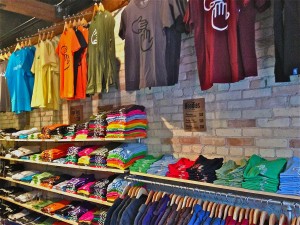 2) High Five Threads: After the opening of their second store in downtown Traverse City and their acquisition of Two Bays, High Five Threads seems to be having the best year ever. H5T achieves their mission of creating high-quality goods and supporting local entrepreneurship with every piece of apparel they create; everything is designed and printed in Michigan and made in the US.

Must-have item: Classic Sweatpant in Royal, $35

3) Mittenfest: December 2013 marks the eighth annual Mittenfest in Ypsilanti and, after a successful first S'Mittenfest this summer, the festival is sure to be a knockout. Originally created as a one-day event, Mittenfest is now a weeklong celebration of Michigan music and holiday cheer during the week between Christmas and New Year's. The festival exists to benefit 826 Michigan, a non-profit organization dedicated to supporting students ages 6 to 18 with their creative and expository writing skills.

Must-have item: Tons of tickets, $10 each per night

4) Handmade Kalamazoo: Handmade Kalamazoo gives local artisans a network within which to create, market, and sell their goods. The marketplace thrives through grants such as the Kalamazoo Foundation's ChangeMakers grant, which allows Handmade Kalamazoo to open pop-up shops throughout the downtown area.

Must-have item: Pleasant Peninsula t-shirt, $25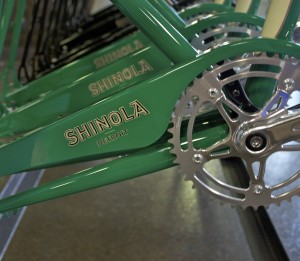 5) Shinola: Shinola opened their watch factory in downtown Detroit after vetting locations around the world. Why? Because Detroit has a great manufacturing legacy as well as the promise of a great future. A great statement to Michigan-made, Shinola is glad to have landed in such an up-and-coming city and makes the watches, bicycles, and leather goods to prove it.

Must-have item: Leather Card Wallet, $80

6) Shaggy's Copper Country Skis: Shaggy's is handcrafting both custom and mass-market ski lines for skiers in Michigan and beyond. Their brand-new factory in Boyne City is churning out skis for the upcoming season; purchase a limited edition pair and get a free season pass to Mount Bohemia! Keep watching the company for the launch of Shaggy's longboards in spring 2014.

Must have item: a pair of Tubbys, $449 or $600 in the Mount Bohemia Colab package

7) Libations: How can we pick just one, with so many amazing craft brews, wines, and spirits being made in this great state? Among our favorites are:

-Brys Estate: This winery on Old Mission Peninsula has a Pinot Noir that is a consistent gold medal and best in class winner, directing the international wine market's attention to Michigan reds.

-Ore Dock Brewing Company and Blackrocks Brewery: These two Marquette breweries recently got the go-ahead to start canning their beers for wide distribution, meaning we'll no longer have to make the trek to the 906 to get great UP beer!

-Traverse City Whiskey Company: A smooth and creamy whiskey out of Traverse City is planting roots downtown, with plans to expand its distillery and open a tasting room in the recently dubbed "SoFo" neighborhood.

Must-have item: a little bit of everything!

8) The Awesome Mitten Crate: We've partnered with our friends at Mitten Crate to bring some of our favorite goodies to you in one convenient, easy-to-ship Awesome Mitten Crate!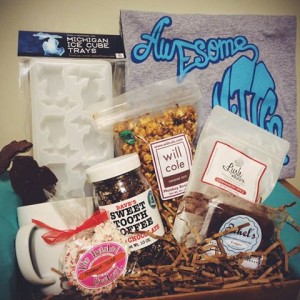 We've included everything from Dave's Sweet Tooth Toffee to Noteware Candy Company's Michigan-Shaped Chocolates, as well as a limited edition Awesome Mitten t-shirt and some surprises to boot.

Must-have item: a crate for me and for my favorite people, $65 each

This is obviously only the beginning of the list of amazing Michigan-made products available for the holidays.

What's your favorite local product?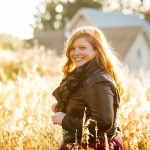 Erin Bernhard is the Managing Editor for The Awesome Mitten. She's a northern Michigan twenty-something who loves good microbrews, great wine, summertime grillouts, and well-roasted coffee. She is also a dedicated yoga practitioner, social media and marketing enthusiast, reader and writer, local food junkie, and outdoors explorer–and she's always adding to the list. She is located in Traverse City and loves helping to make her hometown shine. Check out her portfolio, follow her on Twitter, connect with her on Facebook.