An Out-of-Towner's Guide to Planning a Pure Michigan Wedding
Conrad Chase and Abigail Paul are in the process of planning their dream Pure Michigan wedding. Today, they give us an inside look at the process and their reasoning behind choosing Michigan as their ultimate wedding destination.
My name is Conrad. I was born in Chicago, have lived in 4 countries, traveled to 15, and spent countless months in major cities around the U.S., including Los Angeles, New York, Miami, and other places considered to be the center of the action, attracting the best of the best.
I have to be honest - two years ago when I was presented with the opportunity to relocate to Michigan, I considered the move to be a temporary one, which would have me back in these major markets in no time.
However, what actually happened (and what I am sure happens to every other guy who falls in love and doesn't see it coming) is I bumped into the most beautiful and amazing woman in the world, in the most unsuspecting of places,
Buchanan, MI
. You have heard of Buchanan, right? Wrong. Not many out-of-staters like myself have, which is why this story gets even better.
So here I am, starry-eyed and in love, learning all about this new lady who has come waltzing into my life. She is from Southern Michigan, as are her family and friends. Our dates include
winery tours
,
days at the beach
, athletic events on the most pristine beautiful lakes, all in Michigan. Very quickly, my calls back to my friends and family became full-blown endorsements for Michigan and aggressive solicitations to get them here to experience this wonderful place!
Well, as you can imagine, our relationship took its course and we quickly moved from dating, to wedding planning. When evaluating the options of how and where we would get married, all kinds of ideas came to mind. A destination wedding in the tropics, a church wedding and a high-rise reception in a major city, and more. However at the end of the day, we both agreed that it would be so much more special, to bring everyone together, as close to our home and our life in Michigan, as possible. We wanted to show them all of the wonderful things in Michigan she has grown up with, and I have grown to love. With the decision made, we began our planning.
The Venue:
What could be a better setting for a Michigan wedding, than in a barn, on a vineyard, closely located to Buchanan. We will tie the knot at the
Hidden Vineyard Wedding Barn
in
Berrien Springs.
(Birth place of Mohammad Ali… another fun Michigan fact!)
The Vendors:
We wanted all of the elements of the wedding to be meaningful, and representative of Michigan, and also be appropriate for a barn wedding. We chose a wedding designer from Buchanan called Rustica. Their shop is located in downtown Buchanan, and is a place that Abby and I go on Sunday mornings after grabbing fresh brewed coffee, and see what new artisanal items this husband and wife team have crafted up. The music is from a bluegrass band from Southern Michigan called the ArtGomperz. We both thought it fitting that if we were tying the knot in a barn, a banjo must be involved. This brings us to food and drinks. Our main course is a pig roast with a pig from a
local Michigan farm
. Additionally, all produce, cheese, bread, beer, wine and spirits are coming from local farms,
breweries
and wineries. Even the desert will have a number of delicious items from
Cherry Republic
, a staple of Michigan tourism.
As I am writing this post, I am looking out the back yard, over the largest inland lake in Southern Michigan, at the boats, jet skis, families on pontoons, and dogs happily running and playing in the shallow water. I have spent years of my life looking for best places, best cities, most excitement… I never thought that I would find it here, in Pure Michigan.
For more on planning a wedding in Michigan, see our Pure Michigan Weddings board on Pinterest or watch the replay of our live chat with local wedding expert Megan Swoyer.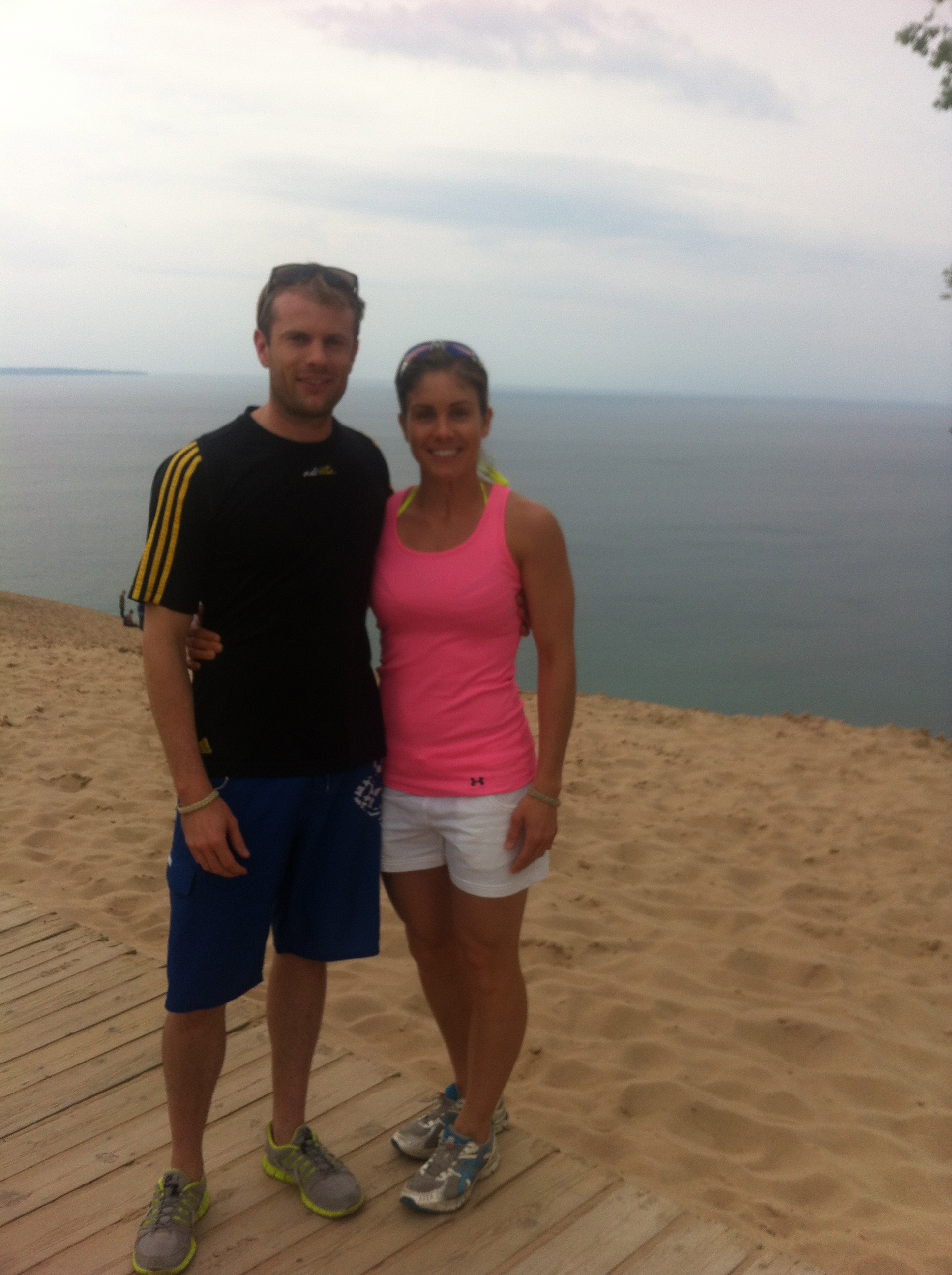 Conrad Chase is a business development executive for a growing technology company, Data Realty, headquartered in South Bend IN. His beautiful fiancée, Abigail Paul is a dentist in Eau Claire, Michigan. The couple share common interests such as travel, Crossfit, and family. Abigail and Conrad reside in Buchanan, MI with their 2 cats, Susie and Stimpy.