An Ultimate Silent Sports Weekend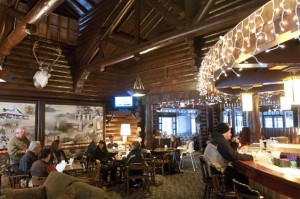 Keweenaw Mountain Lodge
Aaron Peterson, a
Michigan Travel Ideas
contributing photographer, revels in the snow by enjoying a day of cross country skiing in Michigan along with other fun winter activities at Keweenaw Mountain Lodge, open for its winter season the second time in more than 75 years.
The
Keweenaw Peninsula
has always had a magnetic pull on me. Even though I've lived in Michigan's Upper Peninsula for 10 years, whenever a long weekend rolls around my thoughts swing north like a compass needle to that 50-mile spine of land slicing into
Lake Superior
. Once north of
Houghton
, it seems as if every mile up the Keweenaw takes you further back in time to a lost vacation kingdom. The faded former mining towns get smaller. The tree-lined roads get narrower. The snow gets deeper.
Keweenaw Mountain Lodge
in
Copper Harbor
would have to be the capital castle of this lost empire. The 10,000-square-foot timber-and-stone lodge stands atop a 1,100-foot ridge with views of a forested valley below and the imposing cliff face of Brockway Mountain in the distance. The 75-year-old lodge and 34 guest cabins were built as a public works project during the Great Depression.
Like the main lodge, our two-bedroom cabin features deep brown log walls, hardwood floors and a massive fieldstone fireplace. The overall feel is cozy and quiet, the perfect setting for family fun.
I unpack the van as my wife, Kristen, wrestles our giggling son, Josiah, into his puffy down suit. The lodge's 13 kilometers of classically groomed ski trails run past our cabin; there also are snowshoe trails, a wicked snowboard terrain park, a toboggan run, and a lighted ice rink on the property. For the alpine-inclined, the Midwest's most challenging backcountry runs and tree glades are at
Mt. Bohemia Ski Resort
about 13 miles away.
We're hoping to sample most of the activities during the next three days, but today is reserved for our favorite—cross-country skiing. The lodge's meticulously groomed trails range from twisty paths to wide, flat routes. We're going to kick and glide until our waistlines are less than our inseams—or at least until the baby wakes from his Nordic nap in the pull-behind carrier.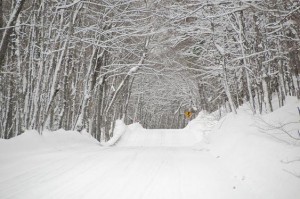 After nearly a full day of exercise (Is drinking hot cocoa considered aerobic?), we wander to the lodge for a meal selected from a satisfying menu of winter comfort foods—winter squash ravioli, tenderloin mixed-greens salad, ribs and lamb.
Logs of oak and pine purr and pop in open fireplaces at both ends of the lodge. On one wall, a historical photomural shows men and women in snappy old-time golf clothes. Could they ever have imagined that we'd be skiing down their fairways 75 years later? Who knows? But the addition of winter sports at the lodge has at least one person thinking ahead.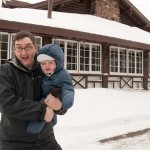 Freelance writer and photographer Aaron Peterson lives and works in Michigan's Upper Peninsula and is thankful for this region's clean air and water, plus the elbowroom to raise down-to-earth, outdoorsy kids.
[wp_geo_map]