Jonathan Witmer shares his "Pure Michigan Moment," a business trip in Detroit that ended with a one-on-one tour of downtown architecture, an experience he'll never forget.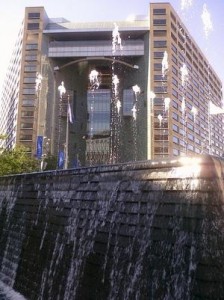 Campus Martius Park
While I was in
Detroit
for business last summer, I found the group
Preservation Wayne
, which gives After Work Tours every Tuesday. I met the guides in
Campus Martius Park
for the scheduled "People Mover Tour." I was the only person, so the guides asked if I had a different tour in mind.
I really like the Art Deco style of the 1920s and '30s, so off we went to the
Guardian
and
Penobscot
buildings. The elevator doors are the epitome of Art Deco design. It may not sound very exciting, but it was cool to an Art Deco geek like myself.
View from the McNamara Building
Our tour lasted about an hour, and at the end, the guides showed me one more historical gem: the
Grand Trunk Pub
. The pub's atmosphere was amazing, and they had great Michigan beers on tap. Not only did I get a personalized, in-depth tour of
Detroit's
Art Deco skyscrapers, but they bought me a beer, too! It was an experience I will never forget.
Since his trip, Jonathan is always looking for opportunities to go back to Detroit. In early December, he and his wife celebrated their anniversary with a weekend in the city, which included a visit to the Grand Trunk Pub.
Jonathan Witmer submitted this blog as part of Michigan Travel Ideas "Pure Michigan Moment" blog contest which they ran last year.