Celebrate the Holidays with Wines from Michigan's Old Mission Peninsula
The holidays bring a festive atmosphere ready to celebrate with Michigan's finest wines. The folks at the eight distinctive Wineries of Old Mission Peninsula have put together some suggestions for wine pairings with your favorite holiday dishes to help you celebrate the season!
Today's holiday table has evolved to offer bolder flavors, so make sure your wine will stand up to your festive meal.
2013 2Lads Cabernet Franc
is a great with anything and everything you'd find on a holiday buffet, including cheese plates, herbed stuffing, caramelized Brussels sprouts, roasted garlic mashed potatoes, cranberry chutney, and even brown butter bourbon pecan pie…yum!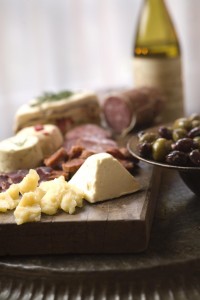 Wine doesn't have to just be served with the main course. Make sure to sample
Black Star Farms' Sirius Maple Dessert Wine
, perfectly paired with classic holiday pies. This unique dessert wine is made from Black Star Farms Hard Apple Cider and Apple Brandy, with Michigan maple syrup. Made in a port style, this wine has the perfect balance of fruit and brandy flavors. Enjoy with holiday desserts, or use it in recipes, including a glaze for turkey or pork tenderloin, waffle or pancake sauces, or baked fruit in a Sirius Maple sauce.
For a crisp, Granny Smith apple flavor that pairs well with holiday spices and finishes with a tinge of sweetness, go for the
2014 Bowers Harbor Vineyards Riesling Medium Dry
. This bright wine bounces off the spices, and cuts through the richness of many holiday dishes, allowing the taste of both of the food and wine to come through. The sweeter finish offers a cool down, proving this Riesling to be the perfect complement to hot dishes.
This holiday, reach for a Pinot Noir or Dry Riesling – both are perfect complements to the special meal of the season.
Bry
s Estate Vineyard & Winery Pinot Noir
pairs beautifully with roasted vegetables, while their
Dry Riesling
will complement stuffing with apples and spice. Also, try the Dry Riesling with a rich butternut squash bisque or curried carrot soup. It's sure to please.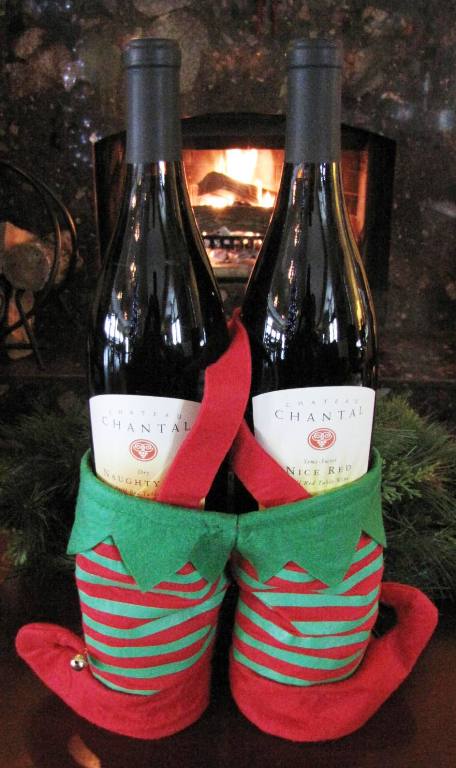 Photo Courtesy of Chataeu Chantal
Chateau Chantal
offers their
Naughty & Nice Red and White
wines during the holidays…perfect as a fun wine gift for the season. Ranging from dry to sweet, there is a selection for everyone at the table among these four wines. The Naughty Red and White are dry, while the Nice Red and White are the sweet versions of the same wine blend.
The bold and inviting
Chateau Grand Traverse 2012 Gamay Noir Reserve
offers earthy flavors with hints of dark cherry, ripe berries, black pepper and light chocolate. The complex character of this delicious wine makes it a perfect pairing for rich and hearty holiday meals.
Stay warm this December with
Hawthorne Vineyards 2012 Reserve Pinot Noir
. Dark cherry, strawberry and cinnamon aromas are woven with spring from oak aging and ripe tannins. Aged 19 months in French oak barrels, this Pinot is sturdy enough to serve with a holiday favorite rib roast.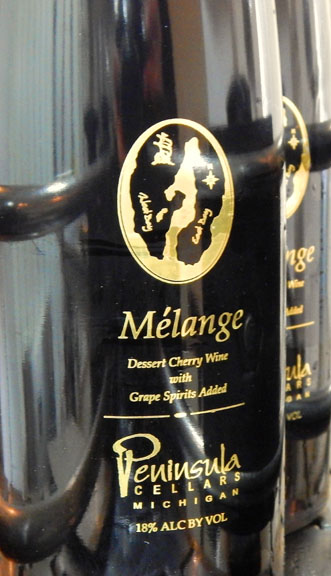 Photo Courtesy of Peninsula Cellars
Peninsula Cellars
suggests indulging (and who doesn't like to indulge during the holidays) after the large holiday meal with a bottle of
Mélange
, Peninsula Cellar's port-style cherry dessert wine. This luxurious after dinner spirit complements dark chocolate or cheesecake beautifully with its rich cherry flavor, hints of oak and velvety texture.
Happy Holidays from the Wineries of Old Mission Peninsula! Don't forget – besides making your celebratory meals more festive, these wines make wonderful gifts.
Kirsten Borgstrom is a Michigan wine enthusiast and publicist for the eight distinct wineries that comprise the Wineries of Old Mission Peninsula (WOMP). For the latest on WOMP news and events follow us on Facebook, Twitter, and Instagram.