Cross These Seven Traverse City Activities Off Your Snow Day Bucket List
Winter is on its way, and Traverse City is ready for snow! Today, guest blogger Mike Norton from Traverse City Tourism shares some suggestions for your next Traverse City snow day.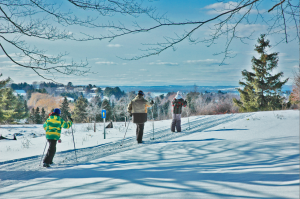 Photo courtesy of Traverse City Tourism

I know there are people who aren't big fans of winter. But personally, I can't wait to see those first fat flakes of snow come spiraling out of the sky.

Maybe it's because I live in a place where there's so much to do in the wintertime – especially in the Great Outdoors. I like to be outside as much as possible, and Traverse City is full of opportunities for outdoor winter fun. Each winter, this region's gently sculpted landscape (carved 15,000 years ago by the last retreating glaciers of the Ice Age) becomes a playground for skiers, snowmobilers and snowshoe hikers. Like me, they consider it one of the country's most beautiful winter destinations.

Skiing, Snowboarding and "Silent Snow Sports"

For skiers and snowboarders, our premiere winter destination is undoubtedly Shanty Creek Resorts, a 4,500-acre recreational complex in the beautiful Chain of Lakes region, about 30 miles northeast of town. Shanty's two ski areas, Schuss Mountain and Summit Mountain, provide 53 downhill slopes, six terrain parks, 30km of cross country Nordic trails, and a multi-lane alpine tubing park. (Ski Magazine rated it the Midwest's number-one destination in value, dining, lodging, weather and après ski activities.)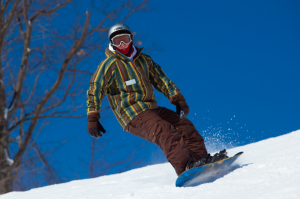 Photo courtesy of Traverse City Tourism

But lots of other skiers and snowboarders have discovered the fun of staying closer to town, taking advantage of low lodging rates and a broad choice of shopping, dining and entertainment options while skiing at TC's two day ski areas, Mt. Holiday and Hickory Hills.

Still, for me (and for many others) this area is loved mostly for the quality of its winter "silent sports" -- snowshoeing and cross-country skiing -- thanks to its vast acreage of forest and parkland. Just one example – and one of my favorites: the Sleeping Bear Dunes National Lakeshore has eight marked trails, some leading up to panoramic overlooks high above Lake Michigan.

And there are so many other marked trail systems that you couldn't explore them all if you stayed here all winter. There's the Lost Lake Pathway near Interlochen and the Vasa Pathway, one of the finest cross-country ski trails in the nation. Within the city, the 300-acre Grand Traverse Commons features superb snowshoeing among century-old, castle-style buildings and stands of old-growth pines.

Snowmobiling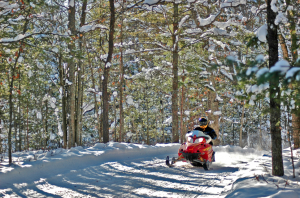 Photo courtesy of Traverse City Tourism

Snowmobilers tend to head south and east of town to more than 200 miles of the country's finest and most diverse snowmobiling. The Boardman Valley Trail, just minutes from downtown, is an 81-mile trail system in the Pere Marquette State Forest, where sightings of turkeys, eagles, deer and other wildlife are commonplace. The Jordan Valley Trail, about a half-hour to the northeast, is a network featuring over 130 miles of spectacular trails not far from Shanty Creek and the picturesque village of Bellaire.

Snow Biking and Snow Tubing

Traverse City is also becoming a hub for one of the newest winter sports: fat biking. Fat bikes are specially-adapted mountain bikes with large tires that can actually allow you to ride over the snow, and over the past two years they've become part of the local winter landscape. We've always been a favorite year-round destination for all kinds of outdoor sports enthusiasts; given the opportunity to add cycling to their repertoire of winter sports, they've wasted no time embracing the Fat Bike phenomenon.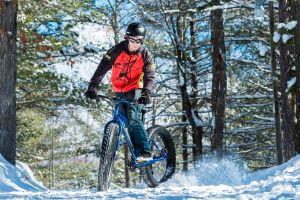 Photo courtesy of Traverse City Tourism

But you don't have to be an athlete to enjoy winter recreation in Traverse City. Lots of us have discovered that there are plenty of thrills to be had in snow-tubing. Tubing has all the thrilling speed of a toboggan or sled – but you get to sit in the middle of a big soft inner tube and ride down a groomed hill where there are people keeping an eye on you. And when you get to the bottom, there's a towline waiting to take you back to the top so you can do it all over again.

As it happens, the largest tubing hill in Michigan is at TimberLee Hills, a former ski resort in the hills just northwest of town. (On clear days, it has breathtaking views of Grand Traverse Bay and Lake Leelanau.) Lots of local ski resorts also have tubing hills; Shanty Creek Resorts, for instance, has a sophisticated tubing park just above their Cedar River lodge. Mt. Holiday Ski Area also has a dedicated tubing park. All three have mechanical lifts, which helps you make the most of your allotted time. These things are popular, especially on weekends and school snow days, so they can get busy!

Winter Ziplining

Mt. Holiday has yet another winter activity available for winter fun: a new zipline system that lets you soar through the air above the ski slopes. Its "Green Zipper" is a two-station zipline (the first leg is 288 feet and then second is 306 feet) and its new 10-station zipline has a total of over 4,000 feet of cable. You have to make advance reservations for both of them, and you need to be part of a group of at least four people.

Sound like fun? Of course it does!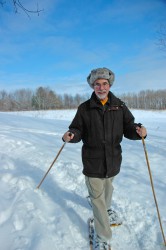 Mike Norton spent 25 years as newspaper writer and columnist before starting a second career as media relations manager at Traverse City Tourism. An avid cyclist, kayaker and snowshoer, he lives in the village of Old Mission.