Discovering Charlevoix County: Lighthouses, Festivals and Boats
Today on our blog, Jerry Roach, published photographer, historian, lecturer, preservationist, tour guide and author of three books on the lighthouses of Michigan, takes us on a tour of lighthouses (and other attractions) in the Charlevoix area. For more on lighthouses in Michigan, visit michigan.org.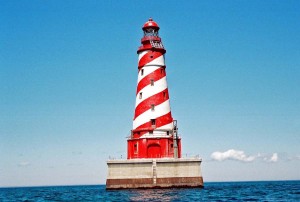 My wife Barb and I began our quest to visit, document, and photograph all 123
Michigan lighthouses
in 2000. Before we knew it that idea became a project to write a book on our Great Lakes Lighthouses. It also didn't take us long to realize that getting to each light wasn't going to be as easy as we hoped; there were a lot more lights offshore than we had estimated. One day while planning our next adventure, we happened upon a family which started a boat tour company the very same year we began our quest. The Keweenaw Excursion Company, operated by the Funkey family, began their tours of the
Keweenaw Peninsula
, based out of Houghton, Michigan.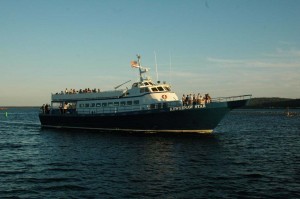 In 2009, Fred, Kraig and Jason decided they could do more by moving the
Keweenaw Star
to
Charlevoix
, Michigan. Keweenaw Excursions is truly a family based business with over 60 years of experience plying the waters of the Great Lakes. Their boat, the
Keweenaw Star
was built in Louisiana as a crew boat which served the oil fields in the Gulf of Mexico. She was built in 1981 by a company called Camcraft, and is powered by three Detroit Diesels which can achieve a maximum 1900 horsepower. Believe it or not, the 110-foot long by 23-foot wide boat only needs 6-feet of water to navigate.
On this day we have chartered the
Star
to take us on a lighthouse tour on Lake Michigan. Our first stop was the Little Traverse Lighthouse. This light was built in 1884. A boat like this is one of the few ways a person can see this light; it is landlocked behind a gated community. Once everyone got the shots they wanted, we left this light and made our way towards Isle Aux Gallets, also known as the Skillagalee Island Light. This light was built in 1851. The next light on our tour was Gray's Reef Light, which was first marked by a Lightship. The last few lights on our journey could be seen a short distance from our boat. We navigated towards White Shoal which was built in 1910 to replace the Waugoshance Shoal Light, the last lighthouse on our tour. Did you know that during World War II, the
Waugoshance Light
was used as a target for bombers to practice their drops?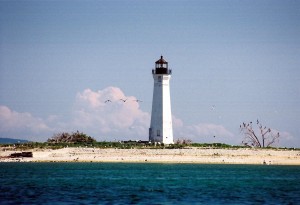 In addition to Keweenaw Excursions you will also find the
Beaver Island Boat Company
located in
Charlevoix
. The Beaver Island Boat Company serves Beaver Island and is located at the mouth of Lake
Charlevoix
. Speaking of boats, you could spend hours just walking the docks, imagining life on one of these luxury liners.
Summer in
Charlevoix
is always busy beginning with the Morel Fest in nearby Boyne City followed by the Memorial Day Parade in
Charlevoix
. As June rolls around why not try your luck in the Trout Tournament on Lake
Charlevoix
? July is jumping with events like the Downtown Art Festival, the Venetian Festival and a Polish Festival at Boyne Falls. A Vintage Car Show rolls in to town come August, followed by a Regatta in September, and who could resist fresh cider during the
Apple Festival in October
? These are just a few of the many happenings in and around the
Charlevoix
area. For more information on these and other events and attractions, log on to
www.charlevoix.org
.
Jerry Roach is a published photographer, historian, lecturer, preservationist, tour guide, and the author of three books on the lighthouse of Michigan. His books called the "Ultimate Guide" series include the The Ultimate Guide To West Michigan Lighthouses, The Ultimate Guide To East Michigan Lighthouses, and The Ultimate Guide To Upper Michigan Lighthouses. You can explore lighthouses of the world and especially the Great Lakes by visiting his website, view thousands of photos at his gallery, or follow him on Twitter and Facebook.