Eight Reasons to Get Out and Explore Michigan's Waterfalls this Summer
Today, Michigan-based photographer John McCormick shares some visually compelling reasons to get out and explore Michigan's many rushing waterfalls this summer.

If you're looking for things to do in Michigan this summer, try exploring some beautiful waterfalls. This will be a great year for it! The heavy snow and below average temperatures this past winter have resulted in fast flowing rivers and raging waterfalls all across Upper Michigan this spring. My wife and I and our three boys have been exploring and photographing these gems for over 30 years and the ones mentioned here are a few of our favorites.

Some of the waterfalls are easy to find and easy to access, while others require a little more effort. The most popular waterfall to see is Tahquamenon, and it is also one of the easiest to access. There are two drops - the upper and lower. The upper falls are more than 200 feet across and plunge approximately 48 feet. Both of these waterfalls are within the Tahquamenon Falls State Park, and this area has some of the best camping in Michigan.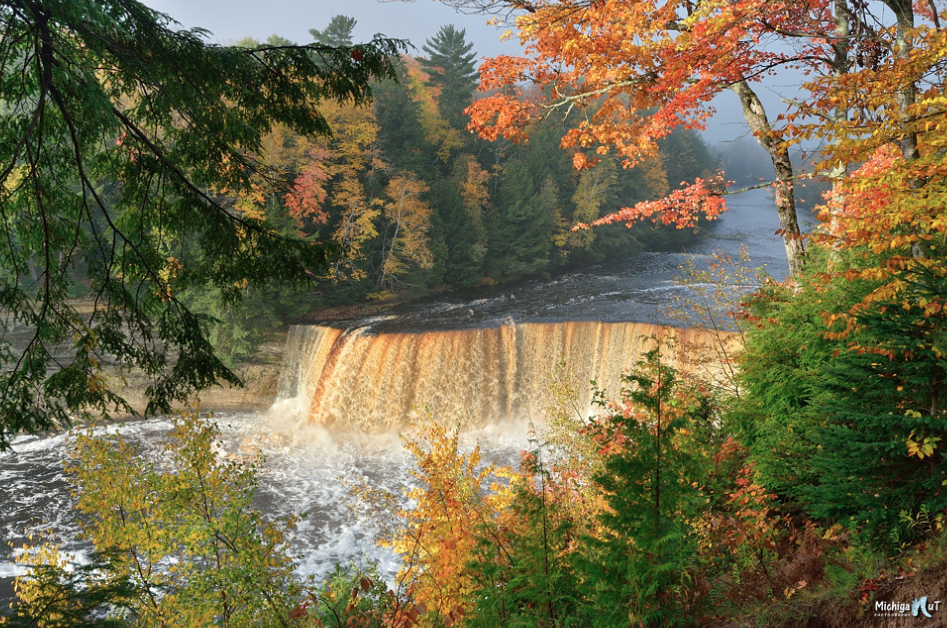 One of the more remote waterfalls to see is Spray Falls in the Pictured Rocks National Lakeshore. This one is about a three mile round trip hike, starting from the trail-head at Little Beaver Lake campground. It is rated a moderate hike. Spray Falls plunges 70ft over the Pictured Rocks cliff edge directly into Lake Superior. This stretch of hiking trail is one of the most spectacular hikes in Michigan. See our Pictured Rocks gallery.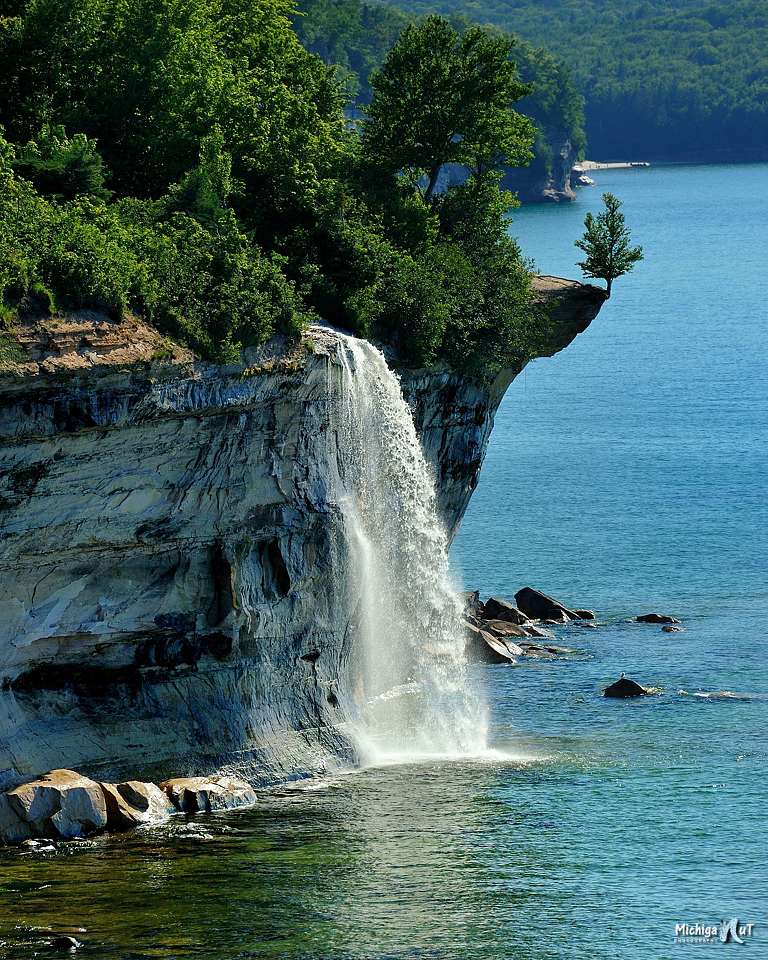 Another easy to access waterfall 'and fun to photograph', is Wagner Falls, just South of Munising, Michigan. It's a beautiful scenic spot, and just a short walk through the woods. If you visit this one in the springtime, you will see Marsh Marigolds blooming along the edges of the creek just below the falls. It makes for a pretty picture! As a side trip while in the area, head over to Miners Beach just West of Munising and see the little but very picturesque, Elliot Falls, aka Miners Beach Falls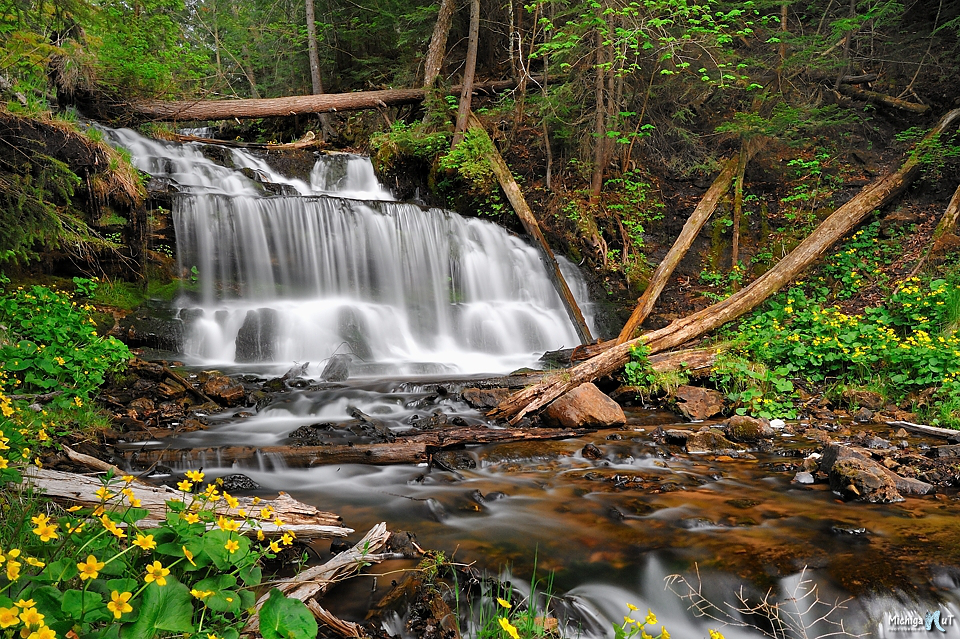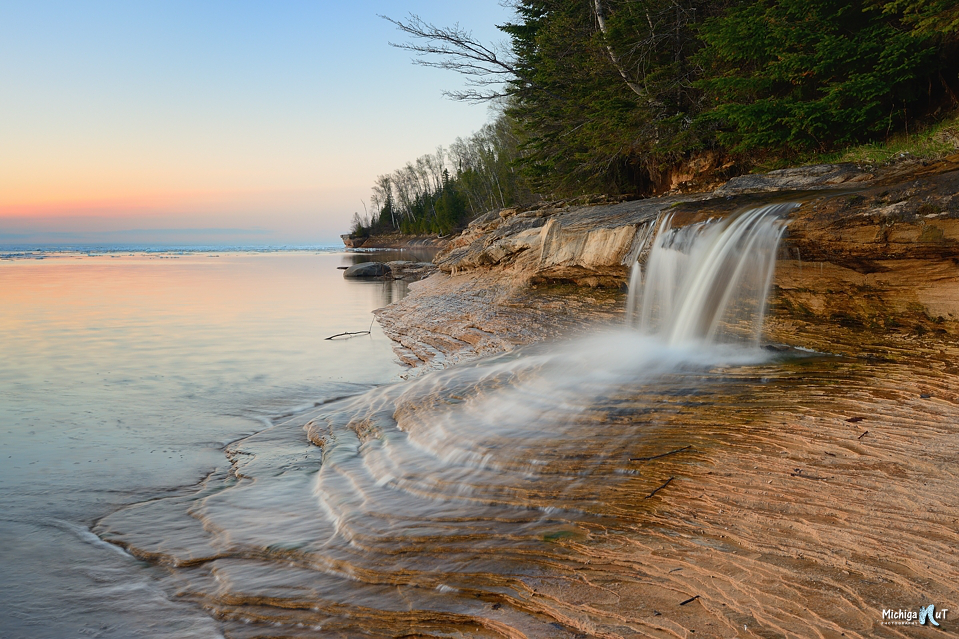 Moving on from Wagner falls on M94 heading South and West you will find the little town of Chatham, MI, which is about 25 miles from Munising. Near Chatham, is Rock River Falls. This waterfall is hidden in the Rock River Wilderness Area. Getting to it involves driving on some old logging roads and then hiking a mile or so through the forest on some 'not so well marked' trails, but if you are looking for a back-country waterfall adventure, this one is for you. Also, Just a few miles West of Chatham, is Laughing Whitefish Falls. It's another easily accessible waterfall and a beautiful area of the Rock River Wilderness.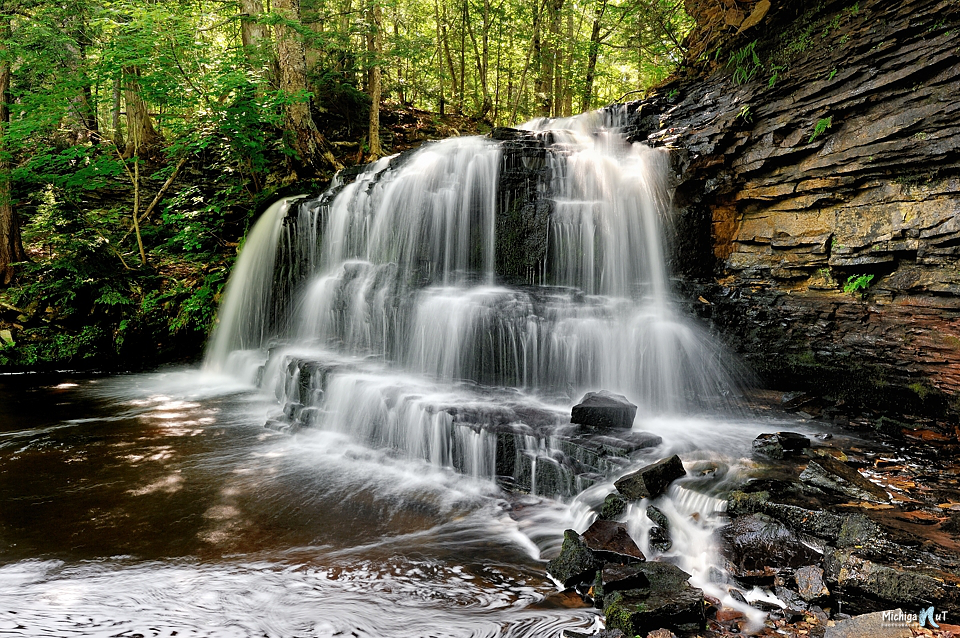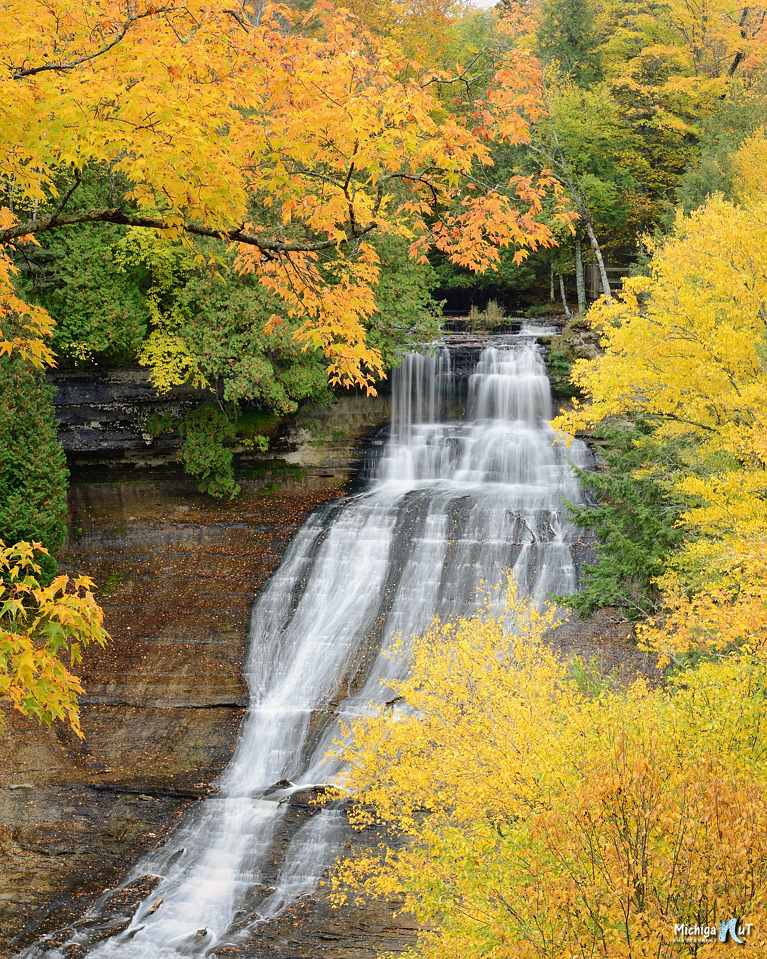 Farther West in Upper Michigan near Paulding, Michigan, is Bond Falls. This one has it all. Easy to access, wheelchair accessible, and one of the most spectacular to see. Don't forget to get some ice cream at the Paulding General Store, or maybe look for the "Paulding Lights". People have reported seeing these mysterious lights for 40 years.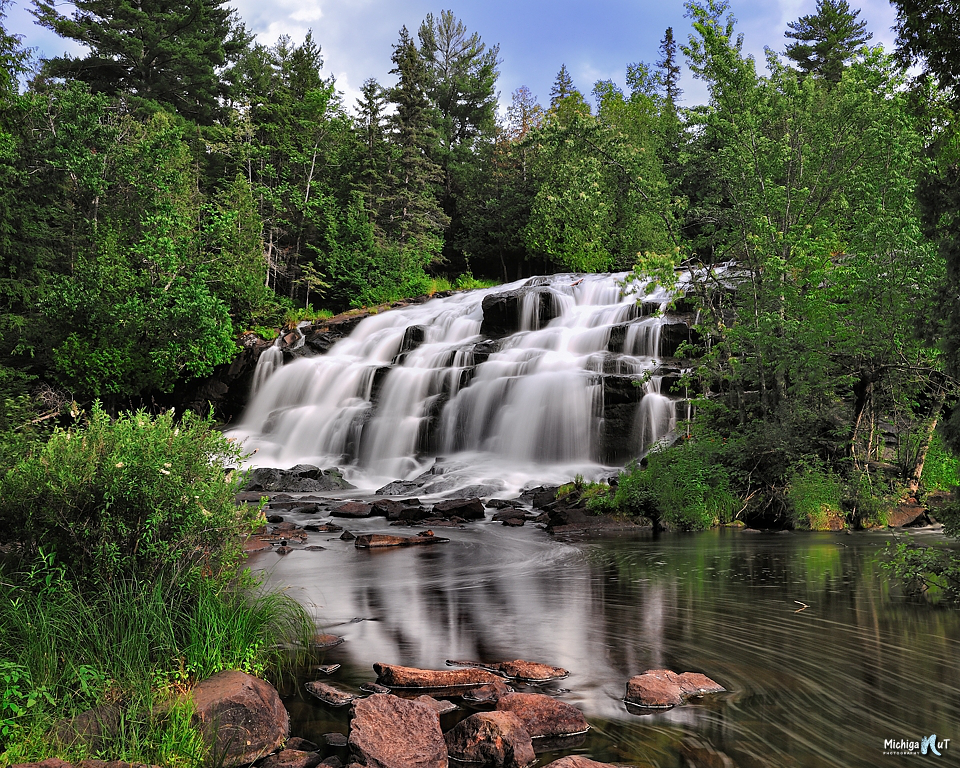 One more waterfall I will mention, that gets little attention, is Ocqueoc Falls near Onaway, Michigan. This is the only recognized waterfall in Michigan's lower peninsula. You can hike the Ocqueoc Falls Pathway that starts here and runs along the river. Also at the falls area there is a picnic area with tables and grills. This area is also wheelchair accessible.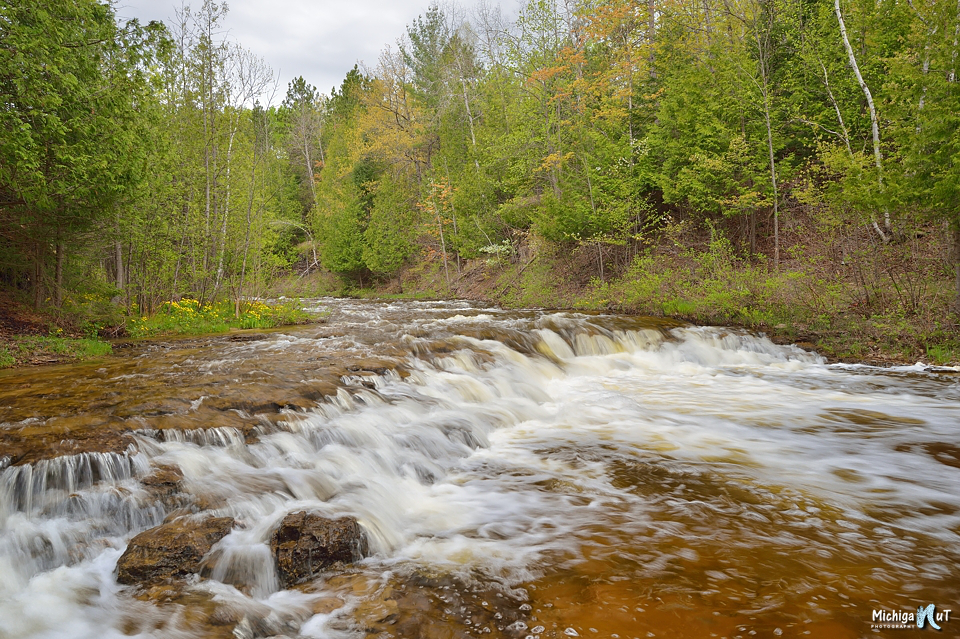 I could go on and list many, many more waterfalls to see. I do highly recommend visiting my Michigan waterfalls gallery to see over a hundred photos my favorite shots taken over many years of travels.

About the Author: John McCormick is a lifelong Michigan resident and has been interested in Michigan Nature Photography for over 30 years. Michigan is a beautiful place to live and photographing that beauty is his absolute passion. Check out more from John on his Michigan Nut Photography Facebook page or on his website.