Explore Pure Michigan's Wineries this Season
Michigan Wine Month might be coming to an end, but there's still plenty of opportunity to get out and experience Michigan's wineries this year. And with more than 100 wineries nestled among 15,000 acres of scenic vineyards, Michigan truly is wine country.With wineries being one of the features in the Pure Michigan summer video series, we spoke with Linda Jones of the Michigan Grape and Wine Industry Council to get the inside information on what visitors to Michigan's wineries can expect this spring and summer.Learn more in the video below and in the questions from Linda that follow. For more information on wineries in Michigan or to plan your summer vacation, visit michigan.org.
Q: Can you tell us a little bit about yourself?A:
I feel very fortunate to have this opportunity to support the growth of the Michigan wine industry through my job as the Executive Director of the
Michigan Grape and Wine Industry Council
. I came to Michigan from Ontario in 1997 to accompany my husband Mike who came here to take a job in the Fisheries and Wildlife Department at Michigan State University. We LOVE Michigan! The state has so much to enjoy – wonderful people, the fabulous natural resources connected with the Great Lakes, great locally produced foods and beverages, including wine, of course!
Q: Wine Month in Michigan might be coming to an end, but the remainder of the spring and summer months have plenty to offer visitors to our state's wineries. Do you there's a best time of year for wine tasting in Michigan?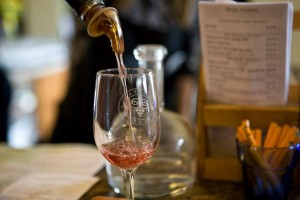 A:
We've had a fabulous time during April Wine Month this year, with so many exciting events to celebrate the contributions that the industry is making to our state's economy and quality of life – festivals, winemaker dinners, new releases, media tours, etc. It's been a tremendous kick-off to the wine touring season. But the fun never stops with Michigan wine!
Spring really is the ideal time to visit Michigan winery tasting rooms. The wineries are not as crowded as in the summer and fall months, so visitors can have a more leisurely experience when they visit before mid-June. Michigan wineries welcome more than two million visitors to their tasting rooms each year.
Also in spring and early summer, the wineries are releasing their newly produced (mostly white) wines from the previous fall harvest. Red wines are usually left to age at least 6 months longer than whites. Most winery tasting rooms are open year round, but some have limited hours in the winter months, so it's a good idea to check hours before heading out to a winery destination.
Q: If someone had never been wine tasting in Michigan before, where would you recommend they go first?A:
Comparing and contrasting a few small samples of different wines at any winery tasting room is the best way to start to learn about wine.
Wine appreciation can sometimes overwhelm the novice with jargon and descriptions that aren't always readily obvious to those with limited tasting experience. Winery staff know that many of the people visiting have never visited a tasting room before. A skilled staff person will ask the guest questions about their likes and dislikes about wine as they guide the guest through a series of small samples designed to highlight the different characteristics of the wines produced by that winery. You should let the tasting room staff know that it's your first tasting experience and that you would appreciate lots of guidance. Don't be afraid that the staff or other guests will embarrass you because you don't know much about time. The staff are trained to ask you a series of questions that will help you learn more about your tastes in wine, so that you can more easily find wines you are likely to enjoy when you select wine at a restaurant or at a retailer, when you don't always have the benefit of being able to "try before you buy".
Q: What makes Michigan wines unique?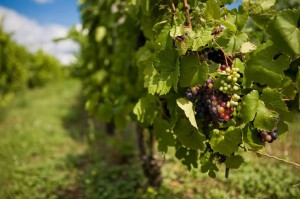 A:
Every wine producing region of the world produces wines that taste a little different from the wines of other regions because of the varieties of grapes grown there, the climate and soil of the region and the styles of wines that winemakers in that region enjoy producing. It's really the diversity of wines produced in Michigan that make the industry so interesting to experience. Over 50 varieties of grapes are grown in Michigan for wine production. The top eight grape varieties grown in Michigan for wine are Riesling, Pinot Noir, Chardonnay, Pinot Gris, Cabernet Franc, Vidal Blanc and Merlot.
Because Michigan is located along the 45
th
parallel, the same latitude of many of the fine wine regions of Europe, Michigan wines are considered to be "cool-climate" wines. These tend to be crisp, elegant wines that go better with foods than some of the heavier full-bodied, oak aged wines from warmer climates like California.
Q: What would people be surprised to learn about Michigan wine or wineries?A:
I think people would be surprised about the many different styles of Riesling (Michigan's most widely planted wine grape variety) wines produced in Michigan from very dry, to semi-dry, late harvest and dessert wines like Icewine. Some wineries produce a sparkling wine (champagne) from Riesling.
Q: What's your favorite Michigan wine?A:
I enjoy many Michigan wines – there are so many now, I can't possibly keep track of all of them! And they change from year to year. I particularly enjoy the world class quality dry white wines that are produced by several wineries. For a special occasion, my "go-to" wine is usually a dry sparkling wine from Michigan. I find it fascinating to explore the year to year variation in the grapes used to produce the wine that comes through in the finished product. A Dry Riesling from one vineyard might taste quite different from a 2011 year to a 2012. The opportunity to learn more and develop a deeper understanding of wine never ends! That's one of the things that makes is so interesting to follow the Michigan wine industry. The other aspect of the industry that I really enjoy is getting to know the people who own and operate the wineries and vineyards. They are hardworking entrepreneurs with a passion for their craft and a long term vision for their business with a solid future here in Michigan. The diversity of personalities in the industry is as diverse as the wines themselves.
Q: Where can people go to learn more?A:
Visit our newly re-launched website at
www.michiganwines.com
for lots of great information and links to Michigan's 100+ winery websites. Attending the many festivals around the state is another great way to learn about wines and have an enjoyable time with friends and family. Michigan's wine industry is contributing significantly to Michigan's agricultural and tourism economies, with over $300 million annually in estimated economic impact.
Linda Jones is the Director of the Michigan Grape and Wine Industry Council. The Council is a program housed within the Michigan Department of Agriculture and Rural Development. She has a diverse background in Food Science, Marketing and Tourism, gained from experience in Vancouver and Toronto, Canada before moving to the great state of Michigan in 1997.