The First of Many Trips to Mackinac Island
Thank you to Kari Shimmel for bringing us along on her first Mackinac Island Trip.
I have lived in Michigan now for almost 10 years and have heard of this magical place known as
Mackinac Island
but I had never been there. So this summer, my husband and I planned to hop a ferry and experience a place set back in time for a perfect weekend getaway.
We boarded the boat and sat on the upper deck as we crossed the
Straits of Mackinac
. I had heard that there are no motorized vehicles allowed on the island, and we were greeted at the docks by a hotel porter who stacked our suitcases on his bicycle and balanced with athletic precision as he made his way down Main Street to our hotel. I can't say I am a huge fan of crowds or touristy places, so at first, I found Mackinac to be overwhelming. It was a bustling Saturday and the streets were filled with carriage tours, bicycles and shoppers. So, to avoid the craziness, we grabbed a map (which you can get in about every shop for free), and we started walking toward the
Grand Hotel
.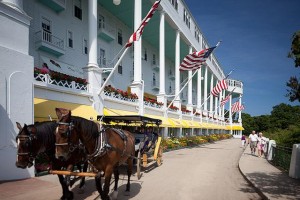 The Grand Hotel on Mackinac Island
The reputation of the Grand Hotel's porch was calling me. The idea of relaxing in one of the white rocking chairs with the lake breeze on my face motivated a very pregnant me to walk from downtown with a mission in mind. Rock, relax and enjoy the freedom of vacation. We spent a beautiful afternoon admiring the view and vowed to return to experience their 5 course dinner on our next trip to this magnificent resort.
A Downtown Mackinac Island Trip
For dinner we headed back to Main Street and found a supper with a view of the harbor at the
Pink Pony
. After a relaxing meal, we noticed that the day crowds had boarded the ferry and we experienced a calm and nostalgic island evening. We walked toward
Mission Point
and found some lovely Adirondack chairs by the water and watched the sunset with the lighthouse in the distance. It was a perfect crisp Michigan summer night and day to remember.
The next morning we explored our options for the day and decided that biking would be a bit too ambitious this year (being 8 months pregnant) - so we figured the next best way to discover Mackinac was through the fudge shops. We planned our "Great Mackinac Fudge Review" over breakfast at the Chuckwagon and narrowed our scope to the following shops:
Ryba's Fudge Shop
,
Murdicks Fudge
,
Joann's Fudge
and May's Candy Shop. To fairly evaluate our favorite, we purchased plain chocolate and also a specialty flavor recommended by each shop. Before I get into the results, let me say that each shop had their own approach to making this candy and that they were all amazing!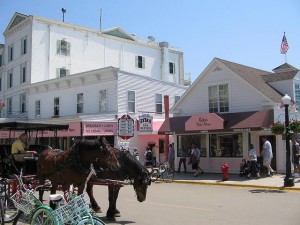 Mackinac Island Fudge Shops
Our Great Mackinac Fudge Review:
• Joann's Fudge: Our favorite for their smooth, rich texture. Every bite was sweet (but not too sweet and had a velvety finish) and their peanut butter fudge will be the only motivation we need to be back next year!
• Ryba's Fudge Shop: This fudge has a rich, velvety texture but didn't taste quite as sweet as some of the others. Maybe my favorite thing was their branding - this place loves the color pink.
• Murdicks Fudge: This fudge reminded me of a recipe my mom made growing up, Texas sheet cake. They had a vanilla flavor to the chocolate that provided a pleasant finish. Since 1887 they have provided vacationers' candy and they definitely have the recipe down to an art form.
• May's Candy Shop: A sugary texture, May's fudge was delicious with a slightly bittersweet chocolate flavor. We preferred the smoother finish for the plain chocolate but loved their maple nut fudge.
After a sufficient sugar high, we headed for home taking the scenic route along Lake Huron. We used the
Pure Michigan site as our guide
, stopping by some beautiful lighthouses along the way. We loved our Mackinac experience and can't wait to get back next year. We already have some activities highlighted for our itinerary: touring
Fort Mackinac
, a dinner at the Grand Hotel, hiking to arch rock and biking around the island. Do you have a place or activity on island we need to add to this list?
Kari Shimmel is a wife, (soon-to-be mom), friend, traveler, creative director, designer and blogger. Kari and her husband Doug love to explore new places and plan trips that can last for a few hours to a few weeks. They live right outside of Detroit and have two long haired miniature dachshunds, Cole and Chloe, who often accompany them on their adventures. Their daughter Maggie is expected in mid-October and can't wait to share their love of travel with her. When she is not traveling, she is a creative director at DBA Worldwide, an ad agency in Rochester. You can contact Kari through her Twitter account or her blog.