Five Michigan Crops to Cook With this Fall
Autumn in Michigan provides amazing produce for many of our seasonal favorite recipes. From ripe apples, pears, pumpkins and many more, it's easy to support local growers in the Great Lakes state while enjoying some delicious and healthy food. Guest blogger Christina Carson from Awesome Mitten shares five crops to consider cooking with this fall.
With the crisp air of fall making its way back into Michigan, it's hard not to get excited about the harvest season and all it brings. While some of the summer crops are starting to fade, the fall season offers a cornucopia of amazing local produce throughout the whole state.
A lot of folks don't know that Michigan has the second most diverse production of fruits and vegetables in the country, beaten only by the ever-prevalent agriculture system of California. This means we have a near endless variety of amazing produce to choose from while supporting our own agricultural economy and local business owners.
Here are five fall Michigan crops that excite me the most. A few are expected favorites of everyone for the fall season, but I'm also including a few lesser-known crops that I encourage you to seek out and try.
1) Apples
No article on Michigan's fall crops would be complete without a mention of
apples
, of course. Michigan is the third largest producer of apples in the country, with an average of about 23 million bushels every year. This makes apples the largest fruit crop in Michigan. So no matter where you are in Michigan this fall, go ahead and find your way to an apple orchard - pick some apples, drink some cider and appreciate this amazing crop!
While an apple by itself may be a perfect snack, the options for cooking with apples are vast. Classic desserts like the apple pie and apple crisp should not be overlooked, but I challenge you to look past the pies and crisps this season. Put apples in your salads, roast them with carrots or stuff halved winter squash with sausage and apples before roasting for about an hour. You'll know it's done when the squash and apples are soft and the sausage is cooked.
2) Parsnips
While often overlooked, parsnips might be my favorite fall vegetable. Their sweet white tubers don't show up until the ground has been thoroughly frosted. The frost helps them convert starch to sugar and create that joyful flavor I can't get enough of. They may not be a favorite of most, but you'll find them in abundance at markets and stores throughout the state once the ground freezes.
Parsnips are best slow roasted, to bring out their natural sweetness. I like to chop them into cubes or fries, before tossing with a little olive oil, salt, pepper, and fresh rosemary. Roast them up at 375 degrees until soft inside and browning on the outside, about an hour depending how large you've chopped them.
Maybe you'll become as hooked on them as I am.
3) Winter Squash
Winter squash and pumpkins are surely one of the telltale signs of fall, and there is so much more to these delights than the pumpkin spice flavor. Slow cooking winter squash in the oven for an hour or two is a great way to cozy up to the fall weather.
The varieties of squash available in Michigan are hugely diverse, especially if you buy them from a farm that enjoys growing lots of variety. While difficult to find because the seed is expensive, fairy squash is my absolute favorite. The perfectly smooth texture and sweet taste make them great for squash desserts or silky smooth pureed squash soup.
If pumpkins are more your thing, make sure to pick up some pie pumpkins and explore making your very own pumpkin puree this fall. Far tastier than the canned puree, all you have to do is halve your pumpkins and scoop out the seeds. Then set the pumpkins cut side down on a baking sheet. I like to put a little water in the sheet pan to keep them moist. Bake at 375 degrees for about an hour. Once the pumpkin's meat is very soft, scoop it from the skin and puree!
4) Pears
While apples may be the celebrated fall fruit crop, Michigan grows some phenomenal pears as well.
While not grown on a massive scale, many apple orchards dabble in pears. Two of my personal favorites are the round, apple-looking Asian pear and the rough, brown-skinned bosc pear. !
Perfectly ripe pears are a great snack on their own, but they also shine served sliced with cheeses. Pears can also serve as a substitute in just about any apple recipe you can think of or, if you're feeling adventurous, poached. I highly suggest you slice up some pears and make yourself a simple pear crisp. I guarantee you'll love it.
5) Watermelon Radishes
In my mind, these radishes are a bit of magic. They show up in markets when the ground gets cold and almost resemble turnips instead of an actual radish. Smooth white orbs don't look like all that much while they're sitting on a farmer's market table, but once you cut into these radishes, I can promise you'll be hooked. The centers reveal a stunning bright magenta center, like cutting into a particularly colorful watermelon.
Watermelon radishes have a bit of a bite to them, but nothing too powerful. I find them best suited as a stunning salad topper, or sliced into chip-like slices and served on a veggie platter with hummus or another veggie dip.
What is your favorite Michigan fall recipe?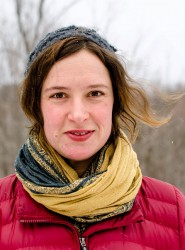 About the Author: Christina Carson is a northern Michigan girl through and though - addicted to the Lake Michigan coastline, our incredible local food system, and the mitten's homegrown musicians. I share my passion for beautiful, delicious and joyful food through my blog and photography business -
Toot Sweet
. Keep an eye out for my monthly Michigan recipes on Awesome Mitten and follow Toot Sweet on
Facebook
and
Instagram
.