Four Photos That Will Convince You To Strap on Some Snowshoes and Explore
Guest blogger and landscape photographer Aubrieta Hope shares her tips for a Sleeping Bear Dunes snowshoeing trek to remember.
Winter brings ever-changing dramatic vistas to
Sleeping Bear Dunes National Lakeshore
. Ice sculptures form on the beaches, every tree in the forest sparkles, and the dunes become snow-swirled works of art. In deep snow, hiking can be a struggle; but with snowshoes, those drifts are no longer obstacle courses! Strap on a pair of snowshoes and meet your inner explorer. Over the next hill or through the woods, snowshoes can take you where you want to go. Blaze your own trail! Don't worry about dropping breadcrumbs to find your way back - just retrace your tracks.
You can begin your explorations anywhere. Snow season is an especially lovely time to visit the overlooks at Sleeping Bear Dunes, particularly Pyramid Point and Empire Bluff. The Pierce Stocking Scenic Drive (though closed to vehicular traffic in winter) offers panoramic views to snowshoers and cross-country skiers. With the absence of summer visitors and songbirds, these popular areas are quiet, but you won't feel alone. All season long, shy creatures venture out and stitch mysterious tracks in the snow, revealing the presence of wildlife that summer visitors rarely notice. Another silent, but spectacular snowshoe destination is Sleeping Bear Point, accessed by the Dunes Trail just west of Glen Haven. The Lake Michigan shoreline also offers amazing scenery, and snowshoes provide good traction for traversing icy beaches. Wander at will, but use caution. Never venture onto the lake, even if it looks frozen.
If you don't mind company, consider snowshoeing the Sleeping Bear Heritage Trail. This recently-constructed multi-use trail runs nine miles from Empire to Glen Arbor (with the Pierce Stocking Scenic Drive, the Dune Climb, and Glen Haven Historic Village along the route).
Snowshoes are remarkably stable and easy to use. It's tough to topple over on them unless you try going backwards without thinking (I've tried that). Some people snowshoe without poles, but hills require less effort when you have poles. When snowshoeing up a hill, lean forward and press your toes into the slope. On the way down, lean back a bit and dig in your heels. Snowshoeing will make you warm, so dress in layers. Be sure to wear waterproof, insulated boots and gloves (or mittens). Stay safe by bringing a buddy or letting someone know where you are going. Stuff a few high-energy snacks and maybe a hand warmer into your pocket, and you're good to go!
You can rent snowshoes and poles from
Crystal River Outfitters
in Glen Arbor if you'd like to strike out on your own. Or, if you'd prefer snowshoeing with a guide, sign up for a ranger-led snowshoe hike through Sleeping Bear Dunes National Lakeshore. These hikes are offered every Saturday afternoon during the winter months. Call 231-326-4700 x 5010 to register (you can borrow a pair of snowshoes free of charge for the afternoon if needed). Visit the website for details.
What's your favorite way to spend a snow day? Share your photos enjoying the snow using #PureMichiganSnowDay on Twitter and Instagram or visit michigan.org/snowday.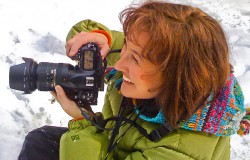 Aubrieta V. Hope is a landscape photographer with a special interest in northern Michigan and a lifelong, incurable affection for winter! To view more of her images, visit www.michiganscenery.com or stop by Great Goods in Suttons Bay, Michigan.