Here's What It Takes to Make Mackinac Island Fudge
Happy National Fudge Day! In honor of celebrating a true Pure Michigan delicacy, we reached out to our friends on Mackinac Island to share some insight on the island's famous fudge and a few fun facts to go along with it. Read more to see how much you know about Mackinac's historic fudge-making process and three interesting facts below.

What is the most popular thing to do for free on Mackinac Island? The answer: Sample free fudge! That question is one of the most frequently asked at the island's downtown information booth. Another is, who makes the best Mackinac Island fudge? Two questions with the same answer: Taste test for yourself.
JoAnns Fudge is one of many shops to explore on Mackinac Island

Mackinac Island is America's Fudge Capital and our fudge stores take the moniker very seriously. It's a proud badge of honor to carry and they give back by offering samples to anyone who asks. On Mackinac Island, fudge plays a major tourism role along with our Fort Mackinac, Grand Hotel and 600-working horses on this island without cars.

Who knew making fudge could be so entertaining?

Our visitors are in for a "sweet treat" when they get off one of our ferry boats and roam downtown where 14-fudge shops are collectively making over 10-thousand pounds of fudge per day during the peak travel season. In addition to sampling the taste, they also get to watch the process of making fudge from boiling the ingredients to pouring the hot liquid concoction onto marble tables where expert fudge makers fold and mold it into iconic half pound slices.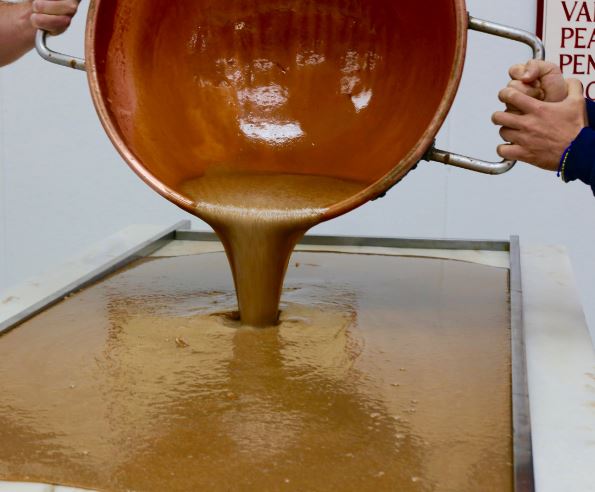 Photo Courtesy of the Mackinac Island Tourism Bureau

One of the best surprises visitors get here is the smell of fudge emanating from every fudge store as its being made. Stores have a ventilation systems emptying into the streets to share the aroma from their boiling vats with temperatures reaching in the 240-degree area. You've concluded by now fudge is big business. As many as 10-tons of sugar is imported to the island weekly to match the 10-tons of butter annually!

Today, 80-percent of that sugar comes from the sugar beet fields of Michigan. Back in the late 19th Century the sweetness for fudge making came from local Native American tribes harvesting maple sugar according to Phil Porter's book, Fudge Mackinac's Sweet Souvenir.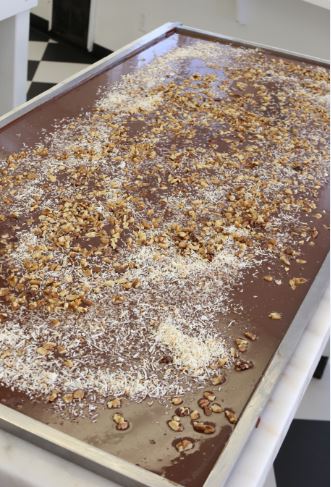 Photo Courtesy of the Mackinac Island Tourism Bureau

The popularity of Mackinac Island Fudge is at an all-time high. Purchasing fudge over the internet keeps Mackinac Island fudge consumption going year round. It is especially popular during the Thanksgiving and Christmas holidays. So as you read this, chances are someone is being entertained by watching the fudge making process on Mackinac Island! It looks delicious, smells terrific, tastes incredible and is almost as entertaining to watch as it is to eat. Did you know these fun fudge-facts below?


Did you know during World War I, millions of individually wrapped one-ounce portions of chocolate were delivered to our soldiers in Europe?


Did you know during World War II the rationing of sugar adversely effected the quantity of Mackinac Island Fudge being made to satisfy demand?


Did you know President Gerald R. Ford visited Mackinac Island in 1975 and stopped at May's Fudge on the corner of Astor and Main where it sits today? He sampled then purchased a fresh off the slab slice of vanilla pecan.




What is your favorite flavor of Mackinac Island fudge? Share with us by commenting below!