How to Reel in a Salmon or Steelhead in Pure Michigan This Fall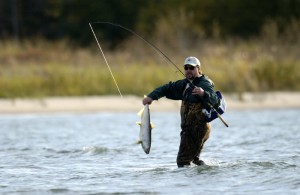 Salmon and steelhead are ready to bite! Fall is a great time to get out on the water and reel in a big one. Today, Elyse Walter from the Michigan Department of Natural Resources shares some tips and techniques for making a big catch in Michigan this fall.

Michigan offers some fantastic fishing during the fall months – particularly for salmon and steelhead. In fact, now can be the perfect time to target them, if you know where to go and what techniques to use. Whether you're looking for the various salmon species or steelhead (rainbow trout that are stocked in a river) you're sure to find plenty of opportunities this month and beyond!

Atlantic Salmon
Fishing for Atlantic salmon is huge on the St. Marys River; in fact this spot is considered the best recreational Atlantic salmon fishery west of the East Coast. Most anglers troll for this species using downriggers, but other popular methods are fly fishing for them with wet flies or spin fishing for them with plugs, spinners and spoons.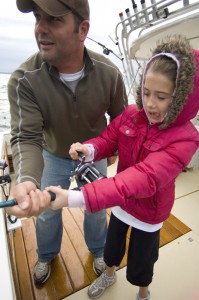 Chinook Salmon
These fish are often called "kings" and with good reason! Popular spots to target them in the fall include Great Lakes piers, streams along the Lake Michigan coast, or inland streams such as the Manistee (Tippy Dam), Pere Marquette and St. Joseph rivers. Many anglers focus on low-light time periods – such as in the morning or in the evening – but others target Chinooks after dark with glow-in-the-dark spoons. Artificial bait is what most anglers use to appeal to this species, but salmon eggs are popular as well.

Coho Salmon
This popular species can be caught in Lake Michigan at any time, though some of the best fishing happens in early fall. In particular, the Manistee River is very popular in late October and in the Upper Peninsula the Anna River is a great destination for this salmon. Lots of anglers use spinners, spoons and plugs when fishing for this species.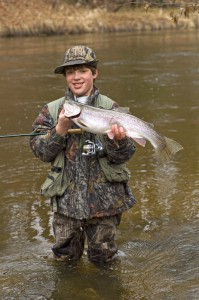 Steelhead
Michigan is considered one of the best steelhead fishing destinations in the country with several well-known spots located throughout the state. These include the Manistee, Muskegon and St. Joseph rivers in the Lake Michigan watershed, the Au Sable River in the Lake Huron watershed, and the Huron River in the Lake Erie watershed. Most anglers head out in November and/or December (if they're not hunting) to target steelhead and use a variety of techniques to do so – including spinners, plugs and single salmon eggs floating under a bobber.

Don't miss your chance to catch a big salmon or steelhead this fall. For even more information on fishing in Michigan, including rules and regulations, visit www.michigan.gov/fishing.

Where is your go-to destination for fall fishing in Michigan?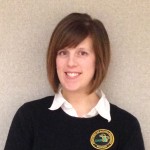 Elyse Walter is a communication specialist for the Michigan Department of Natural Resources. She specifically works with the DNR's Fisheries Division to help educate and promote the state's fishing opportunities and aquatic resources.