Mackinac Island in the Fall
Relax with another Pure Michigan Connect article from Tina Lassen, Michigan Travel Ideas contributing writer, as she enjoys a quiet fall day on
Mackinac Island
.
Fall is Michigan's sweetest secret: The air is clear, waters are calm, and shorelines begin to glow in a rich patina of copper and gold. (Thanks to the insulating effects of the
Great Lakes
, the color show here often stretches into late October.) Autumn is when the
Straits of Mackinac
glides gracefully from the intensity of summer to its peak, like a perfect ruby-red apple.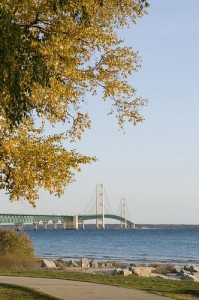 The early morning air is crisp when I climb aboard the
Wyandot
, one of
Shepler's Mackinac Island Ferry
boats. The ferries stop running October 31, so I am grateful to sneak in one last trip before the season ends. Even though the ride is short, I am itching with anticipation by the time we dock.
At the height of summer, more than 10,000 visitors a day fill the 4-square-mile island. But after Labor Day, Mackinac mellows. Shopping Main Street is enjoyable, with deep discounts at retail stores. Picnickers can spread out on the broad, half-empty lawn of Marquette Park at the end of downtown. Visitors can even get a table at otherwise-crowded eateries, such as the
Sea Biscuit Cafe
or
Mary's Bistro
, or step aboard the popular carriage rides.
Although things are calmer, autumn also brings a renewed vigor to the island. Everything feels as fresh and bright as the
Grand Hotel
's perennial beds, bursting with dahlias big as softballs and vast drifts of black-eyed Susans. The weather makes you want to take a brisk morning walk along the East Bluff—Victorian-Era summer mansions on one side, grand views of
Lake Huron
on the other.
To cover even more territory, I rent a bike from the
Mackinac Island Bike Shop
and head out on the 8-mile paved trail encircling the island. I spin past bleached cobblestone beaches and clusters of wild daisies, bright against
Lake Huron's
teal-green waters.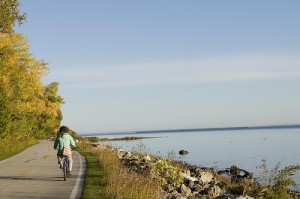 Inland, 140 miles of carriage roads, bike trails and footpaths knit through a hilly and wooded landscape, past jagged limestone outcrops and historic cemeteries. More than 80 percent of the island is preserved as
state park
, a stark contrast to the busy downtown fudge shops and ferry docks. I decide to cruise around on the Tranquil Bluff Trail, which traces the high eastern shore. The russet leaves drift down from a high canopy of red oak, beech and maple, scuttling across the path.
Eventually, I drift back downtown on the island's south shore. After I return my bike, I reluctantly board the ferry for my return trip to
Mackinaw City
. As the ferry bobs through the straits, I steal one last peak at the island. I take a deep breath of fresh fall air and know that this day is one that will stick with me.
Tina Lassen, Michigan Travel Ideas contributing writer, has written extensively about Michigan for magazines, such as
Midwest Living
and
National Geographic Adventure
, and for guidebooks, including Moon Michigan and 1,000 Places to See Before You Die: In the USA and Canada.