Michigan's Local Fare in Restaurants with Style
Join Dine Michigan on a tour of some of the best restaurants in Michigan serving local fare. From a fine dining experience, to a diner specializing in gourmet breakfasts, Dine Michigan has you covered.
As fall nears it is time to enjoy Pure Michigan dining at its purest. Dine Michigan has reviewed several restaurants that go above and beyond when it comes to using Michigan's natural ingredients. These restaurants are known to change the menu as little as every few days to keep with the locally grown fare. So get out and find Michigan grown produce while the season lasts.
By Land or Sea in Coldwater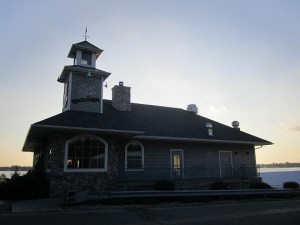 The Boathouse - Michigan Fine Dining
Fine dining - start on the lake, Coldwater Lake to be exact. Pull up to
The Boathouse Restaurant
in your boat or in your car and head chef, Chris Nixon and staff will be ready to feed you like you've not been fed before. The proof is in its clientele. The Boathouse gets regular visits from Detroit, Indianapolis, Chicago and beyond. Why do people travel to dine here? Maybe it's the fact that the staff has traveled from restaurants in New York City and even farther, not just to bring their culinary expertise back to Michigan, but also so they would have the opportunity to cook with some of the purest ingredients grown right here in Michigan, naturally.
Start with an appetizer like the locally grown squash blossoms for an amazing taste sensation. For your salad, the Arugala salad with parmesan direct from Italy and 6 different forms of lemon, from juice to lemon confit, is sure to awaken your palate. Head to the main course where you can't go wrong with any choice, but we recommend the beef. The 45 day aged beef is sous vide and then pan seared, and one of the best pieces of meat you will ever eat. Finish your meal off with the North 40 Blueberry Shortcake. Yes, with blueberries grown locally! There are many surprises in store that you NEED to experience. If you are a vegetarian, expect a visit from the chef. He will want to prepare a meal to your liking and will make sure it is just that. If you want something really special, call ahead and ask for it. Chef Chris will do his best to get and prepare your heart's desire to perfection.
Grand Rapids Done Locally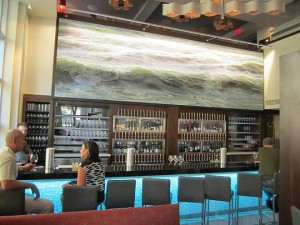 Reserve - Michigan Fine Dining
We had the opportunity to enjoy a casual experience at
Reserve
in Grand Rapids. If you love wine then this place is an absolute must. For Dine Michigan, the over 100 wines on tap and more than 200 bottled wines were fantastic but the detail to Michigan's and other naturally grown foods was out of this world. Right here in Grand Rapids, Reserve is blessed to have the art of Chef Matt Millar and his amazing culinary knowledge. From the
Charcuterie
to the Chocolate Rillete, your taste buds will want more, and much of it is locally grown and stored just for Reserve.
The dessert is to die for, and you must save room for it. It's so delicious, that we are going to start telling you about the meal from end to beginning! Dessert at its best starts with the Chocolate Rillete, which is a creamy hazelnut spread, topped with a Saskatoon jam. Saskatoon berries are by the way, Michigan's ONLY native berry. The Rillete is served with a bourbon pound cake, which by itself is delicious. For the main course, it's time to stop ducking the duck. Try it, that's all we have to say, as it is amazing. The ducks are from a farm where they are grown free range. So you need an appetizer? Try the Charcuterie; you will love the wide array of sliced meats and cheeses to enjoy with a great glass or bottle of wine. There are many appetizers which are all fantastic, but we are stuck on one unusual item, Chef Matt's amazing Eggs and Eggs!
A Lansing Breakfast Party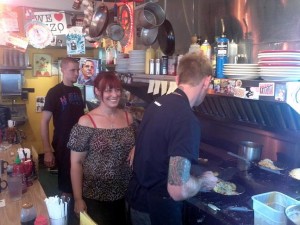 Dine Michigan is offering a free meal to the first person to get a clear picture of Chef Zane's face at work!
Now let's go get one of the absolute best breakfasts in the state of Michigan. You are headed to a little diner that only serves breakfast on Lansing's north side called Golden Harvest. Golden Harvest uses an amazing array of fresh produce to produce a breakfast we promise you will remember! The menu has many great items for adults and kids alike. The kids pancake made like a jolly roger is fun, filling and fantastic. As for adults, skip the menu and look to the specials board. Everything comes large, filling and super tasty, but the specials are truly special. The cook is a surprise. You would expect this little place to have just a standard cook, but not here. At Golden Harvest you are getting a true chef who will turn breakfast into an all day meal for you. Zane, chef and owner, does breakfast specials by starting with the best local in-season ingredients you can get. The prices will not reflect that though. Zane and his wife Vanessa keep prices down and concentrate on using local ingredients and serving great food. If you are in a hurry, be sure to slow down, you may need to wait a few minutes. If there are two of you and you sit at a table of four, plan to share a table with new friends!
Michigan Fine Dining
From a restaurant on the lake serving squash blossoms with flare to a serious breakfast party, these Pure Michigan restaurants will keep you coming back to Michigan for food you will remember, made with pride using local and natural ingredients grown in Michigan!
By Dave Coker of Dine Michigan
Go to www.dinemichigan.com to find more on these restaurants and many more.