Planning a Mackinac Island Wedding from Five Hours Away
Native Michiganders Mark Jordan and Kristin Yash are in the process of planning their dream wedding on Mackinac Island. Today, they give us an inside look at the process and their reasoning behind choosing the picturesque island for their wedding location.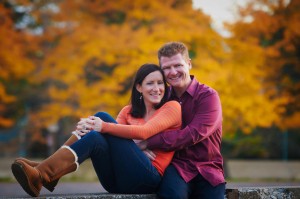 We chose
Mackinac Island
as our location because it is the most beautiful place in Michigan and because it was where we had our first vacation together.
When we first picked our location we were not sure how it was going to work since it was five hours from home but the staff in particular the wedding coordinator, Alana, at The Island House changed our mind in an instant. We had never been to The Island House previous to booking our venue. We fell in love with Alana and all of the staff we met that would be a part of our special day.
The best part about being five hours away is there was an excuse to travel to the island multiple times before the wedding. Not to mention that working with our wedding coordinator has made my life a breeze. She is so attentive to our needs, responds to emails and phone calls within seconds even after 11pm at night. She is helping me the day of the wedding with setup and when we come up to visit it is like we are spending time with family and friends we have known for years.
Alana provided us with a detailed list
of Mackinac Island Wedding vendors
that again made for simple planning. In total, Mackinac Island Wedding vendors are providing flowers, party favors, carriage tours, wedding cake, DJ, Pastor and the rehearsal dinner.
We are so in love with where we picked, we would do it every year if we could. Best planning experience I have ever had due to amazing staff and location. For anyone planning a wedding with travelers coming from far distances, I highly recommend the Pellston airport; it is only 15 minutes away by taxi.
Mark Jordan (groom) is from Livonia, MI and Kristin Yash (Bride) is from Hartland, MI. We met in August 2011 in Royal Oak, MI. We currently live in Royal Oak, MI where we just built our first home in 2012. We got engaged on July 8, 2013 at Cliff Bells in Detroit, MI and we will be celebrating the big day on Sunday September 1, 2013 at The Island House on Mackinac Island.
For more on Mackinac Island, visit michigan.org.