Pure Michigan Road Trip: Relive Our Along the Way Commercial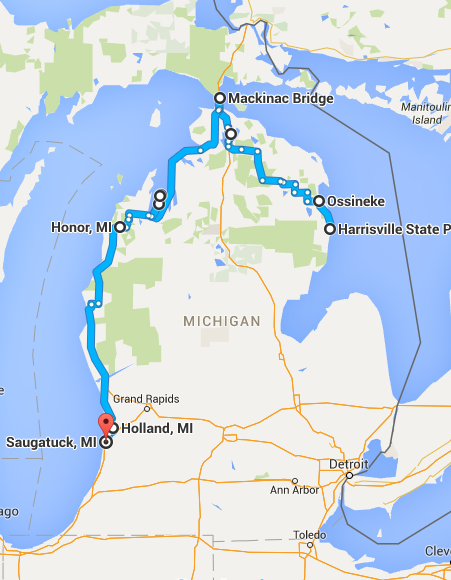 Recently,
we debuted a Pure Michigan ad, titled 'Along the Way', with a new look and feel showcasing the fun around taking a road trip in the Great Lakes state.
The four actors whom starred in the commercial had such fun roadtripping around Pure Michigan they became great friends, and because there was so much great footage, we were able to make an 'Along the Way' part two! Below is a list of the destinations our famed travelers visited, and the second installment of 'Along the Way'.
Want more great road trip ideas? Check out our roadtripping page and stay tuned for part two of this blog series that will feature awesome destinations in the U.P.!
Harrisville
(
Harrisville State Park Campground
) Harrisville State Park features camping, cabin rentals and day-use area nestled in a stand of pine and cedar trees along the sandy shores of
Lake Huron
. The park is within walking distance of the resort town of
Harrisville
. Established in 1921, it is one of Michigan's oldest state parks and offers a two mile trek
hiking
trail as well as non-groomed cross-country trails and metal detecting area.
Ossineke
(
Dinosaur Gardens
) World renowned reproduction of over 25 prehistoric birds and dinosaurs on a 40 acre tract of land split by Devil River encompass Dinosaur Gardens in Ossineke. Check out a brontosaurus that's over 80 feet long, weighing over 60,000 pounds! Stay for a round of minigolf as you step back into prehistoric times.
Mackinaw City
/
St. Ignace
(
Mackinac Bridge
) The Mighty Mac unites Michigan's upper and lower peninsulas. The
Mackinac Bridge
is the longest suspension bridge in the Western Hemisphere with 7,400 feet of roadway suspended in the air over the straits of Mackinac. Total length of the bridge, including its approaches, is approximately five miles.
Mackinac Island
(Arch Rock) Experience the breathtaking views of the harbor, incredible sunsets under The Mighty Mac, over 80 miles of lush hiking and biking trails and crystal clear water.
Mackinac Island
is the ultimate place to unplug, relax and experience beauty the way nature intended.
Old Mission Peninsula
(Haserot Beach and
Old Mission General Store
) The oldest permanent settlement in the Grand Traverse Area, this picturesque peninsula near the tip of was founded in the mid 1800's by the Rev. Peter Dougherty as a mission to the Native Americans. Today it is a resort area, reminiscent of a New England town, with several well-preserved churches, homes, stores and other 19th century buildings that are still in use.
Traverse City
(Nicholas Farm) Combining breathtaking attractions with a rich blend of adventure and relaxation
Traverse City
is true north! Explore the incredible scenery at the
Sleeping Bear Dunes National Lakeshore
.
Bike
, paddle or hike your way to see the beautiful cherry blossoms. Take a
wine
or
beer tour
and be sure to save time for unique dining and shopping found throughout the region.
Honor
(Platte River) Founded in 1895 as a thriving lumber hub, this small community in the center of
Benzie County
, offers lots of history, year-round adventure and comfort to all ages. Honor is located within 15 minutes access to golf courses, hiking trails, Betsie River,
Lake Michigan
, Big & Little Platte Lakes, Crystal Lake, and Upper & Lower Herring Lakes. The Platte River flows through town, offering wonderful fishing, canoe,
kayak
and tubing opportunities. In addition, Winter sports enthusiasts will enjoy the close proximity to
cross country skiing
and
snowmobile trails
.
Holland Pier
(
Big Red Lighthouse
) Well-known for its Dutch history,
Holland
is historic yet hip. Browse downtown's trendy boutiques and galleries or stroll the tree-shaded campus of Hope College. Attend concerts, theatrical performances and special events. Purchase farm fresh fruits, veggies, annuals and perennials at the
Farmers Market
. Hike Holland's soaring Lake Michigan sand dunes or simply relax on our soft sandy beaches. Offing urban excitement and homespun simplicity, Holland is a sophisticated city wrapped up in small-town charm.
Saugatuck
(Oval Beach) One of USA Today's "Best Summer Weekend Escape". Known as "The Art Coast of Michigan", artists enjoy the natural beauty of
Saugatuck
and Douglas with grassy dunes and white sand beaches. Unique shops, fine dining, exquisite lodging and special events lure visitors from far and wide, while at the
same time, have maintained the charm of small-town rural America
.
How many of these Pure Michigan destinations have you visited? Share with us by commenting below!