Return of the Grapes: A Tale of Triumph in the Great Lakes State
This year, Michigan's wineries have seen a rebounded crop after a couple years of less-than-stellar growth. Read more below to learn about the industry and where to stop to sip wine during your fall color tour this season.
For two years in a row, Michigan's devastated vineyard managers looked out over rows of vines and confirmed the suspicions of the state's thriving wine industry; Mother Nature had taketh away.
Extremely cold winter spells, better known by the dramatic moniker - Polar Vortex, paralyzed the majority of the state's vines in 2014 and 2015. The grapes that did make it in 2015 were forced from the vines by a fluke August hailstorm, ripping a scab off of winemakers' tenderly healing hearts.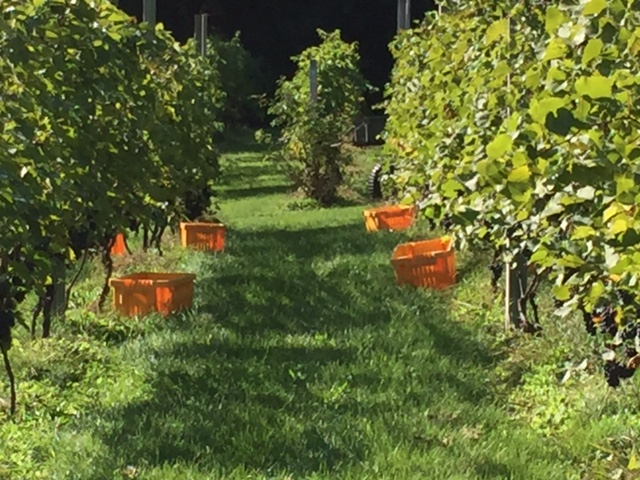 Photo Courtesy of MI Grape & Wine Industry Council
Michigan winemakers treaded so carefully across March 2016 you could barely hear a whisper of "so good, so far." Same thing with April, May and June. Reports came in from the Leelanau Peninsula that a June hail storm had damaged the entire region. Calls quickly went out to multiple wineries in the region to find out that they were mostly untouched. Phew.
Into late August, winery owners could be heard raising their voices just a little. The strong vines were producing an excellent crop and veraison was occurring from south to north. A few photos began to surface on Instagram. Fingers crossed - but no boasting, no planning, no mention of harvest. Many Michigan winemakers consider themselves farmers first, with a no frills grit that carries them through each season.
September… beautiful September! The sun, the heat! Warm nights and gentle rains! Wineries across the state started posting their harvest events and festivals. Then finally last week, the glorious battle cry rang out across the state. From Berrien County, "Onward Merlot, Pinot Noir!" From Traverse City, "Vidal!" "Riesling!" "Chardonnay!" From Jackson, "Marquette - You glorious grape!" The harvest and pressing of Michigan fruit has put everyone in high gear and will keep them very busy with this for the next couple months.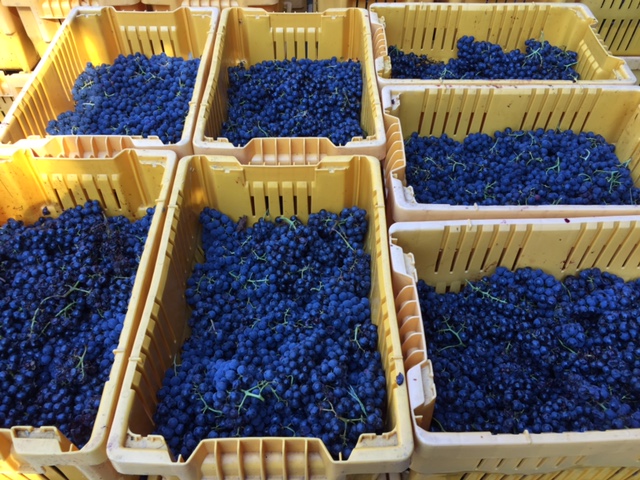 Photo Courtesy of MI Grape & Wine Industry Council
Michigan wineries expect to bottle over 2.3 million gallons of wine this year, and welcome over 2 million thirsty visitors through their doors. As the industry has grown to welcome 124 wineries statewide, so has the reputation not only for stellar Rieslings - but also internationally awarded sparkling, elegant rosés and well-balanced red vinifera wines.
So 2016 will be known as the year that Michigan wineries rebounded - the great American story of triumph over tragedy. Farmers never take these abundant years for granted; rather they embrace humility and pour their energy into their trade. Michigan wine is the product of a patient art.
Michigan wines - like our people - are totally Midwestern. They are resilient, honest, hard-working, and authentic to their cool climate, Great Lakes terroir. Happy Harvest Michigan – you deserve it.
Photo Courtesy of MI Grape & Wine Industry Council
Want to do a little treasure hunting on your Michigan fall color tour this year? Seek out these award winning gems:Chateau Fontaine, 2015 Woodland White
–
Leelanau Peninsula
– 100% Auxerrois grape, best of class winner multiple years at the Michigan Wine Competition. Captures the essence of northern Michigan's summer sunlight - crisp, relaxed, buoyant and lovely.
Black Star Farms, Sirius Raspberry
–
Leelanau and Old Mission Peninsulas
- Looking for an ultimate dessert wine? This crowd pleaser expresses the very finest of this Michigan fruit. Buy an extra bottle to bring to your next dinner party!
L. Mawby, Grace
–
Leelanau Peninsula
– This Pinot Noir Brut sparkling wine is bottled in the traditional method. An elegant and inspiring wine from one of Michigan's most notable winemakers.
Chateau Grand Traverse, 2012 Merlot Reserve
–
Old Mission Peninsula
– This red has depth of character, winning several awards from around the country. It has been described as clean, classy, well balanced and suave.
Fenn Valley Vineyards, 2015 Traminette
–
Fennville
– This wine captures you at the nose and takes you all the way through the finish. A distinct varietal spice is well balanced with the sweetness of the fruit. It will be a new favorite!
St Julian Winery, Sweet Nancie Peach Sparkling
–
Paw Paw -
Vibrant & joyful, characteristic of your fondest Michigan memories. Peach essence in every little bubble, what could be better?
Lemon Creek Winery, 2012 Shiraz
–
Berrien Springs
– You've found rubies! Balanced acidity and fine-grained tannins integrate with oak — delivering complex fruit flavors through an extended finish.
For more information on Michigan wines, visit this
page
.
Jenelle Jagmin is promotion specialist for the Michigan Grape and Wine Industry Council. Founded in 1985, the council was established within the Michigan Department of Agriculture & Rural Development. For more information, and plan your trip to Michigan wine country, visit michiganwines.com.
Where are your favorite spots to sip Michigan wine? Share in the comments!