Six Ways to Beat the Winter Blues in St. Ignace
When you think of winter, do you think about golf or a bike race? In the town of St. Ignace, located in Michigan's Upper Peninsula, a little snow never stops the fun. In fact, Yoopers know there's only one thing to do with the annual 60 plus inches of snow and that's enjoy it. Guest blogger Mindy Rutger shares six ways to beat the winter blues in St. Ignace.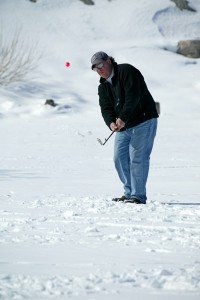 Photo Courtesy of Dave Kunze
1. Take a Swing at Ice Golf
The U.P. Ice Golf Scramble and Glow Ball Challenge (March 3-4) features a rather unconventional version of hitting the links. Carts are replaced with sleds and colored balls look like a Technicolor rainbow on frozen Lake Huron, which serves as the course. It's a two-person, best-ball scramble with no handicaps, no pros, just lots of laughs and bragging rights to those who golf on 12-plus inches of ice. Friday night's Glow Ball Challenge involves glow-in-the-dark balls, live music and beer tasting.

2. Hold Tight and Take Flight
You'll feel like you're flying when you sail down the hills of Silver Mountain Ski Area and Tubing Hill, grasping your inflated tube with a good case of the giggles. Thanks to tubing runs and snowboard hills, there are plenty of ways to catch some air in St. Ignace and a tow rope is never too far away to return you to your status as king or queen of the hill.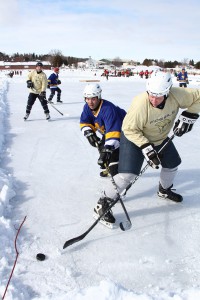 Photo Courtesy of Dave Kunze
3. Labatt Blue UP Pond Hockey Championship
St. Ignace has elevated the sport of pond hockey to a whole new level, hosting the more than 200 teams who will compete in four-on-four action in a variety of age divisions. More than 16 acres of ice will be cleared by Zamboni and divided into 30 rinks for the tournament The event has become a U.P. jamboree with food, a beverage tent, outdoor ice bowling, a snow cab and live entertainment.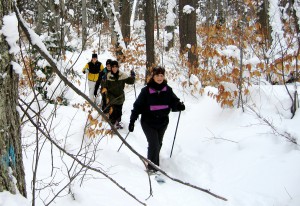 Photo Courtesy of the St. Ignace Visitors Bureau
4. Serene, Snowy and Silent
For those who prefer the more serene nature of silent sports, there are a variety of scenic cross-country ski trails throughout the region and plenty of snowy woods to explore via snowshoes. Quietly make your way through the woods of Hiawatha National Forest for a chance to glimpse area wildlife and the sparkling, crystal trees of an Upper Peninsula winter.

5. Snowmobiling Anyone?
When snow blankets the area, snowmobiles take to the region's trails that provide access to the entire Upper Peninsula. More than 100 groomed miles of trails can be found in the St. Ignace area, woven beautifully through frosty forests. Get a glimpse of wildlife or simply make tracks for the quaint towns that gives the U.P. a distinctive personality.

Wondering what to do on a lazy Saturday snowmobiling day? The Straits Area Snowmobile Club and the St. Ignace Events Committee are bringing back the Bent Ski Classic - Snowmobile Advanture Run. The best part is that it's FREE and ends with potential prizes! Head to St. Ignace on February 11 for this family-friendly event, but be sure to register first!
6. Ice Fishing
Ice fishing is a fun activity for diehard anglers. Yellow perch, walleye, pike and muskellunge lurk beneath the ice of the Great Lakes as well as inland lakes and rivers putting a winter spin on the fishing challenge. Local suppliers and sporting goods stores can direct visitors to the best lakes and bays. Free fishing weekend is February 18-19 so be sure to take advantage!
Find out what Yoopers know about winter fun and choose St. Ignace as your next winter vacation destination.

Mindy Rutgers is an Upper Peninsula native and the executive director of the St. Ignace Visitors Bureau. She has worked in Michigan's tourism and hospitality industry since 1996. Find out more about Mindy and the visitors bureau at StIgnace.com or at facebook.com/stignaceVB.