Spring in Traverse City: My Secret Season
After 30 years as a resident of Traverse City, writer Mike Norton has come to love all four seasons of the year in his adopted home. He freely admits that it took some time before he could properly appreciate the subtle beauty of a Northern Michigan spring—but now he's an enthusiastic fan.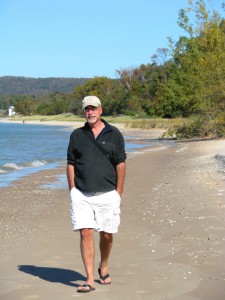 I may be one of the few people who arrived in
Traverse City
without having much of an idea how popular this place was in the summer months. I know better now.
But somehow it's the other seasons of the year that have become especially precious to me over the years, precisely because they're not as well-publicized as summertime. That's especially true of spring, which may be the loveliest time of year in the
Traverse City
area. Spring in these latitudes isn't for sissies -- it can be devilishly hard to predict when it will arrive or how long it will last. But I've lived through spring in a lot of nice places, and a proper
Traverse City
springtime is really just as good as it gets.
The summer crowds and heat haven't arrived yet, and everyone seems to be wearing a mellow glow. I don't know if it's friendliness, or just gratitude that winter is finally over, but they seem genuinely glad to see you. People will stand in line for an hour to get a sundae at Bardon's Wonder Freeze, the town's iconic ice cream stand, mainly because they're so busy chatting and getting reacquainted with each other that they don't realize how long they're standing there.
I'm an incurable pedestrian, so most of my favorite experiences involve walking – and spring walks here are a feast, whether I'm ambling down a long deserted stretch of beach searching for Petoskey stones or hunting for morel mushrooms in a sun-dappled forest, listening to sudden bursts of birdsong from the branches overhead.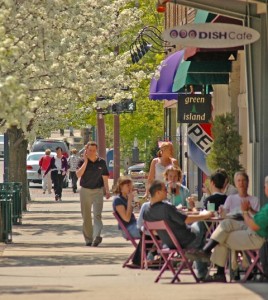 Of course, there's a lot of other stuff to do around here in spring. It's just that the season seems to bring a different kind of traveler to this land of dunes, lakes and forests. They're looking for something special -- a quiet retreat from the humdrum, a village
shopping
adventure, or a tasting tour of the beautiful
wine country
of the Leelanau and Old Mission peninsulas. (And it doesn't hurt that in spring the enchantment of Traverse City is available at very reasonable prices.)
Here's a little tip: between now and May 17, the
Traverse City
Convention & Visitors Bureau is offering a special "
Traverse City
Escape" package that combines special rates at participating hotels and resorts with great deals at some of the area's best
restaurants
and special discounts on shopping,
spa services,
movies, wine tastings and other entertainment.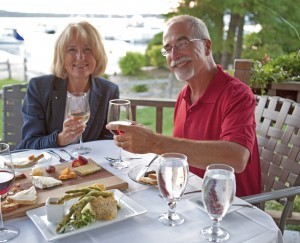 So what would I recommend to my visiting friends? Well, on a single morning, you could enjoy one of the best meals you've ever had, amble through the shops and stores of a friendly, tree-shaded lakeport village like Suttons Bay or Elk Rapids, or cast your line into one of America's most famous
trout streams
. You could paddle the shores of a forest lake, search for delectable morel mushrooms on the wooded hillsides, or just take a drive through the most gorgeous displays of spring wildflowers you'll see anywhere.
With more than 150 inland lakes and hundreds of miles of Lake Michigan shoreline -- including the majestic
Sleeping Bear Dunes National Lakeshore
, voted "Most Beautiful Place in America" last fall by viewers of Good Morning America --
Traverse City
offers almost limitless opportunities for boating, sailing, canoeing, kayaking and fishing. (And although the water's still a little chilly for swimming, I'm constantly surprised how many good sunbathing days there can be in a
Traverse City
spring!)
Surrounding
Traverse City
are deep, fragrant forests crisscrossed with trails for hikers, horseback riders and cyclists, and more than 20
golf courses
with some of the most striking configurations ever designed. This is Michigan's "Golf Coast," an area
Golf Digest
named #12 on its list of the World's Top 50 Golf Destinations.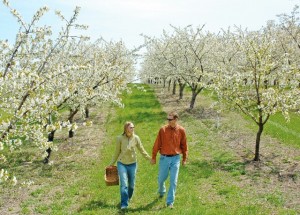 Even the farms here are surrounded by incredible scenery. Long known as the cherry capital of the world,
Traverse City
is also an increasingly famous wine-producing region, with over 30 wineries and tasting rooms offering tours and tastings of their award-winning vintages, and its many restaurants are creating a national reputation for their fresh, innovative
regional cuisine
. And spring is an excellent time to enjoy some of it before everybody else arrives!
Mike Norton, a native of Grand Rapids, spent 25 years as newspaper writer and columnist before starting a second career as media relations director at the Traverse City Convention & Visitors Bureau. An avid hiker and an enthusiastic (if rarely successful) mushroom-hunter, he lives in the village of Old Mission.