Ten Cherished Pure Michigan Holiday Traditions
Are you ready for the holiday season in Pure Michigan? Today, our guest bloggers from The Awesome Mitten, plus a few of our Facebook fans, share their most cherished holiday traditions.

As we move in to yet another holiday season, the staff of The Awesome Mitten thought it best to take a look back at some of our most cherished holiday memories and traditions. This special compilation would not be possible without the contributions of Team Awesome members Hayley Serr, Rebecca Calkins, and Rachell Weeks.

Rachell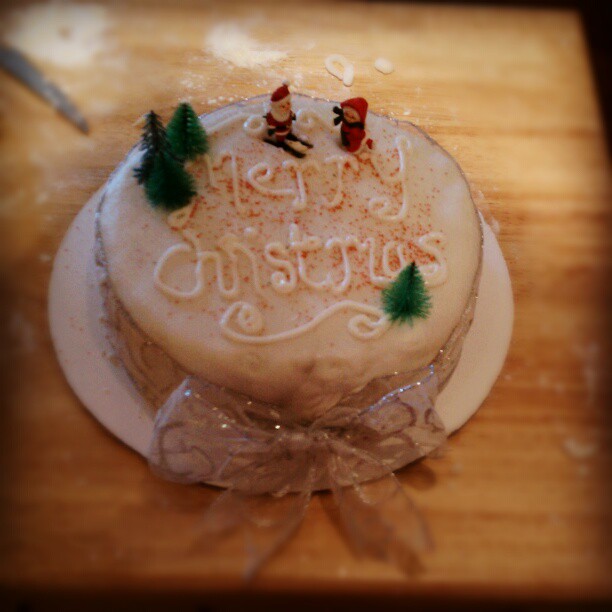 Christmas has always been one of my favorite holidays. It's also one of the few days of the year I wish for snow. My parents made the decision when I was a baby to relocate from England to the United States for work and we've been here ever since. Holidays have always been quiet for us, given that all of our extended family still lives overseas, but my parents did an excellent job of keeping with tradition; needless to say, I grew up with Christmases that were different from all the other kids.

Christimas Eve is hands down the busiest day of the year in the kitchen! Every year, we get up early, head to Meijer and do all of the food shopping for the feasts of the next two days. Once the mad dash around the store is finished, we head to Downtown Holland for some coffee at JPs Coffee House, and in recent years lunch at New Holland Brewery before stopping at the Holland Peanut Store to pick up chocolates for Santa.

Once home, we spend the afternoon prepping food for the next couple of days. In British tradition, this means a full feast of: Brussels sprouts, carrots, potatoes, sausages wrapped in bacon, dates wrapped in bacon, bread sauce, cranberry orange sauce, chestnut stuffing, sausage rolls, turkey, Christmas pudding, and mince pies.

Before going to bed, we make reindeer food (oats and glitter) and run around the yard scattering it everywhere. The glitter helps Rudolf find the food!

Hayley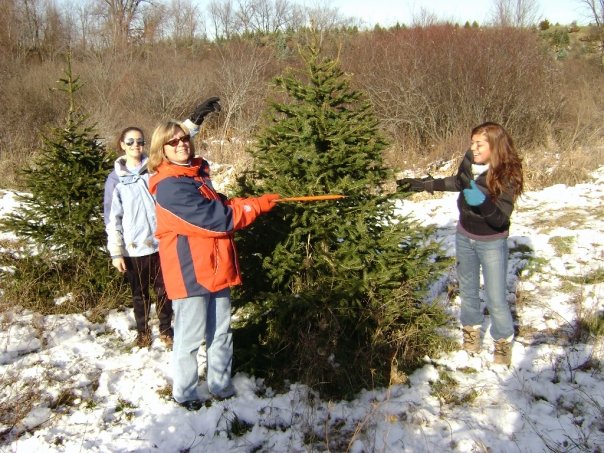 In the Serr family, we have one tradition that many of my friends have never experienced: each year, we go to Niklas Tree Farm in Metamora to cut down our own (real) Christmas tree. Likely because we've done this every year for as long as I can remember, rumbling down the hill toward the fields of Christmas trees on one of Niklas' tractors feels to me like the beginning of the holiday season. There is always some debate as to the tree (needs to be nice and conical, not too bushy or too sparse), but eventually, we always find "the one." And after that perfect tree had been selected and cut down, we'd load it up on the top of the car and head for home.

Once inside and snugly in its stand at home, my dad would hang the lights, my mom the garland, and then each of us would open our box of ornaments (most wrapped in some sort of Christmas-themed napkins or tissue paper for safe keeping). As my two sisters and I got older, our boxes grew to the point that we began needing to cut down two trees just to fit them all.

Other bits of the tradition changed as we aged, as well—for example, we are absolutely not allowed to wake our parents up until 8 AM on Christmas morning, and are only allowed to LOOK at the tree with our presents underneath starting at 7 AM. But we still pile in the car every year to head to Niklas Tree Farm to bring home our perfect tree.

Rebecca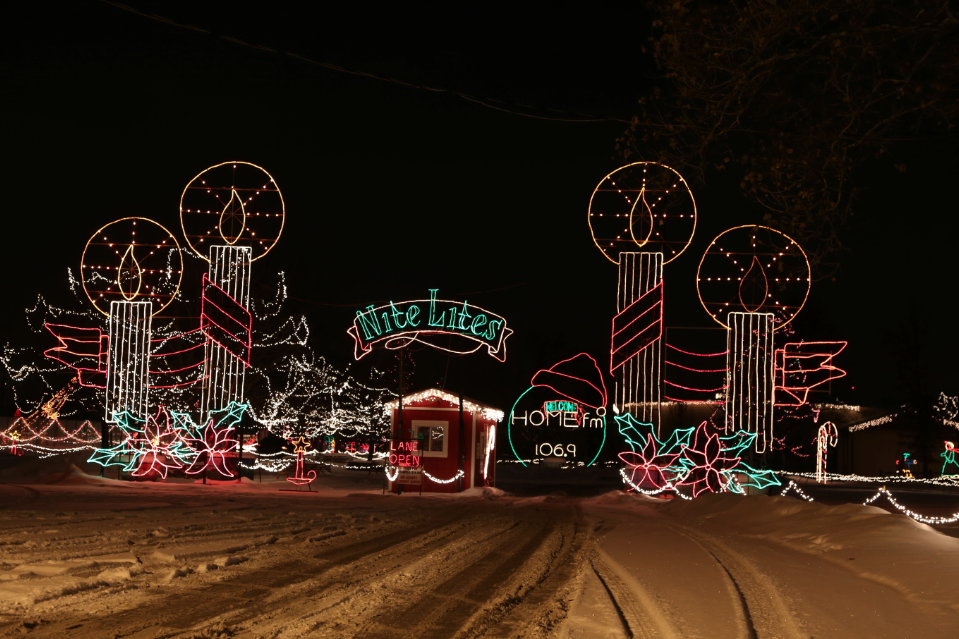 I am a big fan of Christmas Lights. Even though my family was never the biggest of decorators, I love to drive around the neighborhoods that always took it to the next level. I remember piling into the minivan to drive through the Nite Lites at the Jackson County Fairgrounds; at a full mile long, Nite Lites is one of the longest light shows in Michigan.

We'd tune the radio to 106.9 Home.FM for "All Christmas Music All the Time," programming that always starts on Thanksgiving Day (but let's face it, in our house the Christmas Music starts playing right after Halloween). The van would slowly crawl through the grounds as we were ooo-ing and aww-ing at the newest decorations, laughing, joking and/or fighting about the silly lights. Is it a cat or a chipmunk? We were never really sure.

Then, we'd park and going into the American One Events Center for a hot chocolate and to stroll through the decorated Christmas Trees, each one decorated by a local non-profit. We would vote for our favorite tree with donations, usually just change from our mom's purse. The littlest kids would wait in line to visit Santa or if they were lucky pet the live reindeer too. To this day it is an annual tradition that continues even if we don't continue to stare with childlike wonderment. We have to visit our favorite chipmunk, right?

Each one of us has a holiday tradition that ties us back to home. Spending the holiday season in Michigan is one thing that so many of us have in common -- that, coupled with our love for the Great Lakes State, helps us stay connected to one another.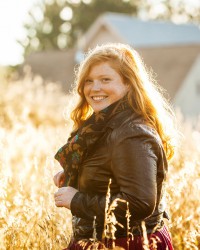 Compiled by Erin Bernhard, Managing Editor at The Awesome Mitten. Erin considers herself a simple northern Michigan twentysomething who loves good microbrews, great wine, summertime grillouts, well-roasted coffee and Traverse City.





From Our Fans:

Our Facebook fans hold special holiday and traditions near and dear to their hearts. Check them out below.

We have to watch the Lions on Thanksgiving with a traditional dinner and then turkey sandwiches with mayo on squishy bread in the evening! - Facebook Fan Carol DeVore

Hosting dinner for anyone we know without family in the area. my husband attends the Maritime academy, so we pack the place with anyone who needs a surrogate 'home' for the day or weekend. Guest beds & couches are always available & usually get filled! - Facebook Fan Whitney Fisher Miller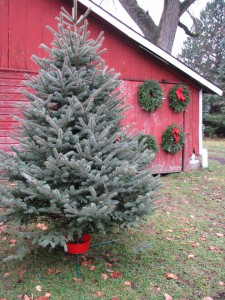 Mine is a trip to Frankenmuth. A great dinner at Zehnders, and just enjoying the beauty of the town. -Facebook fan Kimberly J. Pachey

Church attendance and gathering with family on the holiday for a meal. - Facebook fan Rita Gerstheimer

Lions football is a tradition! Even after we were uprooted to the Chicago area, Thanksgiving is food, drinks, and Lions football. - Facebook fan Cait Stephanie

My folks had a hunting cabin on 40 acres in West Branch. Other than a pump in the sink there was no running water. Out house. Fire place, battery operated radio and comic books. My Dad was a meat cutter so he dressed out his own deer. There was always snow on the ground when we sent up and it looked like a Christmas Card. Thinking of it makes me smile! - Facebook fan Margaret Proulx

During hunting season, my mom and I always put up our Christmas tree and decorations when the men were gone and not under foot! -Facebook fan Vicki Goodwin Meisel

Where in Michigan do you spend the holiday season? What is your favorite holiday tradition?