The History Behind Ryba's Fudge Shops
Todd V.Callewaert is no stranger to the hospitality industry. His family started Ryba's Fudge Shops in 1951 and eventually expanded the business to Mackinac Island, where they also own the Island House Hotel. Today, Todd fills us in on the history behind the businesses and gives us some insight to the fudge industry.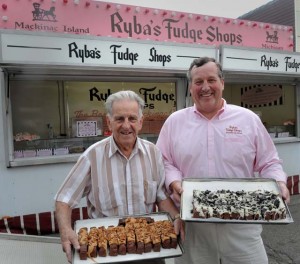 Q: Can you tell us a little bit about yourself and your position?A:
My wife Jennifer and I live six months on
Mackinac Island
and six months in Grosse Pointe Farms Michigan. Our son Andrew is graduating from MSU this December and William is a freshman at the University of Michigan. I have worked for Ryba's Fudge since I was 16 years old making fudge and caramel corn and have been the General Manager of the Island House Hotel since 1988.
Q: What's the history behind The Island House Hotel and Ryba's Fudge Shops?A:
Ryba's Fudge Shops was started by my grandfather and father in 1951with a popcorn and confection store in Detroit. We started making fudge in 1956 calling ourselves Mackinac Island Fudge. We moved to Mackinac Island in 1960 and changed the name to Ryba's Fudge Shops. We now have five locations on Mackinac Island and two in Chicago. In 1969 we purchased the Island House Hotel, which was to be slated to be torn down due to its state of disrepair. The Island House was renovated and reopened in the 1970s. Over the years it has gone through several more renovations and is now a registered Michigan historic landmark. It has two excellent restaurants, the 1852 Grill Room and the Ice House Bar & Grill.
Q: What makes fudge the perfect holiday gift?A:
Fudge has a nostalgic quality that makes it the perfect addition to any holiday gathering. Fudge travels well and stores splendidly; however, we have never know it to last very long once it is brought out.
Q: What types of unique offerings does Ryba's have for shoppers?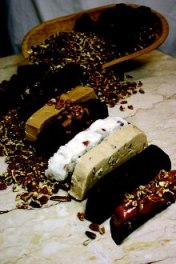 A:
We offer ten flavors of fudge to choose from, including our popular Turtle and Chocolate Peanut Butter varieties. This is in addition to our 'Ryba's Special Package' which includes our fudge, caramel corn, peanut brittle and taffy.
Q: What are people surprised to learn about fudge?A:
Our fudge is all made by hand on marble slabs so it is smooth, unlike other fudges.
Q: Outside of Ryba's and The Island House, what are some Mackinac Island must-sees for visitors?A:
Over 83% of Mackinac Island is State Park so there are plenty of trails and bike paths to explore. The best way to see then Island is to take advantage of the lack of cars, grab a bike and enjoy the beautiful scenery.
Q: What's your favorite flavor of fudge?A:
Chocolate Pecan
Q: Where can people to go learn more?A:
Visit www.ryba.com or call 800.44.RYBA to connect with Ryba's Fudge. For more on Island House Hotel, visit
www.theislandhouse.com
or call 800.626.6304.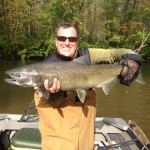 Todd V.Callewaert is currently president of his family business, Ryba's Fudge Shops. The company began in 1951 with his grandfather opening a store in Detroit. Victor Callewaert joined Harry in 1954, the company eventually moved to Mackinac Island in 1960 and began producing their famous fudge, along with the original caramel corn and myriad handmade confections. Over the next 24 years, the family tradition continued as Todd joined his father in the family business after graduating from Central Michigan University in 1984. Together they expanded to five separate locations on Mackinac Island, in addition to two locations in Chicago, a year-round mail order operation, the Island House Hotel, three Starbucks locations and four restaurants. Today, Todd looks forward to his oldest son Andrew's graduation from the School of Hospitality Business at Michigan State University and his son William's graduation from the University of Michigan so this strong family tradition may continue into the next generation.