The Original Murdick's Fudge, Mackinac Island
On a sweet assignment, Kristin Bienert, editor of
Michigan Travel Ideas, samples a handful of flavors while learning the art of making fudge at Murdick's Fudge, the original Mackinac Island fudge shop, which is celebrating its 125th anniversary this summer.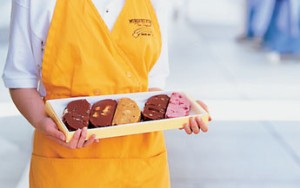 The family's fudge-making business actually began 10 years prior to the official anniversary. Henry and Sara Murdick and their son, Rome, opened a confectionary in Mount Clemens before moving the shop north to Marine City and Petoskey. But making confections isn't the only reason for relocating to Mackinac Island in 1887. Henry and Rome, who were sail makers, came to the island during the construction of the Grand Hotel to build canvas awnings for the summer resort.
The family opened Murdick's Candy Kitchen, which survived and the Great Depression and sugar rationing during World Wars I and II. In 1955, Bob Benser Sr. opened an ice cream shop next to Murdick's Candy Kitchen. Over the years, Bob learned the art of making fudge from the Murdicks and purchased the business in 1969. Today, Bob Jr. and store partner Ron Steensma, who has been making fudge for more than 30 years, oversee day-to-day operations.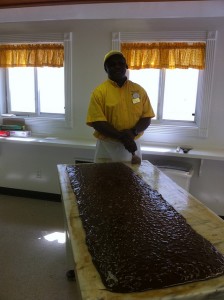 In less time than it takes to hear Ron's story, a three-person team makes a batch of fudge. One person weighs the ingredients—raw chocolate from Germany, sugar from Bay City, and cream and butter—into a copper kettle set over a propane gas burner. The maker constantly stirs with an oak paddle until the sugary mixture reaches a roaring boil, about 16 to 17 minutes. Cook and head fudge maker, Carnel, pours the hot liquid onto one of three original marble tables, which weigh 750 pounds. Light fudges—vanilla, maple, pecan and peanut butter—are made before chocolate fudges because the tables need to be warm for the chocolate to cream out before it can be folded into shape. As the fudge cools, Carnel works his way around the 5-foot-long marble slab, folding the fudge with a flip of his wrist. This is his eighth summer on the island, and he makes it look easy. When the fudge resembles a giant loaf, the cutter steps in and begins slicing. Every batch yields 60 to 63 half-pound slices.
Throughout the day, the team makes between 15–20 batches of fudge, which means purchases are never more than 24 hours old. Choose from 19 flavors, including the newcomer triple espresso. If you can't decide, select one of the store's top sellers: double chocolate, chocolate, chocolate turtle and German chocolate. In addition to fudge, the store makes and sells a variety of peanut brittle and popcorn flavors.
Some more interesting facts: In one week of fudge making, Murdick's uses 200 pounds of butter, 200 gallons of cream and 5,000 pounds of sugar, all delivered by horse-drawn carriage six days a week.
Each box of fudge comes with a plastic knife, which makes sampling when the mood hits (breakfast!) convenient. After trying many flavors, Kristin's fave is chocolate peanut butter.