Thirteen Reasons to Run Away to Hell (Michigan, That Is!)
Hell is a place in Pure Michigan, not a swear word. So, there is no need to refer to Hell as H-E double hockey sticks. And since there is a real dam in Hell, you are not committing any sins by taking your photo in front of the falling water. Today, Barbara Braden from Livingston County Convention & Visitors Bureau shares 13 reasons to run away to Hell...Michigan, that is.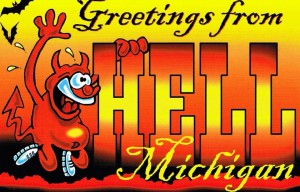 1) Check the weather
There is an official US weather observation station here. Is it hotter than Hell, is it colder than Hell? Has Hell frozen over? More print and broadcast meteorologists have written and talked about Hell on severe weather days than any other town in Michigan and beyond. Tony Perkins (the then weather-man for Good Morning America) went to Hell and back to give his weather report. Check the guest book to see the numerous other celebrities that visited.
2) Indulge in the Crematory
Take the Grave Digger ice cream challenge at the cream-a-tory. Many brave souls have tried to finish the tempting pound of ice cream served in a miniature coffin. Oddly, winners of this challenge get a death certificate and join the ranks of the few that have lived to tell the story. To avoid the
ice cream
headache from Hell, try the make your own sundaes. Dip scary-named toppings like butter-snot, ectoplasm, and scare-a-mel out of an authentic coffin.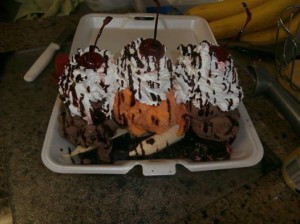 "The Grave Digger" - Photo courtesy of Livingston County CVB
3) Get Elected
Someone once said, Politicians in Hell… well it's a good start. You can join the unofficial politicians from Hates by opting to be Mayor of Hell for a day. "His (or Her) Honor the Mayor" takes on a whole new meaning when your constituents (or is it minions) are from Hell. Politics aside, if you are the Mayor of Hell, you don't have to keep any campaign promises.
4) Matriculate
Tired of boring scholarly types bragging about their prestigious degrees? Join the many proud alumni from Damnation University and you can laude your own credentials. You will definitely set yourself apart from the masses when you arrive in your Dam U collegiate sweatshirt. And when they raise their learned eyebrows, you can say… the devil made me do it.
5) Play Miniature Golf
Do you have friends that are continually using their "foot wedge" or claim to have an endless supply of mulligans? Well Hell is the place for those that think the rules don't apply to them. The whimsical characters along the aptly named holes are sure to prompt a few chuckles.
6) Reach out to Friends or Enemies
Send a scorched postcard card from official US Post Office to an arch enemy and write… "Wish you were here". Why not mail a gift to a loved one and say you went thru Hell to get it for them. Each April 15
th,
hundreds of procrastinators descend upon the tiny town to mail their tax returns from Hell. Can you say… audit? All mail from Hell is scorched with real fire because it's hot down there.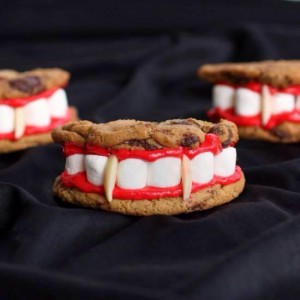 Photo courtesy of Livingston Country CVB
7) Canoe & Kayak
Explore the chain of lakes where your trip can be as short as 2 hours or as long as a full day. Sightings of Blue Herons, turtles basking in the sun, beaver, deer, eagles, and other native wild life are common as you glide alongside serene vistas. There is no need to bring your own canoe or kayak, rentals are available.
8) Dine in Hell's Kitchen
If you are expecting HOT cuisine you won't be disappointed by the hottest wings in Hell. Hell's ovens bake sinfully delicious bread daily and pride themselves in locally sourced ingredients from farmers markets. Take home Smitty's Hot Sauce from Hell to rekindle memories of your decadent dining.
9) Invest in Real Estate
Yes "Hell's-Half-Acre" is for sale, by the square inch. You can purchase the official dirt from Hell in a small bottle that comes with a certificate of ownership. It makes a great gift, if you want to give someone a little Hell.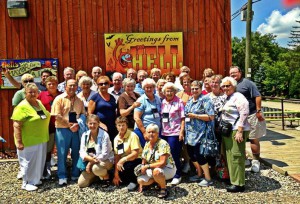 Photo courtesy of Livingston County CVB
10) Get Married
On a cold day in Hell… many couples have "tied the knot" in the Wedding Chapel. Hell's Facebook page has a gallery of wedding photos featuring the festive nuptials. Mayor Odum Plenty will perform the nuptials and even help with the arrangements. Like the Mayor says, a marriage made in Hell has nowhere to go but up.
11) Photo Opportunities
Who wouldn't want a true "selfie" from Hell? Or there are always the commemorative departure photos under the Welcome to Hell sign. Even Flat Stanley posed with a friend in Hell. Photo buffs that like light-hearted shots will enjoy the cartoon style cut-outs that frame your face.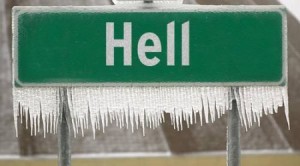 12) It's a Punster's Paradise
Weather it is puns or a play on words that you enjoy, Hell is an irreverent inspiration no matter where you turn. And no-one enjoys hearing your "spin" on Hell more that the friendly hellions that work there.
13) You meet the nicest people in Hell
It seems counter intuitive that you would meet nice people in Hell, doesn't it? But it is true. I love to share the many photos of Hell's guests because they all look like they are having a wonderful time. I have met people from all over the globe in Hell, and I hope someday I will "See YOU in Hell".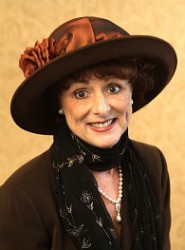 Barbara Barden is the executive director of the Livingston County Convention & Visitors Bureau. Livingston County is home to Hell Michigan, which means Barden gets paid to tell people to "Go to Hell". But she always is quick to add… she means it in the nicest way. Barden is a graduate of Damnation University and holds a Master's degree in Procrastination.
[wp_geo_map]