This Musical Journey Through Michigan's Upper Peninsula Will Leave You Mesmerized, Guaranteed!
Do you have five minutes? Trust us. You'll be blown away by this new music video produced by Marquette, Michigan based visual artist Shawn Malone. "As the World Falls Away" is set to the new music of North American Ambient Electronic recording artist David Helpling, and features captivating scenes of Michigan landscape and night sky, interwoven with NASA ISS flyover scenes, courtesy the Earth Science and Remote Sensing Unit, NASA Johnson Space Center. This wonderful juxtaposition of spectacular scenes from Earth and Space take the viewer on an immersive audio and visual journey from the edge of the Earth to the depths of the sea and leaving the viewer completely mesmerized. Check out the video filmed entirely in Michigan. Then, see where it all took place with Shawn's notes on the video and scene-by-scene breakdown below!
As The World Falls Away - David Helpling
from
LakeSuperiorPhoto
on
Vimeo
.
Notes on video from visual artist Shawn Malone:
Living on the south shore of Lake Superior, summer is very special as both sunrise and sunset occur right over the lake. With this past harsh winter, the cold water of the lake produced surreal opportunities with fog, one of those scenes with the massive fog bank completely blotting out the sunset made the cut.
Upper Michigan
has amazing dark skies, and is a high enough latitude to catch the aurora every now and then. Simply living here provides endless inspiration for the the subject matter of my art, beautiful country. As a matter of fact, about 15 years ago, with no jobs lined up we made the move from a very urban metropolitan area and chose to live in the Upper Peninsula, in awe of the beauty and solitude of the Lake Superior region.
My video approach actually starts with the music, something that is inspiring and will fit with whatever content I am producing. I then work to tie similar visual elements found in completely different scenes together through sequence order and sometimes the use of color while creating a visual flow that reflects what is happening in the music at the time, with a final result having emotion and impact. I first learned of David Helpling's music when working on "North Country Dreamland," another time-lapse video that exclusively features the night sky of Upper Michigan. I had approached the team of David Helpling and Jon Jenkins and asked if they would agree to let me use a gorgeous track from their trilogy, and they agreed. That video went on to win a Smithsonian video award in 2013 and now has over 250k views on Vimeo.
Scene Sequence:
- Morning dew on beach grass,
Lake Superior
, Marquette
- Lake Superior summer sunsets from the south shore of Lake Superior, Marquette
- Crescent moon rises through pastel colored sky and smoky waves from western forest fires
- Multicolored storm cloud sequences(one pink, one with golden mammatus clouds from the same storm)
- Sunsets from the south shore of Lake Superior
- Marquette
-
Grand Island blue ice curtains
, filmed under a bright moon while frozen Lake Superior creaked and rumbled under foot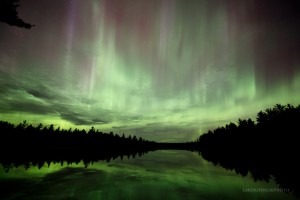 Photo courtesy of Lake Superior Photo
International Space Station fly over scenes:
- Milky Way and red aurora
- Full moon setting behind earth
- A large bright comet rising
- From North to South America in 15 seconds
- Intense isolated lightning storm over Lake Superior Marquette
-
Aurora Borealis
over Lake Superior Marquette
- Aurora substorm reflecting in Tobin Harbor,
Isle Royale
, late September 2014
- Winter aurora over frozen Lake Superior with green, red, purple curtains, bright moon illuminating the snow
- ISS fly over of auroras with similar colors as seen from space
- Grand Island shipwreck of 1870, the Bermuda- rays of light shining down on the wreck
- The great auroras from Oct 2011, photographed in Marquette, this scene constructed from a few random stills in the sequence they were photographed, sequence showing light of the aurora forming what look to be angels descending and ascending
- One of those rare sunsets after an intense thunderstorm, lighting still going off behind me, rainbows to my right, and this massively epic sunset to the left. Pink cloud scene immediately following is from same storm
- Subtle auroras over ice mounds of Lake Superior showing how versatile in color the aurora can be, this time magenta and yellowish green hues
- Grand Island East Channel Lighthouse with it's lantern room pointing directly to Polaris the north star, as the constellations rotate around it- lighthouse illuminated from the light of Munising (it was a very dark moonless night)
- The
Milky Way
sweeping over the foundation of the company store, Fayette ghost town
- Milky Way reflecting off an inland lake in the central Upper Peninsula
- Very strong fog bank sweeping in off Lake Superior completely blocking out the sunset as it passed
- All sky view of the most colorful aurora I've ever seen, as viewed from the south shore of Lake Superior, with a red arc ending the video straight through the center of the frame
What did you think of the video?
David Helpling is on the Spotted Peccary label and his music is available on CD and available for download. Follow David Helpling on Facebook.
Shawn Malone is a visual artist based in Marquette, Michigan a and runs a photography gallery at 211 S. Front St. in downtown Marquette of her landscape photography work. Her art is available for purchase and can be contacted there also for time-lapse/video projects. Follow LakeSuperiorPhoto on Facebook.