Traverse City: Not What I Expected
College senior Ashley Prescott gets her first real taste of shopping "Traverse City-style"-- and decides she may have been missing something all these years.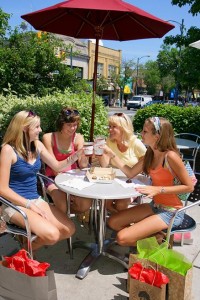 I'll be honest. When I was younger, I thought
Traverse City
was the kind of place where old people go to gamble,
play golf
, and retire; or maybe where families could go for a week or two in the summer in order to unwind from their busy schedules. I never saw it as a place for somebody like me.
But after just one visit, I've fallen in love -- and I've only just gotten here. I've already learned to call
Traverse City
"TC," just like the locals do!
My first day in
Traverse City
began on Front Street, in the city's
downtown district
, full of shops whose merchandise overflows onto the sidewalk, and
restaurants
that tempt you with mouth-watering smells as you walk past. I walked up from
the beach
nearby and meandered through streets that cascaded with blooming trees, admiring the downtown architecture. (These buildings are beautiful, yet with a friendly feeling that makes the city feel cozy.)
You don't see many national chain stores in downtown
Traverse City
-- although I did pass a Subway in my travels. I stopped at a local cafe for lunch, and I was not disappointed. The service was friendly and inviting, and the workers seemed to quickly recognize the regular customers.
My favorite part of the downtown visit was walking back to my car with the beautiful Grand Traverse Bay spread out in front of me. The waves were crashing on the breakwall, and the water was such an intense blue that it hardly looked real, and even the cold wind off the water wasn't enough to discourage me.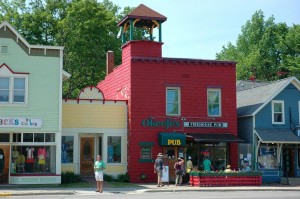 The next day, I left the city and took a drive north to the town of
Suttons Bay
. It wasn't one of those rides where you have to invent games to pass the time. I had that beautiful water to my right, and that's all I needed to keep myself entertained. Restaurants with outdoor patios lined the shore, and sailing ships were visible far out into the distance. It's a wonder people don't come here more often -- it's the perfect therapy.
Suttons Bay is a small town, and it made me smile. If you were ever a fan of "Gilmore Girls," I'm sure you remember Star's Hollow, the whimsical town where Rory and Lorelai made their home -- where everyone knows your name, and the stores are full of hidden treasures. Suttons Bay is like that.
Before I go any farther, you need to know that I hate shopping. I only shop when I can't possibly avoid it – and even then I try to put it off. With Christmas shopping my philosophy is, "Get in, get out, get it over with." I fly through the mall, pushing old ladies in motorized carts out of my way, and my record to date is 12 gifts found, bought, and carried away in an hour and a half. With Suttons Bay, I plan to make an exception. I'm coming back when I'm not working -- and when I do, the old ladies in their carts will be safe.
The buildings there are painted in different colors -- yellow, red, purple and blue -- and each has its own Star's Hollow-ish charm. I was only able to take a quick peek through most of them, but I'm convinced that we'll meet up again. Many of the homemade crafts I saw will be finding new homes on various end tables and shelves in my apartment. Oh Suttons Bay! I may even have to introduce you to my mother.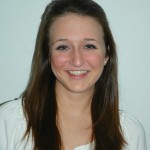 Ashley Prescott, a native of Ortonville, is studying Integrated Public Relations at Central Michigan University and is spending the summer in Traverse City. Her favorite pastime is fishing on Green Lake and the Betsie River.