Twelve Ways to Celebrate Michigan Wine this Summer
Do you love to explore all of the wineries Michigan has to offer? Guest Blogger Dianna Stampfler, president of Promote Michigan shares a handful of wine festivals you don't want to miss.

Between Michigan Wine Month in May and the fall harvest season, there are countless of opportunities to sample award-winning locally-produced wines. There's no better way to savor these vinos than on the beach, next to the Great Lakes waters, or under towering canopies of trees during the peak of summer.
Photo Courtesy of Promote Michigan.

The Leland Wine & Food Fest, June 10, is one of Michigan's original wine celebrations and this year marks its 32nd anniversary. Over the years, it's grown to include a dozen northern wineries in the historic Fishtown District, nestled along the shores of Lake Michigan along the Sleeping Bear Dunes National Lakeshore. Visitors will also find a handful of eateries serving local fare as well as live entertainment. Hours are 12-6pm, with tickets $15 online in advance and $25 at the gate.

Toast the Coast from Weko Beach in Bridgeman, during the Lake Michigan Shore Wine Festival, June 17. Sample the region's award-winning wines, paired with local cuisine and live music from 1-10pm, just as the sun sets over the horizon. Tickets are just $20 and presale only until June 16.

The historic park-like grounds of The Village at Grand Traverse Commons is the setting for the Traverse City Art & Wine Festival, June 24, featuring wineries from Northern Michigan. Now in its 9th year, this event offers a true taste of northern Michigan with more than 20 local wines, great food and fine artists, and five musical performances. Hours are 3 - 9 p.m, and tickets are $33 for general admission in May and $35 for general admission in June.

Head over to the Lake Huron shoreline for the Sunrise Side Wine & Food Festival, July 15 in Harrisville. Local wineries, craft breweries, and food artisans gather at the Harrisville Harbor in this annual gathering hosted by the Harrisville Arts Council. Hours are 12 - 6 p.m.

The 7th Annual Grapes on the River, August 12, is presented by the Manistee Area Chamber of Commerce to recognize local and regional wines and foods. Set along the scenic backdrop of the Manistee River, booths line the Riverwalk and the newly-renovated municipal marina for an afternoon of fun and festivities. Hours are 4-8pm, with tickets including wine and craft beer sampling, food tastings, art, and music.

Photo Courtesy of Promote Michigan.

End the summer at the Hopps of Fun Beer & Wine Festival, Sept. 8-9, in Mackinaw City. Hosted at the Mackinaw Crossings complex, this unique event features samplings of more than 40 wines from Michigan's four federally-recognized viticultural regions and over 50 award-winning Michigan craft beers, as well as food and entertainment. Hours are 5 - 11 p.m. on Friday and 1 - 11 p.m. on Saturday.

Michigan's largest and longest-running wine festival—The Wine & Harvest Festival—returns to Paw Paw, Sept. 8-10. In addition to all the family-friendly activities, winery tours and tastings are held in tents throughout the festival area—adjacent to St. Julian Winery (the state's oldest winery).

Other Michigan wine events this summer include:

Art, Beer & Wine Festival
June 3 (1 - 7 p.m.)
Ella Sharp Museum, Jackson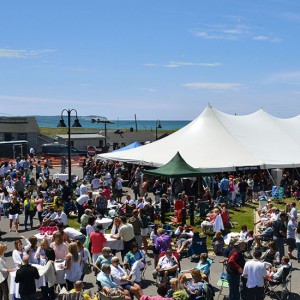 Photo Courtesy of Promote Michigan.
Red, White, & Brew
July 1 (4 - 7 p.m.)
Harbor Springs

Wine on the Water Festival
July 15 (1 - 7 p.m.)
Suttons Bay

City of Riesling
July 23 - 24
Traverse City

Tawas Uncork'd
August 5 (12 - 6:00 p.m.)
Harbor Park, East Tawas


For a list of other Michigan wine events, information and a list of more than 115 wineries, visit MichiganWines.com.

Dianna Stampfler is the president of Promote Michigan and is a dedicated fan of Michigan wine, especially Riesling!

What is your favorite Michigan wine?