What Happens When Six Photographers Meet Michigan's Upper Peninsula
There's no question that fall in Pure Michigan is a dream come true for a shutterbug. Today, guest blogger and landscape photographer Aubrieta V. Hope shares the story of six photographers who set off for the Upper Peninsula in search of scenic fall vistas.
Once upon a time, six shooters ventured north to the Tripod Forest, a fabled land of brilliant fall color in Michigan's Upper Peninsula. All were packing: most brought Nikon's, but two carried Canons. They loaded up minivans, SUV's and 4x4's, bringing filters and flashlights, bug spray, raingear, ice scrapers, and backpacks. About half of them planned to find a campsite someplace and the others made hotel reservations. Some had never met, but were destined to. A few of them hoped to cross paths up there somewhere.
It was late September and their only plan was to find and follow the color. Frost was in the forecast. The time was now. The 2014 Michigan Fall Foliage Convention had begun!
Their program? It all depended on the trees, sun, wind, and cloud cover. Some headed for the western U.P. first, others tracked to central inland areas. In this rugged and beautiful land, photo opportunities crop up everywhere. Cell coverage, however, can be scarce, especially in the most remote areas. So, happenstance and coincidence tend to be the best, if not the only, methods of connection. That certainly proved to be true for the shooters in our tale: Neil Weaver, Craig Sterken, John McCormick, Phil Stagg, Ken Keifer, and Aubrieta Hope.
Over the next couple of weeks, with surprising frequency and with almost no planning, these six shooters ran into each other on rocky outcrops, at the end of nearly impassable two-tracks, in parking lots, and other likely and unlikely places. They shared location tips, stories of shots taken and shots missed, and bucket lists of dreams on the front burner. There was no conference schedule. Everyone had their own agenda. But there was plenty of camaraderie and inspiration. And, there were rescues, for example when Aubrieta fractured her ankle on a trail and was glad to be shooting with others at the time.
Outdoor photography is an unpredictable pursuit. It's nice to have friends in the vicinity! So, maybe this was more of a round-up than a convention, all these creative mavericks meeting on the beaches and overlooks, sharing tripod space and good light, and bagging some great shots.
Here's a glimpse of some of their adventures:
Craig Sterken at Paradise Point, Christmas, Michigan. Photo by Neil Weaver Photography.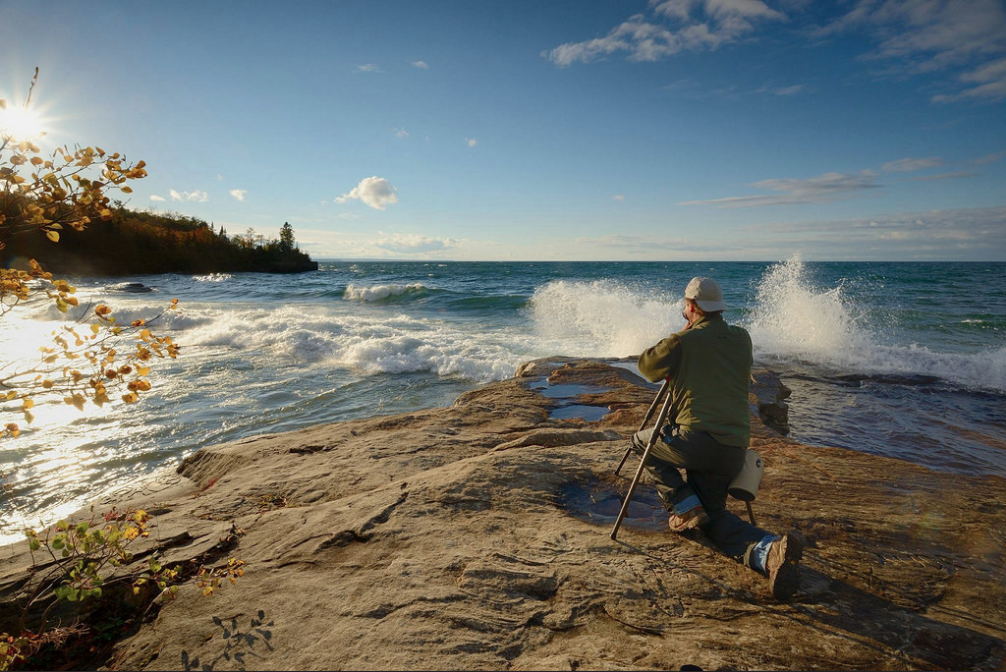 Sunset, Miners Beach, Pictured Rocks National Lakeshore by Phil Stagg (Michigan Waterfalls)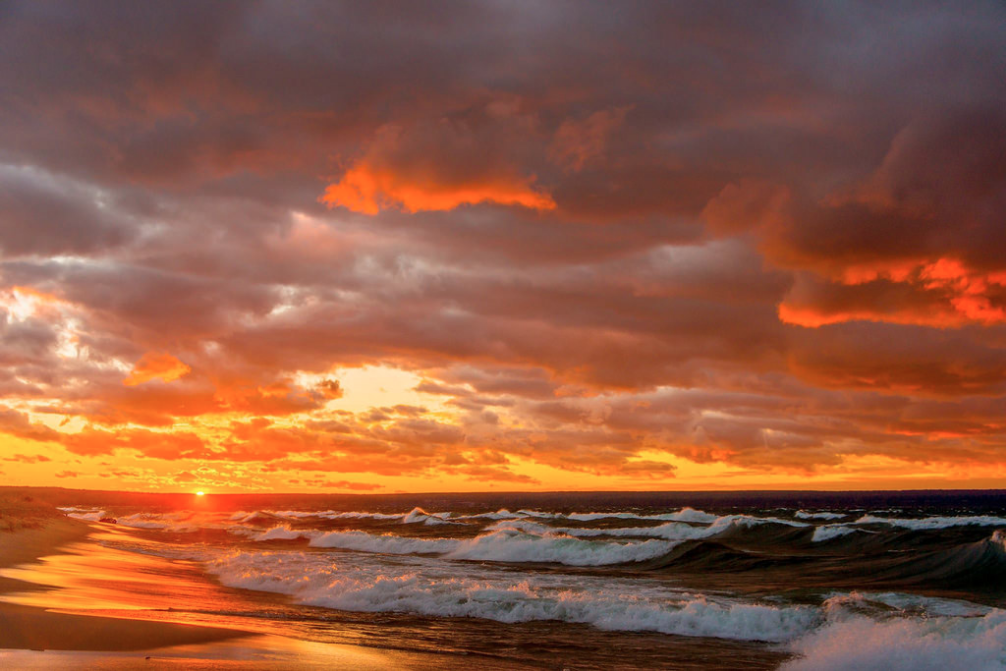 Aubrieta Hope at Cloud Peak, Porcupine Mountains Wilderness State Park. Photo by Michigan Nut Photography.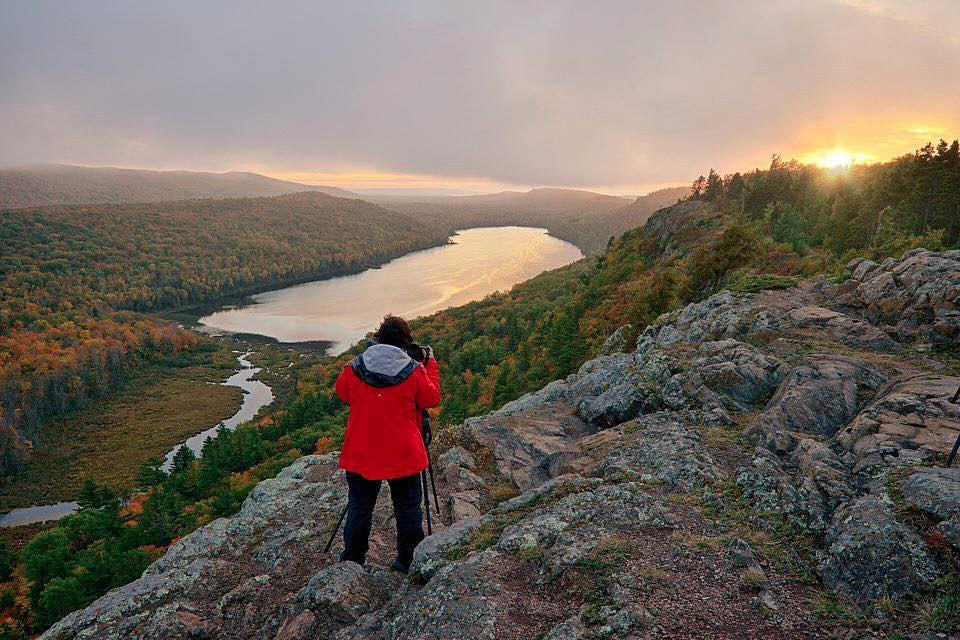 Mouth of the Hurricane River at Sunset by Michigan Nut Photography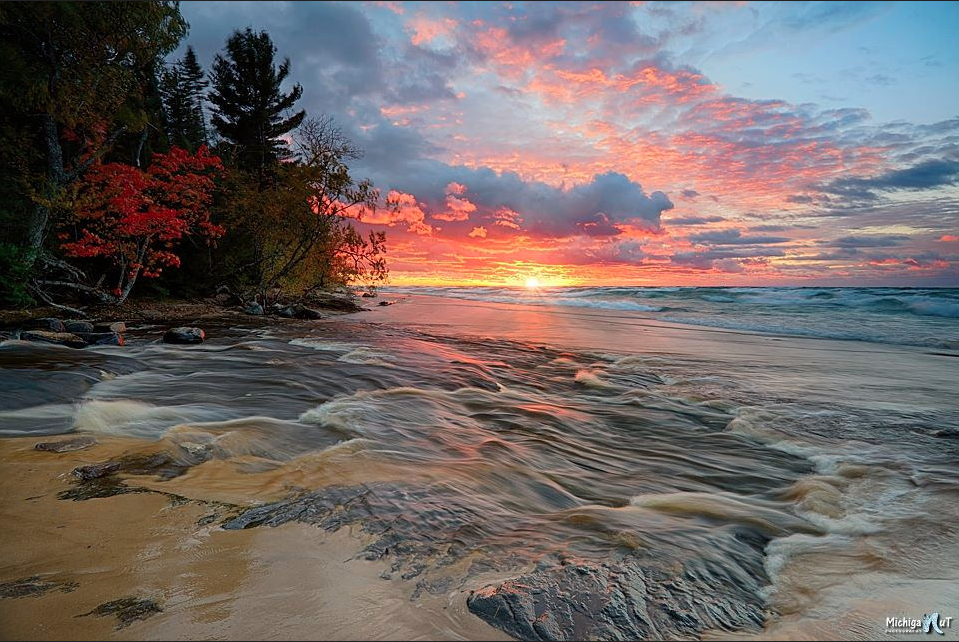 Misty Morning at Manido Falls - Porcupine Wilderness State Park by Craig Sterken Photography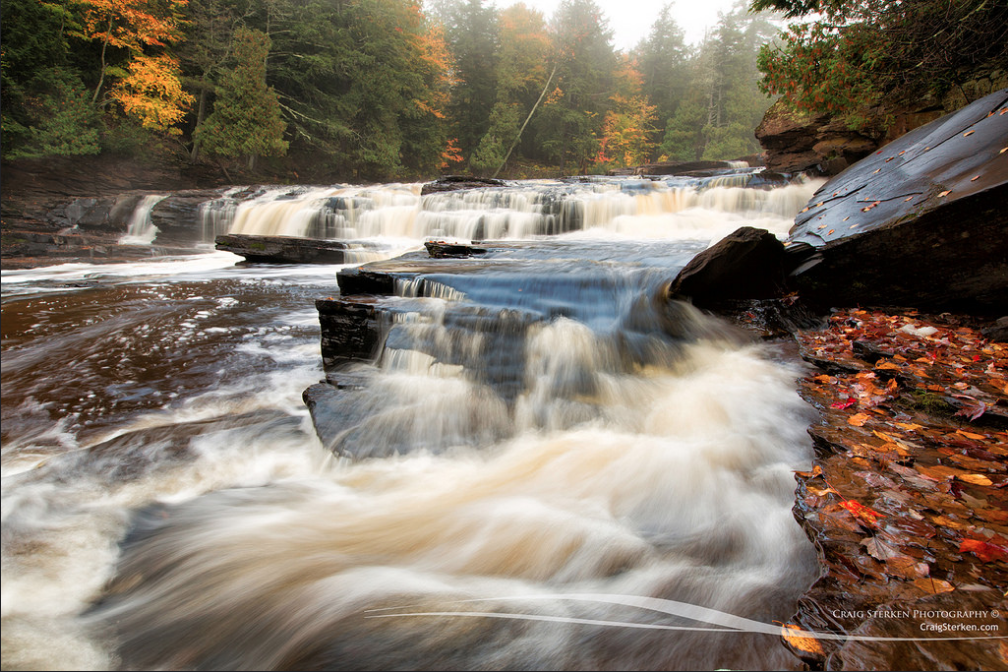 Carp River at Dusk by Neil Weaver Photography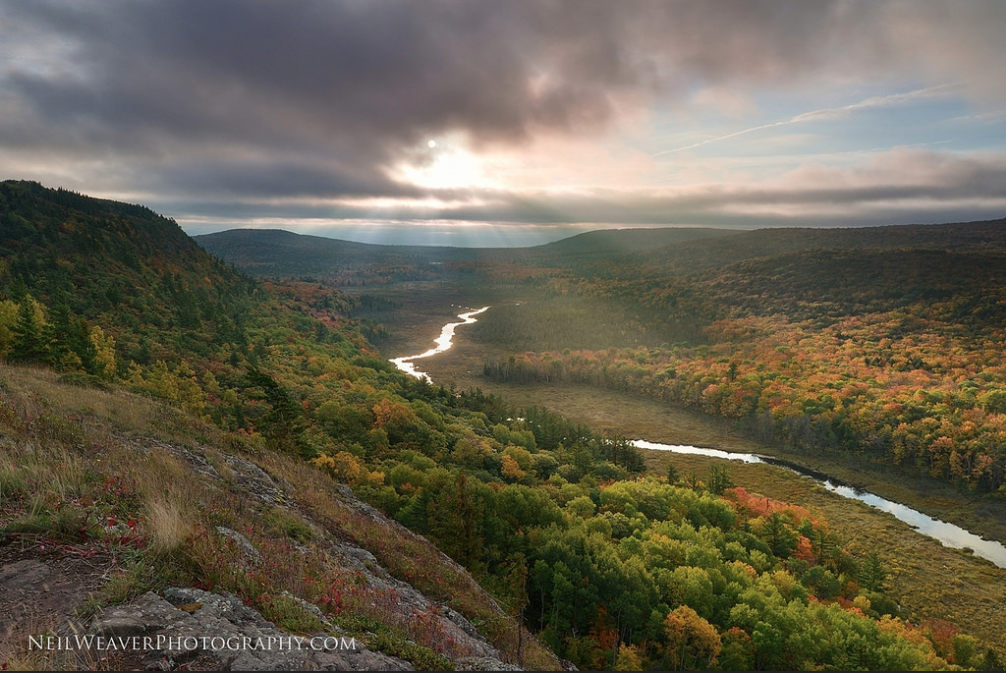 Photographers at Miners Beach, Pictured Rocks National Lakeshore by Phil Stagg (Michigan Waterfalls)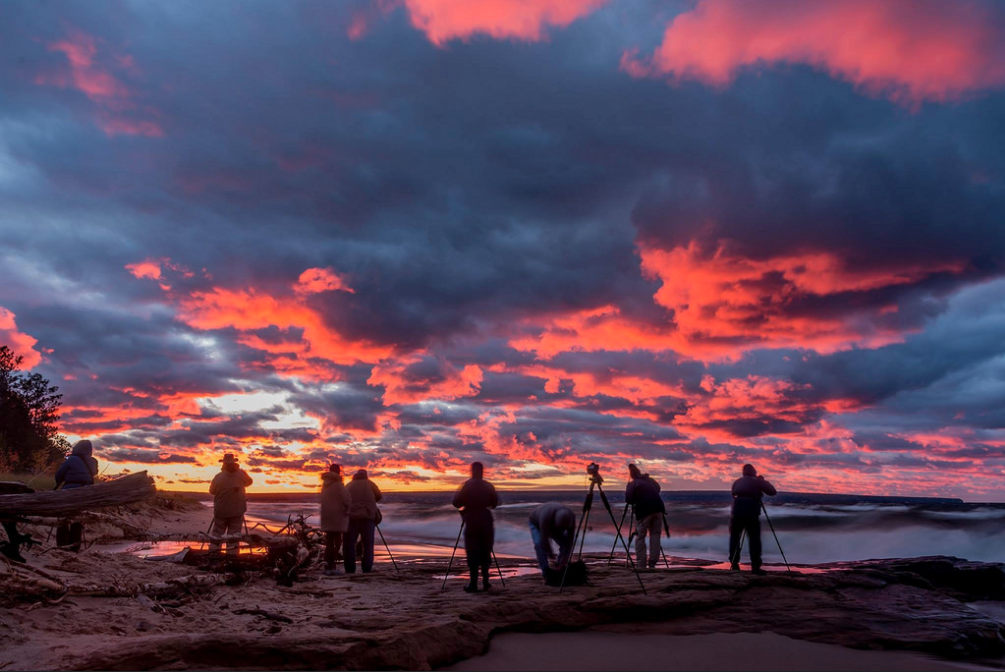 Stormy Afternoon at Paradise Point, Christmas, Michigan by Aubrieta V. Hope/Michigan Scenery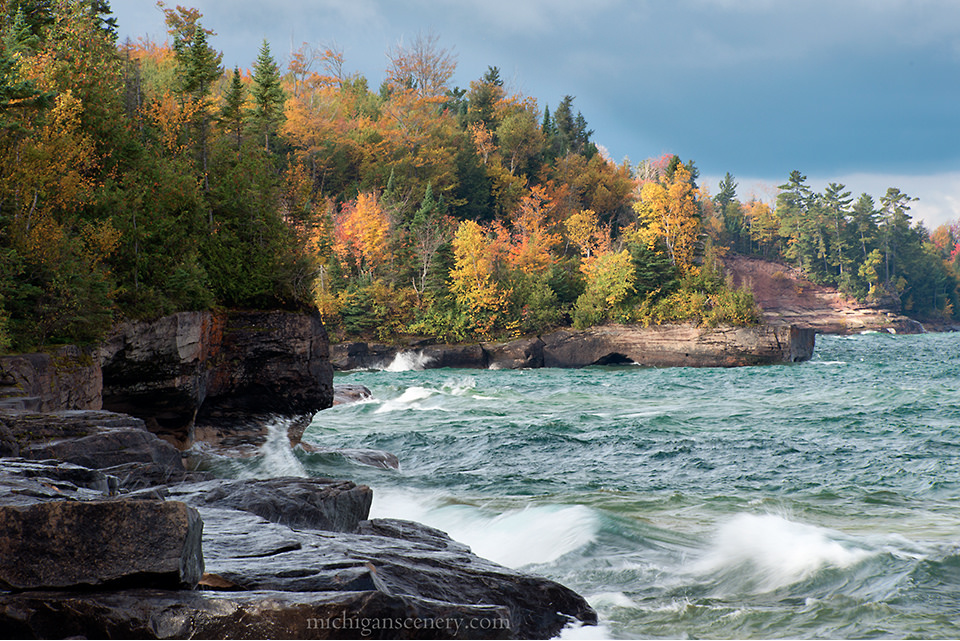 Storming the Castle, Pictured Rocks National Lakeshore by Kenneth Keifer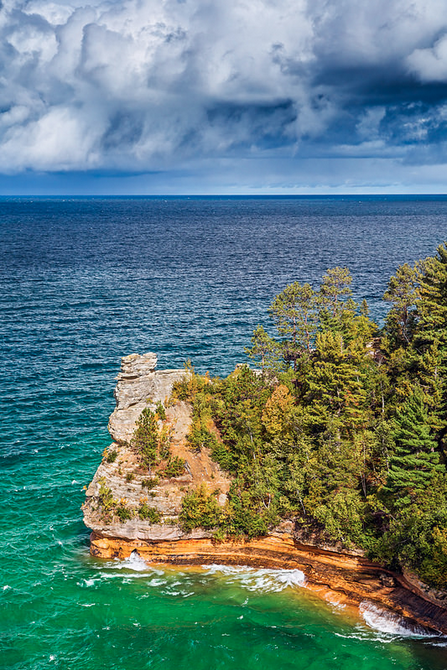 Where is your favorite place in Michigan to snap a few photos?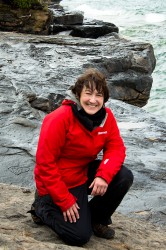 Aubrieta V. Hope is a landscape photographer with a special interest in Northwest and Upper Michigan; check out her website. She also highly recommends the following websites for beautiful Michigan/Great Lakes photography: Neil Weaver Photography, Michigan Nut Photography (featuring John McCormick's Photography), Craig Sterken Photography, MI Falls (featuring Phil Stagg's photography) and Kenneth Keifer Photography.