Winter Camping is Pure "Hell"
Warning! The following content contains one "helluva" lot of clichés.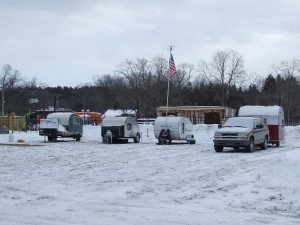 Teardrops in Hell
My partner, Brad, and I own a teardrop camper and belong to the Great Lakes Chapter of
Tearjerkers
, a camping group dedicated to teardrop and small travel trailer owners. The group organizes several camping trips during the year. This February, Karl, the director, organized the first ever Great Lakes Chapter winter camping experience called "Tears in Hell." Having never camped during the winter with our teardrop, Brad and I thought, "What the hell?"
On Friday, we packed our camper, our dog Ozzy, and headed east, hell bent for
Hell
, a small town northwest of
Ann Arbor
. We arrived around 4:30 and stopped by Hell's Kitchen for a quick bite to eat. There we met John Colone, a local hell raiser with a devilish grin and the ultimate ambassador for this "hysterical place of interest." He's also the owner of two of the three local businesses (Hell in a Hand Basket Gift Shop/Hell's Kitchen & Screams Ice Cream). After our warm welcome to Hell, we took off for our camping spot behind Screams, yards from the wedding chapel and set up camp.
Karl, our director, was already there and had set up and heated our gathering tent preparing for the evening wine and cheese party. We grabbed our camp chairs, two bottles of Michigan wine, our Red Pepper Cheddar dip and cozied up to the 80,000 BTU propane space heater. We had a total of 12 campers in eight trailers for the weekend. Jeff made it from Indianapolis and Greg trekked in from Toledo. The rest of us were from Michigan. We spent Friday evening catching up with old friends, making new ones and enjoying the smells of melting polyester (Doug got a little too close to the propane heater!).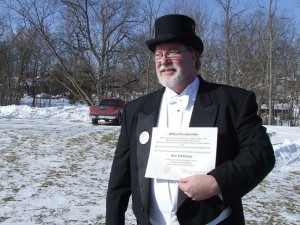 Mayor Karl
On Saturday we woke up to sunshine and a dusting of fresh snow. We threw on our boots and headed to the gathering tent for coffee, hot chocolate, juice, muffins and cinnamon rolls. After breakfast, Karl was designated as honorary Mayor for a Day in Hell. He received a special proclamation, an official badge, a key to the city and his own one square inch of Hell. As part of his mayoral duties, he served the lunch crowd at Hell's Kitchen in a tuxedo.
During our stay we were lucky enough to witness a wedding at the small chapel near our camp. The happy couple was John and Janice from Grand Rapids. They charted a bus and brought 35 friends and family members to begin their life together in Hell. As their friends explained, the reason they chose Hell for the wedding ceremony was because when they started dating, they both said "it would be a cold day in hell" before they ever got married. It was 31 degrees on Saturday in Hell Michigan, thus a perfect day for their wedding. A marriage made in Hell has nowhere to go but up!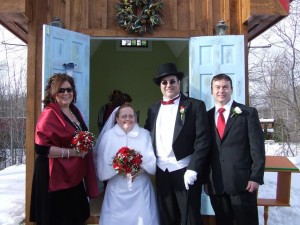 After the wedding, we headed over to Screams for ice cream. Brad and I split the Gravedigger, a huge banana split with Bat Droppings, Toenail Clippings, Ghost Poop and Butter Snot. It came with its own Death Certificate; signed, sealed, and singed in Hell. Screams has been featured on
The Today Show
,
Good Morning America
and the
Travel Channel.
Screams' most famous ice cream scooper is Erik Reichenbach from
Survivor: Micronesia
, who was voted off when he was convinced to surrender his immunity necklace. What the hell was he thinking?
Saturday evening found us back in the gathering tent for our traditional group potluck and dinner which included BBQ chicken sandwiches, potato salad, pizza, pasties and raspberry torte. As some headed back to their campers to snuggle up to a good book or get a good night's rest, others decided to head to
Dam Site Inn
to raise some hell on the dance floor. The local bar features live rock and roll music on Friday and Saturday nights.
On Sunday morning, after breakfast, despite his efforts, Karl found out that the road to hell is paved with good intentions when he was ceremoniously "impeached" as mayor. After he received his certificate of impeachment, we packed our gear and took off like a bat out of hell for home. With its charm and hospitality we found Hell to be a heavenly slice of Pure Michigan. It's inviting, relaxing and doesn't take itself too seriously. As a matter of fact there's a good chance we'll be back, maybe when Hell freezes over.
Did I miss any hell-themed clichés?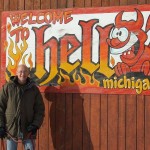 Gary is the web metrics geek for michigan.org and lives in Hastings, with his partner Brad and three dogs: Duke, Jersey and Ozzy.