17 Unusual Attractions You Need to See in Michigan
Michigan is home to a number of unique and record-breaking attractions you won't find anywhere else. From the world's largest giant cherry pie pan to the world's largest Christmas store - you name it, we've got it! Below is a roundup of some of our favorites.

1. Mackinac Island Carriage Tours: Mackinac Island, MI - Home of the World's Largest Horse & Buggy Livery
Visitors can take a one hour and 45 minute narrated historic and scenic horse carriage tour through the island.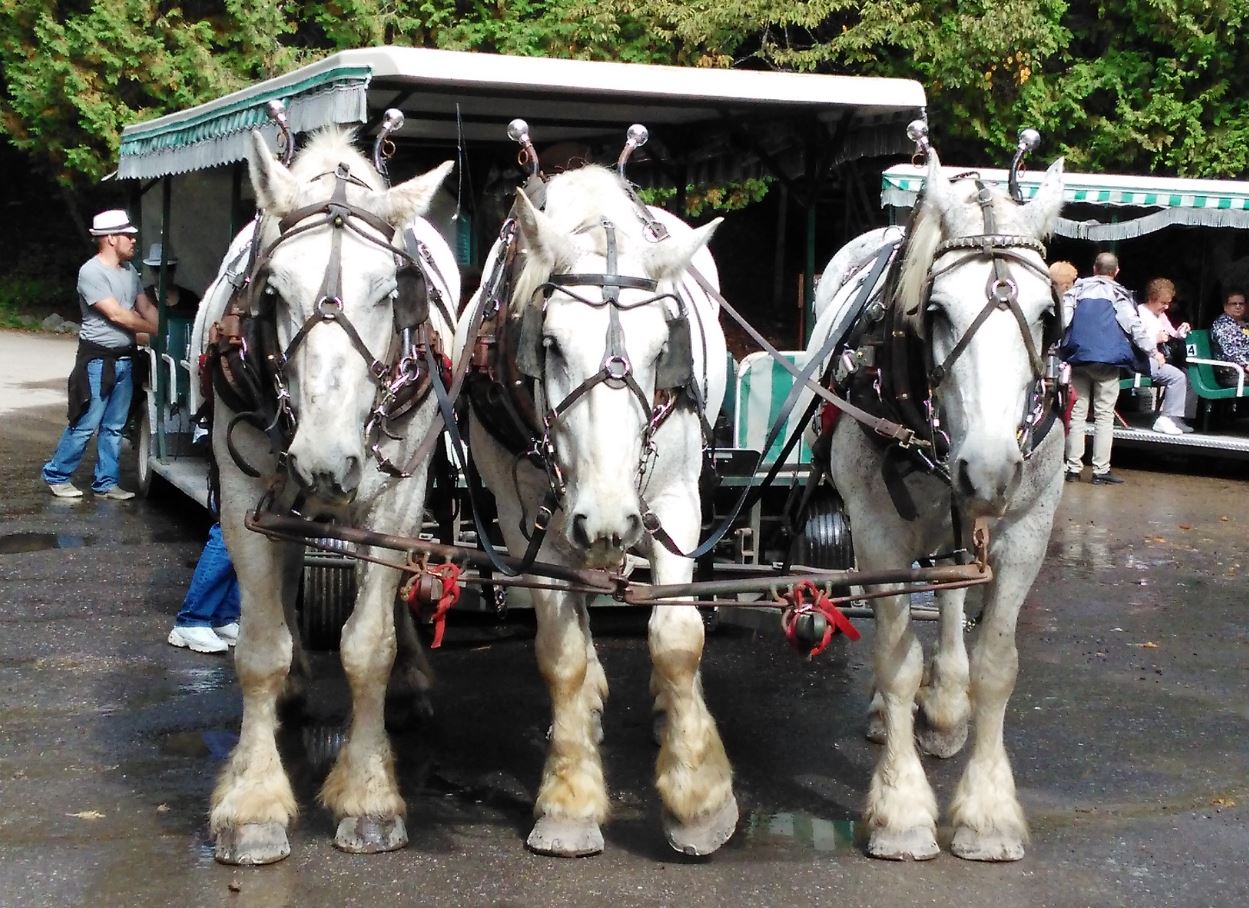 2. Superior Dome: Marquette, MI - World's Largest Wooden Dome
The dome has a retractable turf, three basketball courts, tennis courts, and volleyball courts. It is host to trade shows, banquets, conferences, and athletic events
3. Pine Mountain Ski Jump: Iron Mountain, MI - Largest Man Made Ski Slide in the U.S.
Built in the early 1930's, Pine Mountain Ski Jump holds the North American distance record of 459 feet on 140 meters.

4. World's Largest Weathervane: Montague, MI
Built by Whitehall factory employees in Montague, this functioning weathervane is 48 feet tall with an arrow 26 feet long.

5. Erebus Haunted Attraction: Pontiac, MI - World's Largest Haunted House
Erebus, located in Pontiac, is a four story haunted house that was entered into the Guinness Book of World Records as the World's Largest Walk-Through Haunted Attraction in 2005.
6. Baker's Keyboard Lounge: Detroit, MI - World's Oldest Jazz Club
If you like traditional jazz, great atmosphere or if you enjoy just stepping into history, Baker's Keyboard Lounge, The "World's Oldest Jazz Club," is an experience you won't want to miss.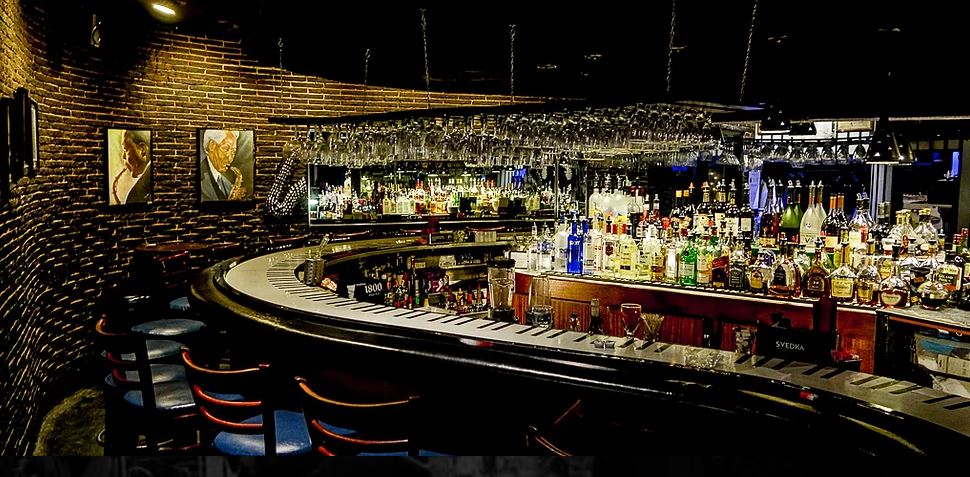 7. Dawson & Steven's Classic 50's Diner: Grayling, MI - Largest Private Collection of Coca-Cola memorabilia in Michigan
The Bottle-Cap Museum is the largest private collection of Coca-Cola related items in Northern Michigan. Over 10,000 pieces of memorabilia make up the museum, housed in an authentic classic 50's diner, Dawson and Steven's Classic 50's Diner located in downtown Grayling.

8. Joe's Gizzard City: Potterville, MI - Home of Gizzard Fest
Joe's is known for their ice cold beer and deep fried chicken gizzards. They also have a large selection of burgers, burritos, sandwiches and more. Joe's is the only Gizzard City on Earth and proud of it. Come enjoy Gizzard Fest held in June for some great family fun!

9. Grand Haven Musical Fountain: Grand Haven, MI - World's Largest Musical Fountain
A synchronized display of water and lights on the harbor offered nightly beginning Memorial Day through Labor Day.


10. Traverse City, MI: World's Largest Cherry Pie Pan
Near Traverse City, at the Sara Lee Bakery Group, stands the World's Largest Cherry Pie Pan. The pan was made to hold the World's Largest Cherry Pie at the time (from 1987-1992). The huge pie weighed 28,350 pounds and was 17 feet, 6 inches in diameter.

11. Marvin's Marvelous Mechanical Museum: Farmington, MI
If you like magic posters, neon, antiques, advertisings, ceiling fans, slot machines, memorabilia, robots, airplanes, animation, then this is the place to visit. Marvin's boasts coin-operated games from the oldest gypsy fortune-telling machines to the latest in laser hologram video games of the 1990's.

12. Hell, MI:
Visitors that enjoy fun excursions and unique destinations will find plenty to smile about when they arrive in Hell. "Sinfully delicious" is the phrase most often heard by patrons that frequent Screams Ice Cream. While here you can enroll in Damnation University, experience some world-class haunted effects. Hell is guaranteed to be appreciated by folks with a great sense of humor.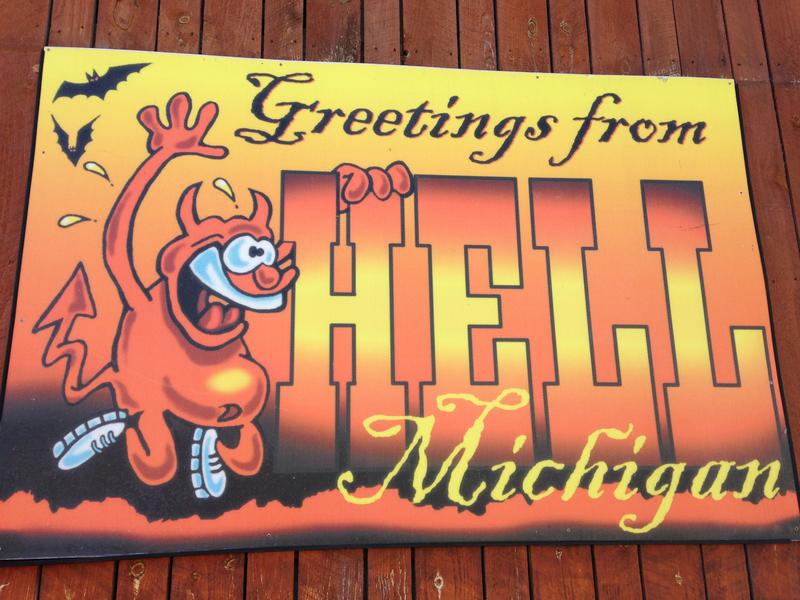 13. Dinosaur Gardens: Ossineke, MI
A world renowned reproduction of over 25 prehistoric birds and dinosaurs on a 40-acre tract of land split by Devil River. Dinosaur Gardens features a brontosaurus over 80 feet long weighing over 60,000 pounds.
14. The Antlers: Taxidermy Resturant: Sault Sainte Marie, MI
The Antlers is a unique dining experience in northern Michigan. Enjoy viewing over 200 mounted animals while waiting for your meal. Try the famous Soo Stew Canoes!

15. The Jerky Outlet: Dundee, MI - World's Largest Beef Jerky Outlet
The Jerky Outlet is one of the world's largest jerky outlets - beef jerky, turkey jerky, elk, venison, buffalo, alligator jerky...even kangaroo! Visitors can bag their own or pick an assortment of pre-packaged jerkies.

16. Bronner's CHRISTmas Wonderland: World's Largest Christmas Store: Frankenmuth, MI
The world's largest Christmas store with over 90,000 square ft of newly expanded shopper's dream! Bronner's is bigger than 1 1/2 football fields in size featuring over 50,000 trims, gifts, and collectibles.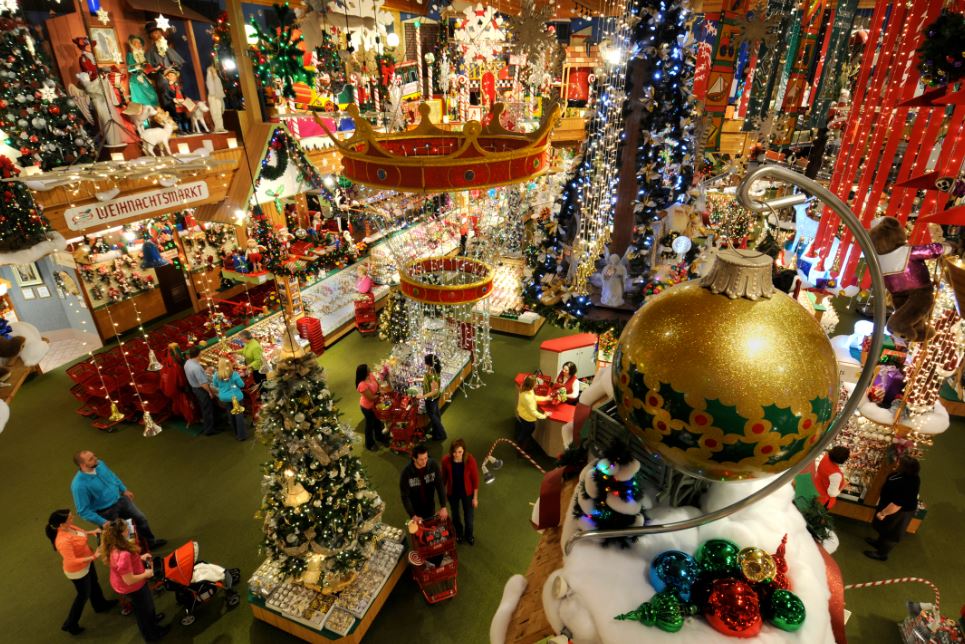 17. World's Largest Piece of Float Copper: Marquette, MI
The world's largest piece of float copper is located in Presque Isle Park. It is the largest found anywhere in the world. It weighs 28.2 tons, measures 14 feet by 15 feet. Marquette residents are working to assure that this copper specimen will remain in Marquette in a visible place for tourists and residents to enjoy.