States Parks to Visit This Season to see Breathtaking Fall Foliage
Autumn colors are now in their peak and provide awe-inspiring views all around the Great Lakes state. Whether you're planning a fall color drive or want to explore the breathtaking views on foot, there is still plenty of time to enjoy the beauty of the season. We put together a list of a few state parks to enjoy the breathtaking views.
Hartwick Pines State Park
Hartwick Pines is one of the largest state parks in Michigan's lower peninsula. You can climb the rolling hills to overlook the AuSable River and explore the forest of Old Growth Pines. Also, make sure to make a pit stop at the Hartwick Pines Logging Museum, which is about a 1/4 mile walk from the visitor center. The unique history is worth the extra steps!
Tahquamenon Falls State Park
Tahquamenon Falls State Park stretches over 13 miles and offers amazing sights all year long, but is especially magnificent in the fall. Most famous are the Upper Tahquamenon Falls, one of the largest waterfalls east of the Mississippi. The Upper Falls have a drop of nearly 50 feet and is more than 200 feet across. Four miles downstream are the Lower Falls, a series of five smaller falls cascading around an island. There are more than 40 miles of hiking trails, 13 inland lakes, 24 miles of the Tahquamenon River and approximately 20,000 acres of natural area, which provides plenty of space to explore.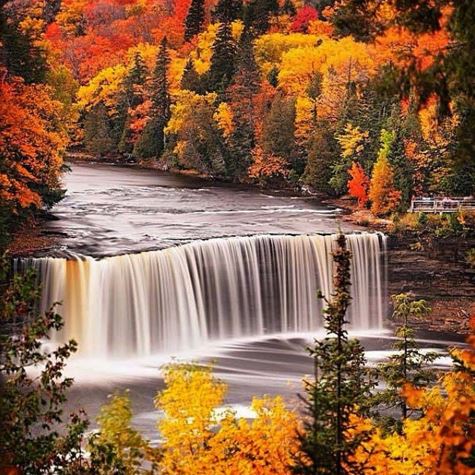 Tahquamenon Falls - Photo courtesy of Instagrammer @visitthesault
Silver Lake Sand Dunes State Park
Embark almost 3,000-acres along the Lake Michigan shoreline. This area includes both dune country and acres of mature forest. One of the park's biggest draws is the 450-acre off-road vehicle area, so hop on and start exploring the orange, yellow and red stunning leaves.
Porcupine Mountains Wilderness State Park
This Upper Peninsula gem provides towering timbers, secluded lakes and miles of wild rivers and streams covering 60,000 acres. Explore 90 miles of foot trails and camp on the shore of Lake Superior to enjoy sunsets from your site. The North Country Trail includes 23 miles within the state park and rugged trails to conquer on a mountain bike. Take in the scenic vistas, waterfalls and old growth forest. It is designated as an official Michigan Wildlife Viewing Area for its various wildlife and can't miss views.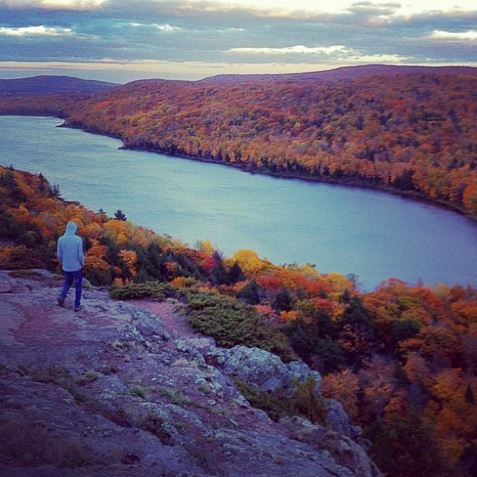 Porcupine Mountains - Photo courtesy of Instagrammer @ryandjohnson
Seven Lakes State Park
Located in Southeast Michigan, Seven Lakes State Park offers an endless variety of topography and ecosystems form the area called Seven Lakes. Its land has a combination of farmland, rolling hills and forests. About 230 acres of water with several miles of shoreline await the park user.
Isle Royale National Park
Isle Royale is truly unique as it can only be accessed by boat or float plane. The combination of its protected isolation, wilderness value and natural beauty provides an ideal habitat for an assortment of wildlife. You can explore a rugged, isolated island, far from the sights and sounds of civilization. Surrounded by Lake Superior, Isle Royale offers unparalleled solitude and adventures for backpackers, hikers, boaters, kayakers, canoeists and scuba divers. Here, amid stunning scenic beauty, you'll find opportunities for reflection and discovery, and make memories that last a lifetime.
Isle Royale - Photo courtesy of Instagrammer @adventureguyphoto
Which of these state parks have you visited?