How Did Michigan Cities Get Their Names? Part 6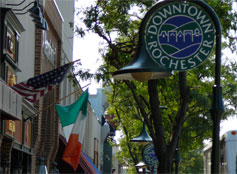 In our ongoing series of how cities in Michigan got their names, we've been able to share with you the history of cities from around our state. In case you missed them, here are
Part 1
,
Part 2
,
Part 3
,
Part 4
and
Part 5
. This week, check out part six, which shares the stories of how five more Michigan cities were named.
Rochester:
The city of Rochester was settled in 1817 and drew pioneers because of its location between the Clinton River, Paint Creek and Stoney Creek – all of which powered mills to cut timber, grind grain, card wool, and press apples into cider. The city was named for Rochester, New York, as many early settlers to the area were formerly from the state of New York.
Harbor Springs:
In 1847, L'Arbre Croche had the largest concentration of Native Americans in the states. At that time, Harbor Springs was called L'Arbre Croche, which means Crooked Tree. Later, French traders renamed the area Petit Traverse, or Little Traverse, when they arrived in the area. The village was eventually incorporated as Harbor Springs in 1880.
Flushing:
The original Flushing was located in the borough of Queens, New York, and named after the city of Vlissingen, Holland – also known as Flushing, Netherlands. Flushing sprang up in Michigan as a railroad town long ago and Charles Seymour, formerly of the city in New York, is credited with naming the Michigan community in the 1830s.
Birmingham:
Birmingham was founded in 1818, when four enterprising men purchased land in the area. The founders quickly established a manufacturer based local economy that brought foundries, tanneries, blacksmith shops, broom and brick making factories to the area. The name Birmingham was chosen after Birmingham, England, in hopes that the Michigan city's manufacturing capabilities would take after England's biggest industrial center.
Jackson:
On July 3, 1829, Horace Blackman, accompanied by Alexander Laverty, a land surveyor, and an Indian guide passed through what is today known as
Jackson
. Blackman returned in August with his brother Russell, and claimed 160 acres of land in the area. In 1830, the area settlement agreed on the name of 'Jacksonburgh' in honor or President Andrew
Jackson
, and in 1838 the name was changed to
Jackson
.