Eat Your Way Through Eastern Michigan: 21 Stops on a Foodie Adventure
March is Michigan Food and Agriculture Month! Many travelers are trekking across the state for what they call "Foodie Adventures." They're vacations that revolve around great food finds. From classic comfort foods to fresh Michigan produce, your taste buds won't be disappointed with the culinary delights of Pure Michigan. We put together this list of just a few fantastic places to eat when you're on the road on the east side of the state. Enjoy!
Shores of Eastern Michigan
The air is fragrant with fresh breezes and scents of coffee houses, bakeries and award-winning restaurants, all tempting to a passerby.



The shores of Eastern Michigan have delectable food you just have to try for yourself. Start your journey with fresh fish and seafood at(1)

Marine City Fish Company Smoke House & Eatery

or (2)

River Crab.


Go grab some drinks and sample multiple Michigan craft beers at the (3)ThumbCoast Brewing Company.


No day is complete without dessert, make sure to stop at (4)The Atrium Cafe & Ice Cream Parlour, which has been described by its guests as the most elegant and whimsical restaurant they have experienced.


If you don't have time to sit down, spend some time browsing a unique gift shop, (5)Weekends, with delectable gourmet foods.


Have a mid-day brunch at (6)The Raven Café to enjoy the food and drinks in a unique café atmosphere.


(7)Vintage Tavern, a treasure discovered, with a decor of fine wood, brick and tin ceilings, located in downtown Port Huron, the hot spot to dine or just enjoy your surroundings with a flight of wines.


Cider mills are an exclusive Michigan attraction that everyone should experience, stop at the (8)McCallum Orchard.


Don't forget to venture to the Lexington Fire Hall to experience the "Think Globally, Drive Locally" movement at the (9)Lexington Brewing Company & Wine House.


Port Sanilac and surrounding areas can expect nothing but a new and wonderful dining experience in a beautiful waterfront setting; (10)Uri's Landing has to offer.


(11)The Farm Restaurant's love for cooking, and a great atmosphere for dining makes this restaurant a truly enjoyable destination to gather with your family and your food-loving friends.


Lastly, check out the (12)Port Austin Farmer's Market with over 150 vendors.


East Central Michigan & Through the Thumb
Driving through east central and the thumb of Michigan, you will stumble upon many hidden culinary destinations that the locals find to be great treasures. The scenery will captivate you as much as the amazing food.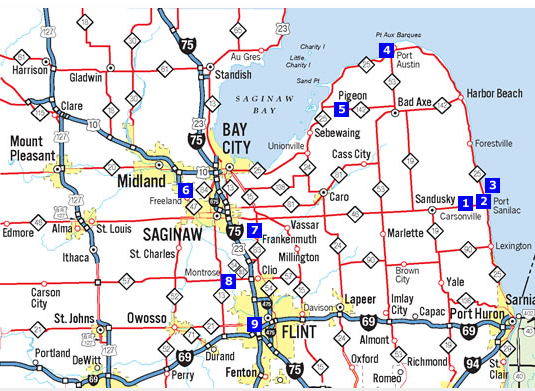 Eastern Upper Peninsula
It is time to take your taste buds on an adventure through the Upper Peninsula. You will find fresh fish from the Great Lakes, meals that fill your belly, wine and beer unique to the north, cranberry farms and local farmers markets.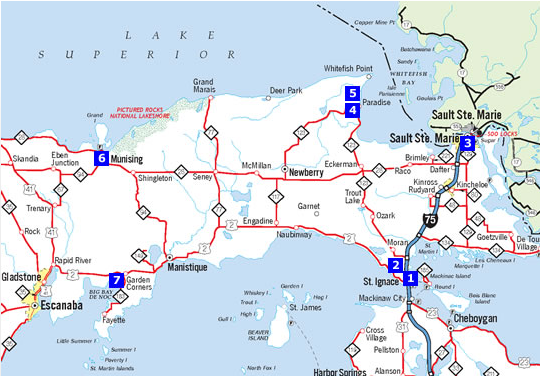 Michigan has so much for your taste-buds to discover. For more ideas, check out what Detroit and Northeast Michigan have to offer. You don't want to miss Pinconning Cheese Company, Stoney Acres Winery in Alpena, Rock River Grille in Indian River or Mt. Pleasant Brewing Company.
Your stomach will thank you later!
Which foods and restaurants are must-haves when you're traveling in Pure Michigan?