Eat Your Way Through Western Michigan: 27 More Stops on a Foodie Adventure
Previously, we walked you through an Eastern Michigan food tour, but we couldn't forget about the magnificent culinary creations of the west side of the state. If you're planning to travel the Lake Michigan coast this spring or summer, let your tastebuds be your guide. Reference this list of just a few fantastic places to eat when you're on the road on Michigan's west coast.

Savoring the Flavors of Southwest Michigan
In southwest Michigan you will find intriguing country towns mingled with vibrant cities along the scenic Michigan shoreline. These towns have an abundance of culinary destinations to visit, as well as sandy beaches and lighthouses lining the coast.

1. Visit (1)Arcadia Brewing Company and discover small batches of beers such as Cocoa Loco, Jaw Jacker and Shipwreck Porter. The labels for these beers are just as unique and creative as they are created specifically for each flavor.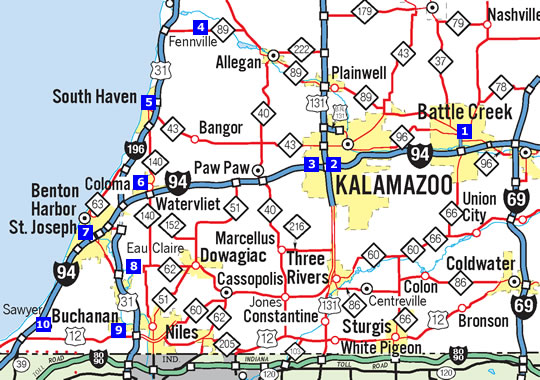 2. If Michigan made wine is more your style, (9)Tabor Hill is definitely worth a stop. The menu changes every day so you never know what you will discover.

3. Check out a vibrant Café with a spin on your familiar comfort foods, (2)Food Dance Café will make delectable dishes you will be talking about days after.

4. The bustling (3)Kalamazoo Farmers Market is the perfect destination for fresh produce, plants, flowers, baked goods, fresh meats and handmade crafts. Have a picnic at (8)Tree-mendus Fruit Farm, where you can pick your own fruits or rent an apple tree for the season.

5. A rustic American eatery and bakery is (4)Salt of the Earth. They pride themselves on buying locally to emphasize the flavor of their menu items and products. The menu offers wood fired pizzas, sandwiches, pastas, steak, chicken and pork which can be paired with some delicious varieties of Michigan wines from their wine menu.

6. If fresh blueberries makes your mouth water, you have to stop at this location. (5)The Blueberry Store offers every blueberry product imaginable. Blueberry products range from chocolates, jams, jellies, muffins, syrups, to meats and so much more.

7. Delectable truffles made with Michigan wine from Contessa Wine Cellars are some of the mouth-watering flavors at (6)Chocolate Garden. These handmade chocolates are perfect for a gift or a sweet treat for yourself, and have been featured on the Food Network and in Midwest Living magazine.

8. The magnificent view of Lake Michigan is what you will see as you dine on the deck or dining room of (7)Bistro on the Boulevard. Their menu offers an array of local ingredients that create delicious meals that include soups, salads, sandwiches, duck, chicken, fish, crab cakes, pasta dishes and handmade desserts.

9. Unlike your normal garden center, (10)Sawyer Garden Center offers not only its quality bedding flats, hanging baskets, color bowls and perennials along with a selection of fresh Michigan produce throughout the year and over 50 fine wines from local wineries.

Savors and Flavors along M-22 and Sleeping Bear Dunes
Stretching from Manistee to Benzie and Leelanau Counties, the M22 corridor is known for rolling through lush countrysides and along freshwater shorelines. Here, more than 30 restaurants and charter boat operators participate in the award-winning "Catch & Cook" program – where a day of fishing turns into a gourmet meal featuring your own fresh catch.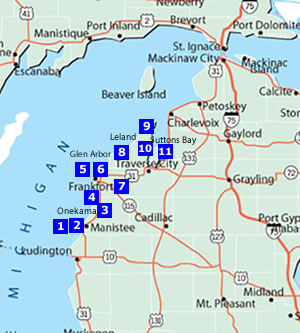 1. (1)Blue Fish Kitchen & Bar is a downtown eatery offering new American cuisine in a relaxed, lakeshore atmosphere. Enjoy extensive wine list, craft beer and farm-to-table artisan fare.

2. This truly a unique destination is located in Manistee. (2)Douglas Valley Organic Vineyards offers unique, award-winning hard ciders and wines, as well as a Farm Market with a variety of farm fresh organic produce.

3. (3)Pierport Farms products are made from fresh fruit grown on farms and orchards surrounding Pierport. The fruit is picked daily and prepared in small batches to create products with truly homemade flavor.

4. Supporting local farmers by providing the best regional items from a five-county area, (4)Elberta Farmers Market has grown into a community of friendships with a common goal of providing the finest fruits, vegetables and other produce.

5. (5)Coho Cafe features fine dining and spirits overlooking Betsie Bay. Specialties include fresh fish from the Great Lakes, locally-raised meats and produce, Michigan drafts, and fine wine.

6. Operating with the "Belgian-inspired, Michigan-made" philosophy, (6)Stormcloud Brewing Company brews well-balanced beers with specific attention to the yeast profiles. These quality Michigan craft brews are served up in the 85-seat vintage-inspired taproom or outside on a 1200-square-foot covered beer garden.

7. Satisfy your sweet tooth at (7)Hill Top Soda Shoppe. The homemade ice cream is sweetened with Michigan sugar beets. Toppings are hand-chopped and served up fresh.

8. If you're planning date night out, (8)Nonna's Ristorante features classically-inspired contemporary Italian cuisine prepared with the freshest local ingredients. Served in a three level, timber-framed structure with natural stone fireplaces, a chef's table, two intimate dining areas and a warm and welcoming loft.

9. For more than a century, the Carlson family has operated (9)Carlson's Fishery in historic Fishtown. You'll find some of the best fresh and smoked fish, smoked fish sausage, smoked fish pate, beef and turkey jerky you can find!

10. (10)Martha's Leelanau Table Cafe could be best described as a European style cafe, where every entree is made from scratch, (including the pastries) and made from the very finest ingredients available in Leelanau County.

11. Say Cheese! (11)Leelanau Cheese features award-winning artisan cheeses including a variety of cellar-aged Swiss Raclette cheese – rated "Best of Show" by the American Cheese Society in 2007 – as well as French Style Fromage Blanc cheese spread.

Appetizing Creations From Western Upper Peninsula
The west side of the UP offers more than just beautiful scenery, miles of coastline, small friendly towns, and areas for hunting and fishing. You can find amazing and unique dishes from the north such as their famous pasties and the freshest Lake Superior whitefish you can find.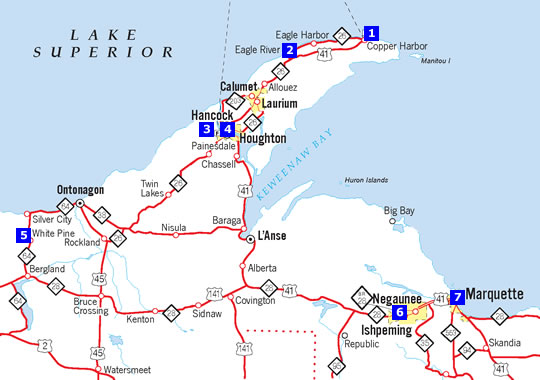 1. (1)Harbor Haus is the perfect spot for a new selection of dishes as their menu changes daily. Their passion, expertise and commitment to serving the freshest foods available make every dish amazing.

2. "Fine dining in a distinguished atmosphere" is what you will find at (2)Fitzgerald's. The restaurant hosts a magnificent view of Lake Superior with deck seating for the warmer days. Fitzgerald's takes pride in offering delicious menu items every day such as their Lake Superior Whitefish, Jager Schnitzel, Pecan Walleye, Burgers, Smoked Trout Pate, Hummus and Nachos.

3. (3)Keweenaw Co-op is a one-stop shop for the freshest Michigan produce and products. Above having the perfect ingredients for your meal they have a delightful deli menu. Here you can purchase sandwiches of all kinds, salads and homemade soups.

4. The (4)Keweenaw Brewing Company taproom is located in the middle of historic downtown Houghton. Its rustic barn-wood interior welcomes all with cozy atmosphere that includes a large fireplace area and comfy couches.

5. Nestled in the woods of the Upper Peninsula is (5)Konteka Black Bear Resort, which offers a delicious variety of dishes. Their menu is perfect for any taste bud as they have soups, salads, sandwiches, steak, ribs, seafood, chicken and scrumptious desserts. While enjoying your dinner you can watch wild black bears roaming the premises. This sight makes for a unique dining experience that can be enjoyed by all.

6. What used to be known as Grama T's Pasties is now (6)Irontown Pasties. Along with their delicious warm pasties, you can enjoy many flavors of their hand dipped ice cream. Your stomach will thank you later.

7. Downtown Marquette hosts the (7)Marquette Farmers & Artists Market every Saturday. The market includes local farmers and growers offering a wide variety of fresh produce, herbs, eggs, meat, baked goods, plants and fresh-cut flowers. Stop in and support Michigan vendors.

Pure Michigan has so many different foods to discover. Check out more unique Michigan cuisine that you can make your own.

Where is your favorite place to eat in Pure Michigan?