Seven Michigan Eating Challenges That Are Sure to Make You Hungry
Order up! Michigan may be known for its beautiful scenery and outdoors, but Michiganders know all too well that the state boasts some of the best restaurants around. While many of these hometown spots offer delectable classics, a few others bring something far 'bigger' to the table.

We rounded up seven eating challenges across the state that are available to try year round. So prepare your stomach and mind, for these gargantuan Pure Michigan food feats.

The Dog Central Challenge
Dog Central, Mount Pleasant
If you're heading to Mid-Michigan, ask around: Many of the Mt. Pleasant locals will know about the famed Dog Central Challenge. Dubbed as a test of both mental and physical toughness, challengers are tasked with taking down three foot long hotdogs with chili and two toppings, a bed of French fries, stack of onion rings and a 20 oz. fountain pop to wash it all down. If you complete the challenge, your determination earns you a spot on the Wall of Fame. But be warned! Losing the challenge earns you a spot on the Wall of Shame.

Other Dog Central challenges include: most hot dogs eaten in two hours, most hot dogs eaten in one half hour, and the Ghost Chili Challenge (three hot dogs with ghost pepper chili)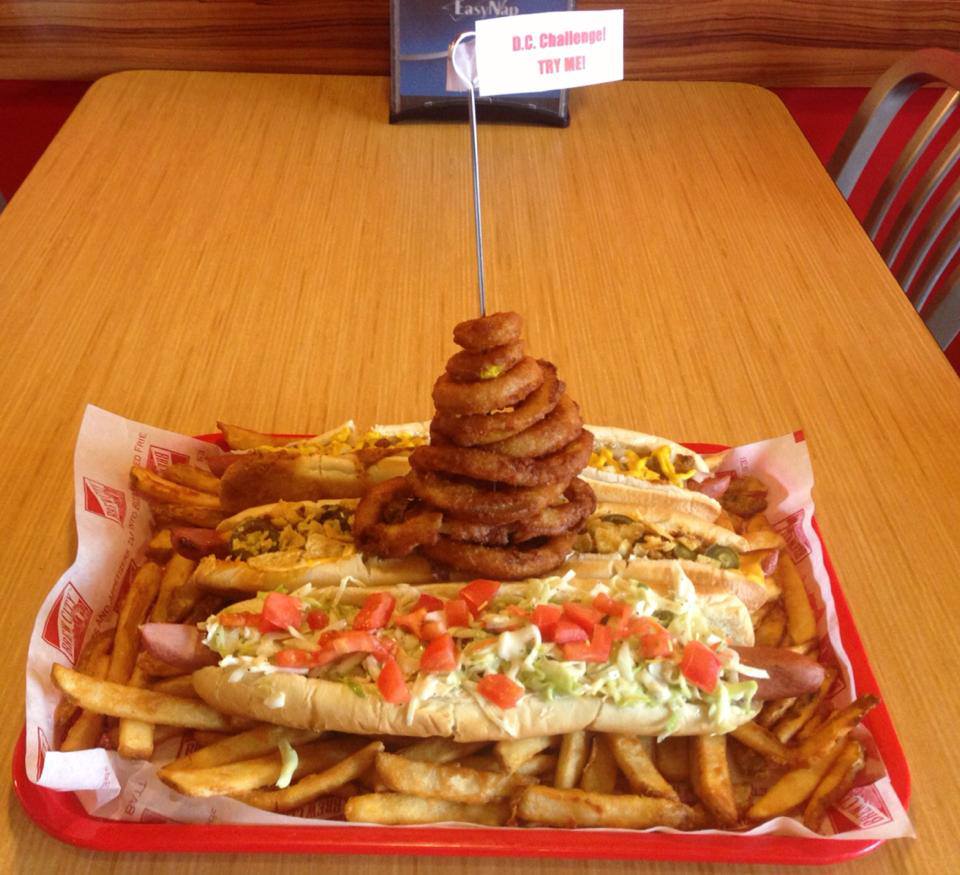 Photo courtesy of Dog Central
Lumberjack Club
The Grill House
, Allegan
Do you have what it takes to join the Lumberjack Club? This 42oz Top Sirloin is not for the faint of heart. The record time for eating this monstrous steak is 5 minutes and 26 seconds, but you get one full hour to take on this mountain of meat. Don't worry if you can't finish it in under an hour – you've still had a wonderful steak dinner, and now you can have a tasty steak and egg omelet for breakfast!
50-Wing Challenge
The Winter Inn
, Greenville
Every Sunday, challengers are invited to take part in the famed 50-wing challenge. You'll have one hour to eat 50 of the Winter Inn's delectable wings in the hopes of earning a plaque to put on the Wall of Fame. If you're able to finish the challenge, you'll receive a Winter Inn t-shirt, $15 gift certificate, and, of course, bragging rights as the wing champion.
Big Bambino Burger
Stucko's Pub
, Marquette
If you're looking for a burger challenge, look no further than Stucko's Big Bambino.
This mammoth one-pound burger is topped with a quarter pound all-beef hot dog, three slices of bacon and three slices of American cheese. Served with lettuce, tomato, pickle spear and one pound of fries, this majestic sandwich will bring even the burliest-burger lover to their knees.
Hellfire Hat Trick
Mallie's Sports Grill and Bar, Southgate
Spice-chasers head to Mallie's Sports Grill & Bar in Southgate, a Detroit suburb, to take on the "Hellfire Hat Trick." Eat 1 hellfire burger, 6 hell fire wings and 1 bowl of hellfire chili in 30 minutes or less with a 5 minute burn period. Complete the Hat Trick and win free burgers for a year or a $100 Mallie's gift certificate. This challenge is so hot it was even featured in USA Today Travel's list of
America's spiciest eating challenges.
Also available at Mallie's - a burger challenge even more mammoth than the Big Bambino!
The 10 lb. Monster Burger Challenge
dares the largest of appetites to finish it all in 2 hours or less and it's free. Plus, you get $100 and your photo on Mallie's Wall of Fame!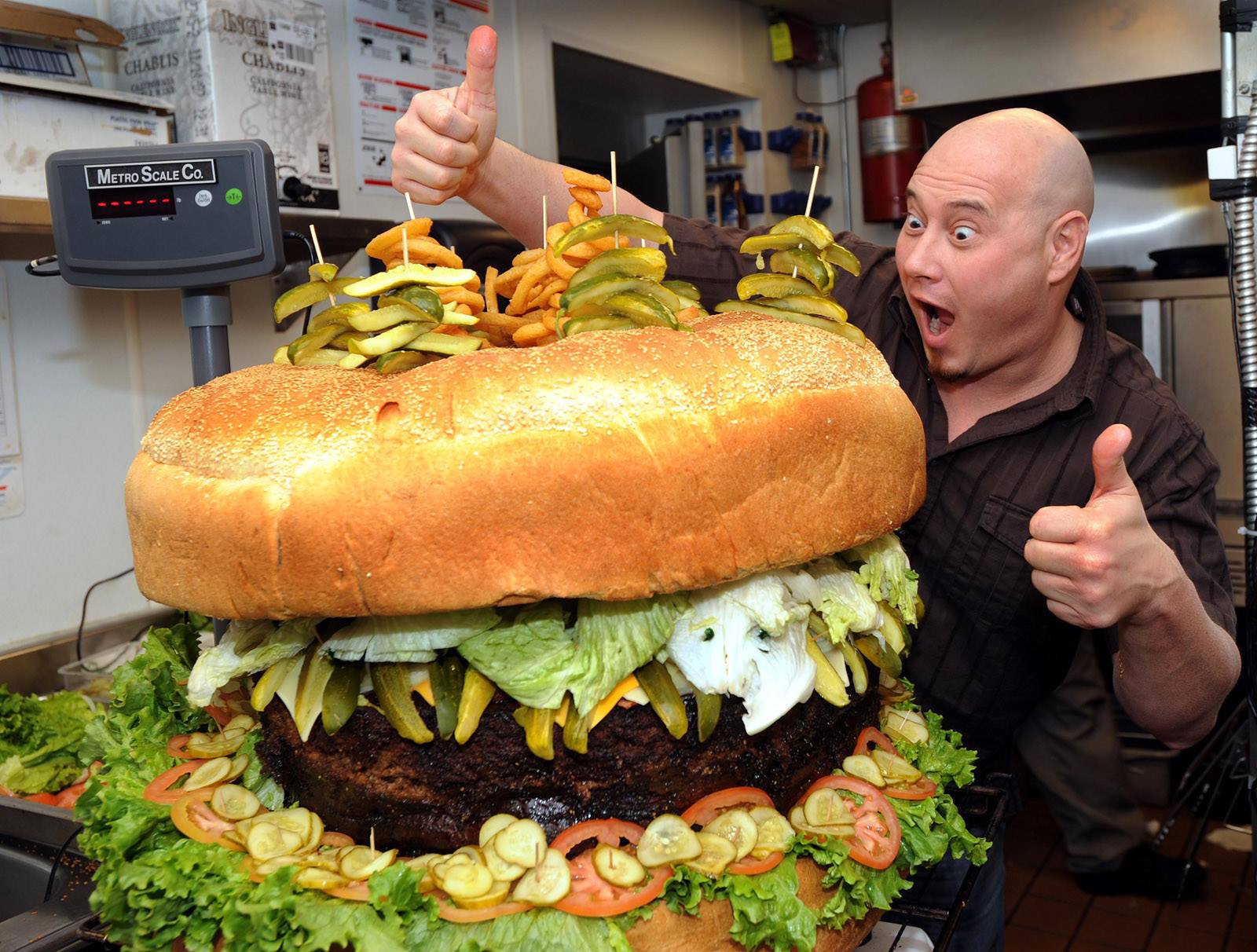 Photo courtesy of Mallie's Grill n Bar

Mt. Nacheesmo
Tio's Mexican Cafe, Ann Arbor
If you're looking for a challenge in Ann Arbor, take a trip to Tio's Mexican Cafe and see if you can conquer Mt. Nacheesmo. You'll come face to face with a 5 lb platter of nachos that was featured on the television show Man vs. Food. It is the world's largest plate of nachos piled with beans, beef, chicken, pork, monterey jack and cheddar cheese, tomatoes, onions, green pepers, black olives, sour cream, guacamole and cramy queso.
The challenge is to consume the entire platter of nachos in 45 minutes or less. If you complete the challenge you get the nachos for free, get featured on the My. Nacheesmo glory wall and receive a t-shirt. Lose and you'll have to pay the $50 for the meal.
Interested in learning more about places to eat in Michigan? Head over to Michigan.org/dining for more delicious Michigan made entrees.