A Snowshoeing Adventure in Pure Michigan
Snowshoeing is one of the oldest forms of transportation, but it also offers outdoor enthusiasts and nature lovers a great way to explore the sights and sounds during a Pure Michigan winter.
With snowshoeing being one of many winter activities featured in
A Pure Michigan Winter
, we asked Theresa Neal, Tahquamenon Falls State Park naturalist, to share with us what she loves about snowshoeing during a Michigan winter.
Q. Can you tell us a little about yourself?
A.
I am originally from Grand Rapids, and have lived happily in the U.P. for 7 years. My husband and I own a house in the middle of nowhere, where we enjoy the peace and quiet of the surrounding forest and nearby Lake Superior with our two dogs in tow.
Q. How did you get into snowshoeing?
A.
I began snowshoeing when I worked at a nature center in Holland, taking school groups for guided hikes during the winter. I made my first pair of snowshoes at a workshop taught by Alan Wernette at
Ludington State Park
, and he encouraged me to begin conducting my own workshops at Tahquamenon Falls.
Q. What is your favorite thing about snowshoeing?
A.
Snowshoes allow you to explore areas that are not accessible during other times of the year, such as wetlands and peatlands. Once these areas are covered with snow, it's easy to "walk on water" and check out what is on the other side. Snowshoeing is also a great way to stay active during the winter and burn off those holiday calories!
Q. What makes snowshoeing so unique compared to other winter activities?
A.
Snowshoeing can be a quiet activity, giving you the ability to hear birds calling nearby or wildlife rustling through the brush. It allows you to move about without disturbing the wildlife that lives in the area. It is also nearly impossible to get lost while snowshoeing, because you can always follow your tracks back to where you started!
Q. Do you have some favorite places to go snowshoeing?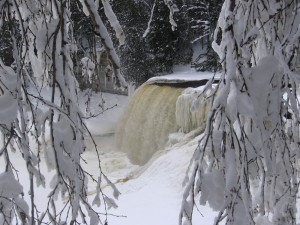 A.
My favorite place to snowshoe is the Clark Lake Natural Area, in Tahquamenon Falls State Park, north of the Lower Falls entrance. That area typically has deep snow, and it's easy to find places where no one else has hiked, so you can go off in search of animal tracks.
Q. What advice do you have for someone who may be interested in starting to snowshoe?
A.
Try out different types of snowshoes to see what kind works best for you. Many of our state park visitor centers offer guided snowshoe hikes and have a variety of styles that you can try free of charge.
Porcupine Mountains
,
Tahquamenon Falls
,
Hartwick Pines
and
Ludington
all have snowshoes that visitors can check out and staff that can answer questions about snowshoeing.
Q. What equipment is needed to start snowshoeing?
A.
Winter boots and snowshoes are the only two requirements. It can be helpful to use cross country ski poles as walking sticks, both for balance and to provide an upper body workout. People get pretty warm while snowshoeing, so dressing in layers is recommended. A good rule of thumb is to dress so you start your snowshoe hike a little cold; you'll warm up in no time!
Q. What is your favorite thing to do after a long snowshoe trip?
A.
Take a nice hot sauna to loosen my muscles.
Q. What are some of your favorite winter activities when you aren't snowshoeing?
A.
I enjoy cross country skiing, especially along Lake Superior around the Whitefish Point area, where I can blaze my own trail through wind-swept snowdrifts! I also like fishing through the ice, particularly for smelt and walleye.
Q. To you, what is "Pure Michigan"?
A.
Pure Michigan is taking a walk through the woods, breathing air filled with smells of the forest, and hearing nothing but the sound of your own footsteps.
Watch as Theresa takes us on a snowshoe adventure through Tahquamenon Falls in Showshoeing | A Pure Michigan Winter, from the Pure Michigan winter video series.
Have you ever been showshoeing in Michigan? Share with us below!