Affordable Family Vacations: Upper Peninsula
Tina Lassen, Michigan Travel Ideas contributing writer, gives insiders tips on affordable one-day trips in the UP. For more affordable family vacations ideas, see the article in the 2010 issue of Michigan Travel Ideas.
A good place to base yourself is in Paradise at either
Harmon's Birchwood Lodge
cabins ($66-$130/night, three-night minimum in summer) along Whitefish Bay or at the
Shipwreck Museum
($150/night, includes museum admission) in the restored 1923 Coast Guard lifeboat station crew quarters.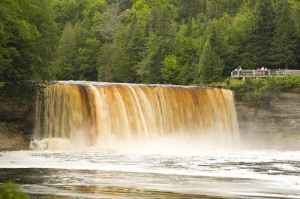 Platforms provide great views of the 200-foot-wide wall of frothing water in Tahquamenon Falls State Park. Photographer: Jason Lindsey
Then, head to
Tahquamenon Falls State Park
(state park vehicle permit required, $6 residents, $8 nonresidents). For a better experience, bypass the entrance to the Lower Falls and continue to the Upper Falls. This is the river's marquee cascade, a 200-foot-wide wall of frothing amber fury. It's even more majestic when you have the viewing platform to yourself, so it pays to get there early.
Then, backtrack to the Lower Falls. Better yet, try to talk someone in your group to shuttling the car and hike the four-mile River Trail to the Lower Falls and enjoy surprisingly quiet trails that lead to century-old white pines and wilderness lakes.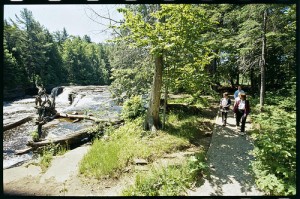 Enjoying the serenity of the four-mile River Trail from the Upper Falls to the Lower Falls. Photographer: Dennis Cox
When you leave continue southwest on M-123, then west on H-37 to
Oswald's Bear Ranch
where wild bears (none are bred or purchased) roam to and fro. Oswald's provides a lifelong home for young bears whose mothers have been killed or mature bears who, for a variety of reasons, can't be released in the wild. Admission fees ($15 per vehicle) help fund the bears' diet of fruit and meat purchased by the
ton
.
Total cost for the whole family? Less than $30.
Trip Guide:
1)
Tahquamenon Falls State Park
: Hiking, fishing, nature programs and camping centered around the Tahquamenon River and its waterfalls. Vehicle permit required. Rent rowboats or canoes in the Lower Falls concession area.
2)
Oswald's Bear Ranch
: Open Memorial Day weekend through late September. Admission $15/vehicle.
3) The
Tahquamenon Logging Museum
:
Chronicles the region's 19
th
-century lumbering era, with displays on life in the logging camps, the evolution of logging equipment, and fun old photos and newspaper clippings from the region. Small admission fee.
4)
The Toonerville Trolley
: This classic UP attraction combines a narrow-gauge, open-air railroad ride with a boat tour to the Upper Falls. Train/Boat tour runs six or more hours; train-only trip is two hours.
5)
Tahquamenon Falls Brewery and Pub
: Homemade pasties, wild rice soup, whitefish sandwiches and other local flavors round out a comprehensive menu for lunch or dinner. Nice timber-frame building with deck in Upper Falls. Entrees $6-$24.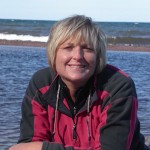 When Tina Lassen was 8 years old, she watched wide-eyed as a moose trundled out of the woods on Isle Royale and into a wild Lake Superior bay. She's been enamored with Michigan ever since. Tina has written extensively about the state for magazines like Midwest Living and National Geographic Adventure, and for guidebooks including Moon Michigan, National Geographic's Guide to America's Outdoors: Great Lakes, and 1,000 Places to See Before You Die: US and Canada.