Are you a do-it-yourselfer? Make your own pair of snowshoes!
Snowy weather has arrived in Pure Michigan! If you're looking for ways to get out and enjoy the outdoors, snowshoeing is a great option. Read more as Christine Schwerin of the Department of Natural Resources fills us in on how you can learn to make your own snowshoes this season.
Adapting to winter can be a matter of switching from flip-flops to water-proof boots, or in some cases – snowshoes. If you're a do-it-yourselfer and love the invigorating feeling of spending time outdoors in the wintertime, a snowshoe-making class may be just the ticket. Michigan state parks can get you started.

Rob Burg, a historian and educator at Hartwick Pines State Park in Grayling teaches traditional wooden snowshoe-building classes every winter in the visitor center nestled under snow-covered towering pines at the park.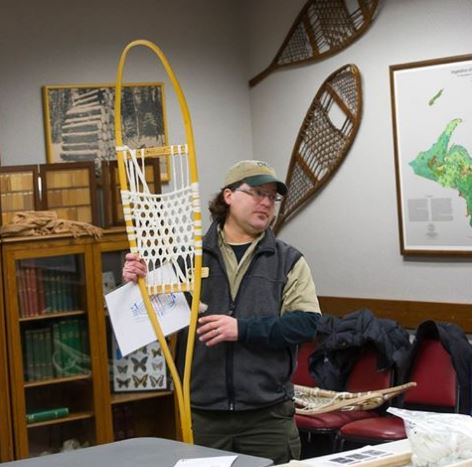 "In January we'll be making the Green Mountain Bearpaw—an oval shaped shoe, good for holding 200 pounds or less" explained Rob, "and in February, we'll make a larger Ojibwa-style shoe that'll hold a little more weight."

For about $180, Rob and Craig Kasmer supply each do-it-yourselfer the wooden frames, nylon laces pre-cut to the right length, and everything else needed to make a complete pair.

Rob and Craig go over how to weave the lacing and tie knots, "we have a lot of one-on-one contact with each person in the class," said Rob, "it takes a little time to get good at it." Once the class gets into a nice groove, they chat with the class about the history of snowshoeing, about how different styles developed based on the snow conditions.

Rob, who also runs the Hartwick Pines Logging Museumat the park, explains, "Native Americans and fur traders sometimes made snowshoes while traveling. They might start out in good weather, then the snow would come, and they'd use the resources immediately available to them to build a pair of snowshoes."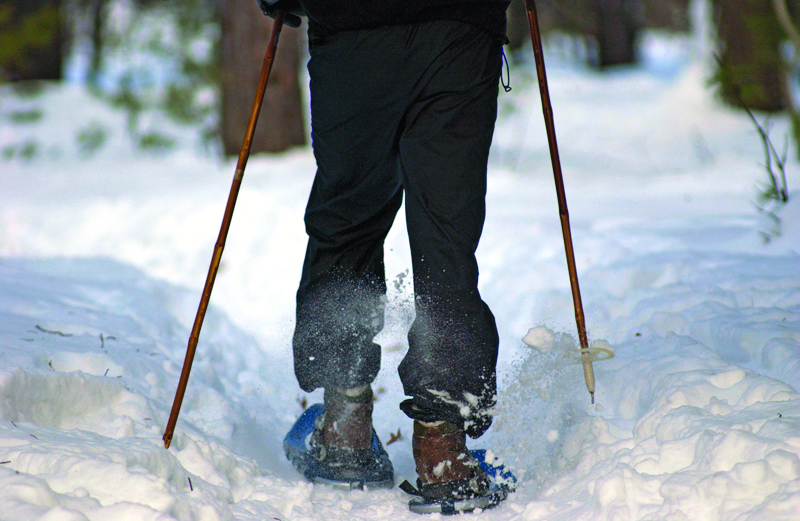 Lacing the snowshoes takes a certain amount of focus and concentration. "It's intensive," said Rob, who has made an estimated two dozen pairs. It also takes time—classes are spread over two days. As anyone who has ever made their own pair will tell you, there's pride in learning such a unique and timeless skill.

Once you're done, you've got a pair of snowshoes that'll last, winter after snowy winter.

Snowshoeing is something just about anyone can do, as the saying goes, if you can walk, you can snowshoe. It's the perfect combination of exercise and adventure for those of us who are more comfortable on level ground than on the heart-thumping downhill ski slopes.

Hartwick isn't the only place to take on the snowshoe-making challenge. The skilled and friendly folks at Sleepy Hollow State Park in Laingsburg, Tahquamenon Falls in Paradise, and Ludington State Park in Ludington are also offering classes this winter.

To learn more about snowshoeing in Michigan, check out Showshoeing | A Pure Michigan Winter, from the Pure Michigan winter video series.

Christine Schwerin has been writing about Michigan-related topics since launching a career with Michigan History magazine in 2004. She currently works for the Michigan Department of Natural Resources, where she's fortunate enough to combine her love of writing with her love for the outdoors.