5 Ways to Add Water To Your Blue Water Area Vacation
There's something about water and vacation that just goes together. Maybe it's the sense of renewal that water brings to the human soul, or maybe it's that water gives us a free pass to get silly, to splash, jump and throw rocks. Whatever the reason, the Blue Water Area welcomes you to the eastern shores of Michigan where water and great vaca to-dos go hand-in-hand. Guest blogger, Danielle Kreger of the Blue Water Area Convention & Visitors Bureau, shares these five ways (amongst the many) to add water to your vacation in the Blue!
1. Get Wet!
Get your feet wet at any of the Blue's sandy beaches. The immensity of
Lake Huron
can be embraced whole-heartedly when there's blue water as far as the eye can see and the waves rush in to lap at your ankles. Beaches bring you right to the water's edge and exist in most of the Blue's waterfront towns. Some beaches are tucked in along quiet coves and offer a lighter crowd, while others are busy with picnickers and activity. For families looking for fun amenities,
Lakeside Beach
, in
Port Huron
has a newly installed splashpad. The water sprinklers pay tribute to the area with water showering from a lighthouse, a
Blue Water Bridge
replica and other water infused structures.
Port Austin's
beaches offer a one-of-a-kind view because of their position at the tip of Michigan's mitten thumb. Being in this particular location, the sun rises in the east over Lake Huron and sets in the west over Lake Huron. So, no matter if you're enjoying the beach at daybreak or nightfall, you'll still catch a fabulous show of glowing sunbeams at the horizon.
2. Dock and Dine
One of the best parts of vacation is scouting new places to eat! The Blue Water Area doesn't make you travel too far from the water. In fact, many waterfront locales have boat docks so boaters can pull right up and tie off. Brown's Bar of
Harsens Island
, has enough slips for a couple dozen boats and always welcomes a good time. Tucked on the Middle Channel of Harsens Island, just north of Lake St. Clair, it has been a favored place amongst boaters (and ferry-goers) since 1946. Patrons praise their come-as-you-are attitude and their signature Madison burger. Other "dock and dine" locations in the Blue include downtown
St. Clair
for a quick walk to several bars and restaurants like Pepper Joe's, the Voyageur or
Murphy's Inn
, also the
River Crab
just north of St. Clair,
Junction Buoy
in
Marysville
,
Thumbcoast Brewing Company
, The H.A.C. and
Zebra Lounge
in
Port Huron
, The Windjammer in
Lexington
and
Uri's Landing
in
Port Sanilac
.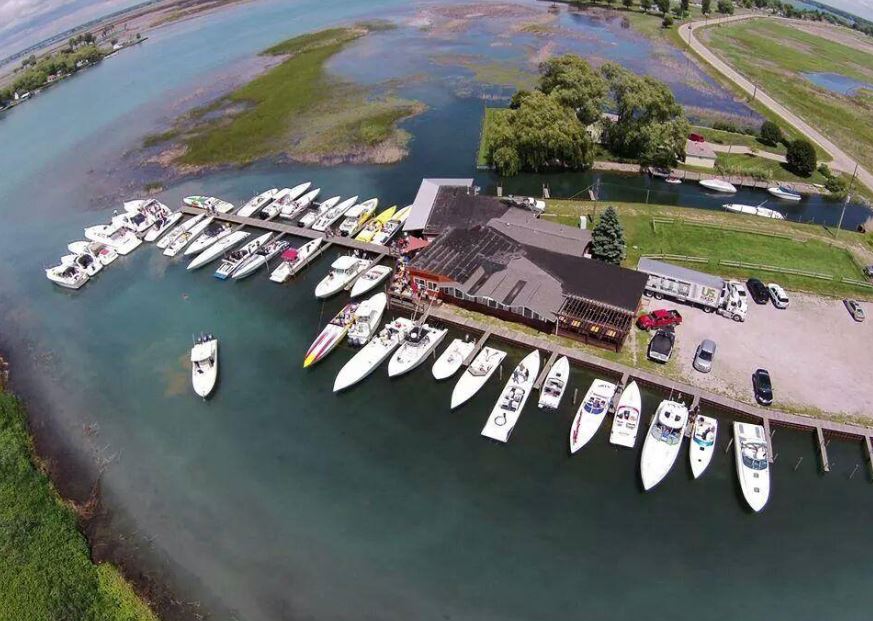 Photo Courtesy of the Blue Water Area Convention and Visitors Bureau
3. Sightseeing from the Water
Step aboard the
Huron Lady II
for a sightseeing tour and cruise past some of
Port Huron's
landmarks and special attractions. This narrated, two-level cruise boat takes passengers along the St. Clair River, beneath the
Blue Water Bridges
and into Lake Huron. Along the way it will pass the
Huron Lightship
,
Blue Water Convention Center
,
Thomas Edison Depot Museum
,
Fort Gratiot Lighthouse
and, if timing is right, alongside a churning Great Lakes Freighter. Stand at the bow and feel the rush of the crisp lake breeze! The upper level of the boat is open to the fresh air while the lower deck is enclosed with spacious windows. The Captain and friendly staff are ready to show you the sites from a new perspective.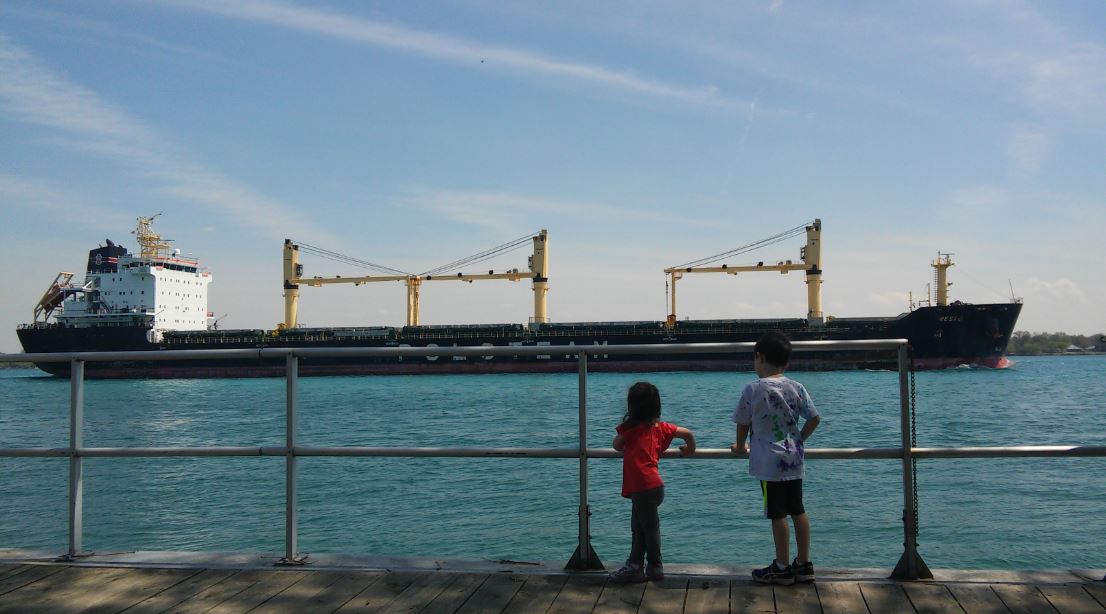 Photo Courtesy of the Blue Water Area Convention and Visitors Bureau
4. Paddle Around
Paddle the watery roads that nature has created. Traveling by way of
kayak
, paddle board or canoe is a great way to experience the landscape and terrific water trails that weave through the Blue Water communities. Discover a variety of routes ranging from tranquil inland rivers, and urban waterways to the dynamic challenge of the St. Clair River or the expanse of Lake Huron. Missy Campau, resident paddler and owner of Missy's Kayak Connection in
Port Huron
says, "Paddling, in and of itself, is a relatively easy task. Anyone can paddle." She strongly suggests first-timers and novice paddlers head out with someone experienced and be familiar with the waterway and the challenges it can present. She, along with PoHo Paddle Company rent paddle boards on weekends at
Lakeside Beach
in
Port Huron
so beginners can test-run in the shallow water just beyond shore. Another waterway option is the
Tip of the Thumb Heritage Water Trail
that extends along the Lake Huron shoreline from
Lexington
to
Port Austin
. There are many access points along the trail and paddlers will view earthy rock formations, caves and stacks. For a fun and invigorating activity, add paddling to your vacation bucket list.
5. Walk Leisurely
To stroll is to walk leisurely. The Blue's riverwalks invite you to stroll, ramble and wander along their paths to enjoy gorgeous waterfront views and shoreline activity.
Palmer Park
in
St. Clair
boasts the longest freshwater wooden boardwalk in the world. It's a leisurely walk along the St. Clair River and its wide expanse of grass and shade trees provide excellent picnic and lounging space. Riverwalks also stretch along
Marine City
and
Algonac
waterfronts where the Great Lakes freighters pass so close they seem touchable. Great efforts have been put in place to restore shorelines along riverwalk areas into healthy habitats for native plants and animals.
Marysville's
once eroding riverfront now has cobble and plants to restore aquatic habitats. The Blue Water Riverwalk in
Port Huron
was formerly an industrial site and now thrives with a natural shoreline. It features a former ferry dock that is now a lookout deck and many art sculptures depicting the area's waterfront heritage. Whether you stroll, sit or explore, be sure to enjoy!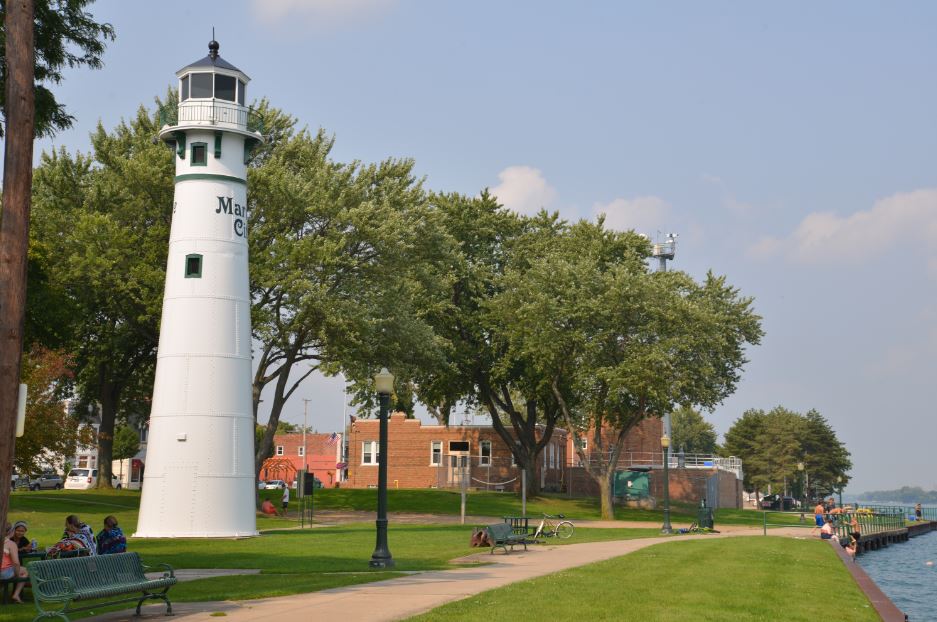 Photo Courtesy of the Blue Water Area Convention and Visitors Bureau
Visit the Blue Water Area's eastern shores of Michigan where splashing, jumping and lounging are encouraged! For more details and info about the Blue, visit the
website
and
Facebook page
.
About the author: Danielle Kreger lives and works in the Blue Water Area. Though it is her home, she still sees the Blue as her getaway spot, loving the true-blue water and quaint hometown ambiance of each shoreline community. She gets her kicks photographing her family as they make their own ventures every day.