Amanda Torrens shares her "Pure Michigan Moment," a brief escape from graduate school to watch a gorgeous sunset at Lake Michigan.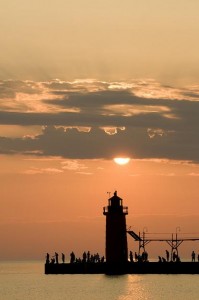 Phoenix Street is crowded as tourists mingle with locals walking to
South Haven's
harbor and beach. It's just after 7 p.m.—still a couple hours before sunset. A horse-drawn carriage waits to give paying customers a fairy-tale ride, and Harvey, the horse, patiently swishes his tail in response to the passersby who stroke his nose, pet his neck and give him well-meaning pats on the head. A ride sounds like fun, but I came for the sunset.
Reaching the beach, I take off my flip-flops and step onto the sand, which feels wonderful between my toes. The wind coming off the water, the cooling sand under my skin, and the constant, gentle whisper of the waves are like coming home and getting away all at once. Living in
Kalamazoo
, I am neither a tourist nor a local when I visit South Haven, but I'm home on this beach.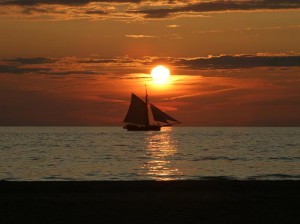 The sun continues its sure and steady decline toward the waves as I find a spot on the sand to sit and watch. The hot-pink sun slowly descends through the sky into low clouds, where it nestles into fluffy gray pillows before reaching its watery bed. There's an opening in the clouds at the water's edge and the sun's fire shines through, making it look like a slow-moving comet is blazing toward the lake. Then all of a sudden it's gone, and the air feels much cooler.
The real show begins after the sun disappears, but I don't have time to stay until the stars make their nightly appearance. This was just a brief vacation from the day-to-day craziness of graduate school, but as I walk to my car on Phoenix Street, I know I'll be back to see this show again.
Amanda, living in Kalamazoo, wrote about her "Pure Michigan Moment" for Michigan Travel Ideas
.