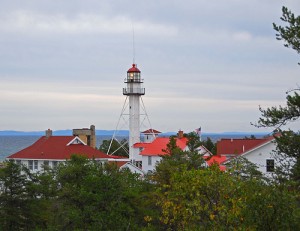 Whitefish Point Light Station
The Shipwreck Coast in the Upper Peninsula was chosen as one of National Geographic Traveler's "Drives of a Lifetime". Anyone who has ever been there knows that this is true – it's one of the most breathtaking sites you'll ever see.
The Shipwreck Coast describes a stretch of land between
Marquette
and Whitefish Point, home to the
Great Lakes Shipwreck Museum
& Whitefish Point Light Station
. Here, the roads wind so close to Lake Superior that sometimes you forget that you are driving on land. The coast gets its name from the long and storied history of shipwrecks. From famous ones, like the Edmund Fitzgerald, to mysterious unknown ships that have washed up on shore, this area has seen more than 300 shipwrecks.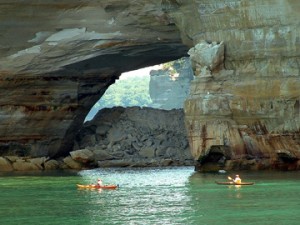 Kayakers at Pictured Rocks
As you wind along the coastline, you'll come across some of the most beautiful sites Michigan has to offer. You'll pass the
Pictured Rocks National Lakeshore
, where the wind and water has shaped the sandstone into amazing formations. You can stop into the
Marquette Harbor Lighthouse
, which dates back to 1866, or explore the
Grand Sable Sand Dunes
.
National Geographic got it right when they named the Shipwreck Coast one of their "Drives of a Lifetime" – this is a Pure Michigan must-see.